STEM has been rising in popularity in recent years, and its reach is expanding beyond education and school programs.  You may have started to see toys bearing STEM labeling or branding on their packaging.  What is it about a toy that would make it related to STEM (or STEAM)?
A STEM toy is designed to be educational and geared towards Science, Technology, Engineering, and Math, and engage children in play. STEM toys can be found for babies through teens, promoting learning through play. 
STEM & Educational Toys
A recent trip down one of the isles in a local big-box store greeted us with this scene: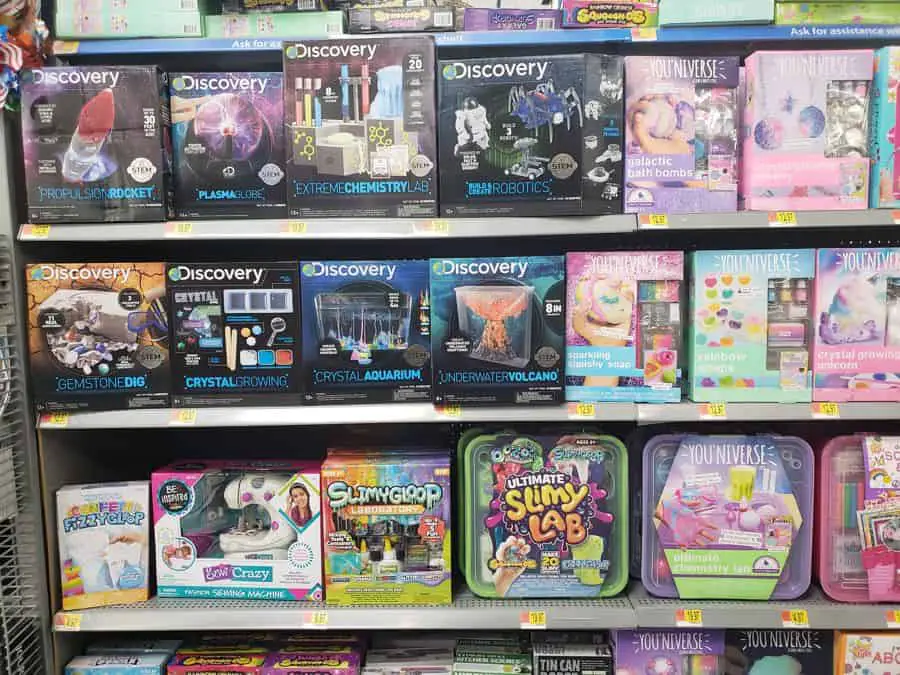 Shelves upon shelves of  STEM (and STEAM) toys.  Note that we weren't even in the toy department, this was the school supplies isle.  STEM has become a big business, and manufacturers are making sure they've got plenty to offer.  Some toys could be considered STEM even though it doesn't say so directly on the packaging. 
Educational toys are best when a child is so engrossed in play, that they don't realize they are learning.  Some toys focus on a particular skill, while some are broader in that they teach concepts like cause and effect or open play.
With so many options, how do you know what to choose?  We'll take a look at the four key areas of STEM and how they promote learning through play.  We'll  consider examples of toys in each category, though there's overlap since STEM by nature is all about integration.  Let's explore.
Examples of STEM Toys
STEM and educational toys come in a variety of subjects, interests, and age ranges (and price points.) Here are just a few examples of how toys can relate directly to STEM subjects:
Science Toys
While old school Chemistry kits and microscopes are still around, science toys have evolved.  
I've had a plasma ball for years, mostly because it looks cool and is fun to see how the plasma follows your hand, or how it pulses to the beat of music.  It reminds me of cheesy sci-fi or horror films. I'd never considered using it to teach a science lesson until our son became fascinated with it. 
A classic game like Operation shows some entry level anatomy, while developing fine motor skills. Toys like the squishy human body can help teach anatomy in a fun way.  Perhaps an Alien Anatomy kit may the ticket to some far out fun.
How about a robot powered by salt, or building one that uses solar power?
Dinosaur toys have come a long way and are becoming more detailed and accurate.  Beyond the Jurassic Park action figures or classic plastic dinosaurs, you can find 'excavation' kits where you can hatch a dino, or build your own dinosaur skeleton.
Technology Toys
Robots have been a staple toy for some time, and robots embody the notion of technology.  Some robot toys are more along the lines of a simple action figure, while other may be remote controlled.   A toy like the Fisher-Price Dance & Groove Rockit starts engaging babies and toddlers in learning with numbers, ABCs, shapes, and colors. 
As technology, computers, and AI become more ingrained in our everyday life, there is more need for coders than ever.  Toys are being developed to expose children to coding at an early age and present it as fun. 
Some of the more advanced robot toys that really hit home with STEM are programable.  A robot like the  Code 'n Learn Kinderbot would be a great start for younger kids, while the Vector Robot by Anki may appeal to kids a bit older (or, lets face it, it's okay for adults to play as well.)
Snap Circuits are another great example of a STEM toy that teaches technology. There are a ton of kits available, some focusing on electricity, green energy, light, or geared towards younger kids.
Related Post: Coding Toys for Kids: Best Options for Toddlers to Teens
Engineering
Building toys like Legos, Lincoln Logs, magnetic tiles, and the like encourage kids to think spatially and build.  They learn  concepts like structure, support, balance, weight distribution, etc. each time they stack one more piece. 
Games like Jenga build on the same concepts, and also help develop fine motor skills (and patience!)
Construction toys help kids learn how to use tools and build. There are kits to build Cars, bulldozers, school buses, robots, etc. We have so many of these, our son has taken to building franken-trucks.
Toys like the Gears! Gears! Gears! Space Explorers Building Set includes an instruction guide, the gears, parts, and planets can be combined in any way your child chooses. Kids can develop some early engineering skills by aligning a series of spinning gears to rotate planets, spaceships, and astronauts.
Math
Counting toys are popular for babies and toddlers.  By the time our son had his first birthday, we had an arsenal of toys decorated with bright counting numbers.  Other toys and stuffed animals can count out load so the child can hear the numbers as well, or count along. 
The Duplo My First Number train is great for toddlers. It has big brightly colored Duplo blocks (these are big Legos for smaller children) and an assortment of train cars. In addition to counting the numbers, we sometimes do addition and subtraction exercises by adding or removing cars from the train.
Kids can learn from any toy
Nearly anything can be a STEM toy when looked at objectively.  A simple toy car and a ramp can be used to illustrate concepts of gravity, velocity, or laws of physics. Our son's favorite experiment is with Netwon's First Law of Motion, which he has learned as, "a toy car in motion will remain in motion until it hits the wall!" Over, and over again.
Sometimes it's all about taking the opportunity identify teachable moments and engage with your child.  And sometimes it's more about knowing when to stay out of the way so kids can just be kids and play.
STEM Toys vs STEM Kits; What's the difference?
You may see some boxes labeled or advertised as STEM kits.  What's the difference between a STEM kit and a STEM toy?
STEM kits are self contained projects or experiments, packaged so everything you need is in the box.
There are plenty of STEM kits available, on a wide range of subjects. You can also opt for a monthly STEM subscription box and get a new kit delivered each month – or gift one to a special kid in your life.  (Find out our top picks in this post.)
Related Post: STEM Subscription Boxes
Ages and Stages of STEM Toys
STEM and educational toys are available for every age group, from babies and toddlers, elementary school right through high school.  We've had a habit a being a bit ahead of the curve, getting excited and buying toys that our kids weren't quite ready for. Some toys took a little time before they clicked and our boys fully appreciated them, and some toys they latched onto right away.  And sometimes they just played with the boxes.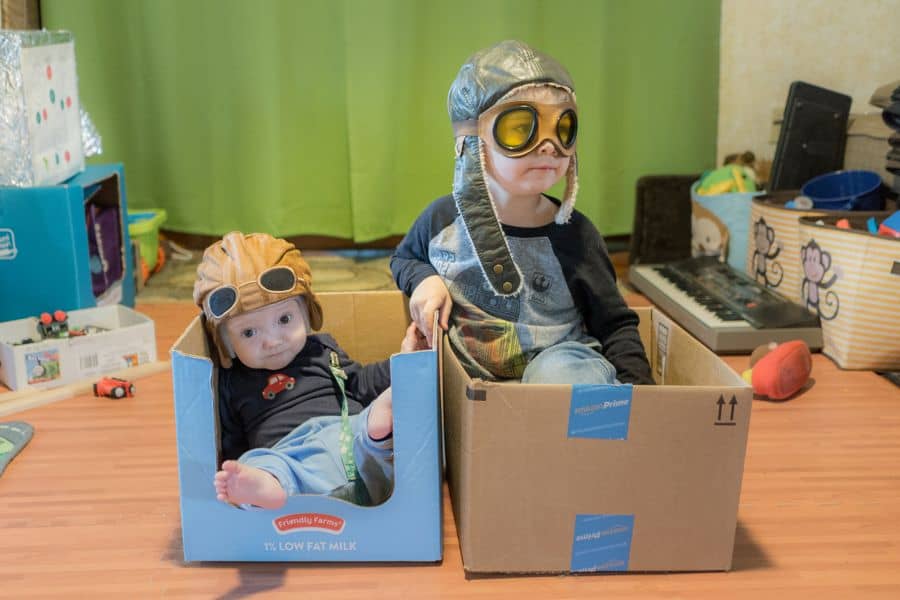 Don't forget – STEM toys aren't just for kids!  Adults can get in on the fun too, and either learn new skills with their kids, or simply play along with them.  I'll confess I'm eagerly awaiting the time where our son will appreciate a Lego Mindstorm or be ready to fly a drone. Not that I really need an excuse, though it it's perfectly acceptable to play along because, you know, it's for the kids!
STEM Toys by Age: If you're looking for age specific recommendations we have a series of posts just for you:
Also check out our posts on best Coding Toys and Augmented Reality Toys.
Related Article: Check out our Top Picks in STEM Toys