There are tons of STEM and educational toys for babies in their first year. We'll share the best educational toys for a one year old baby that are designed to engage and get kids exploring and learning. Here are our favorites (and more importantly, the ones our kids loved when they were one year old.)
Baby Play Mat Gym
Car Sear Bar
Stacking Rings (and Stacking Cups)
Shape Sorters
Mega Bloks
Xylophone
Activity Tables & Centers
Stand Walkers
Ride On Toys

Baby Play Mat Gym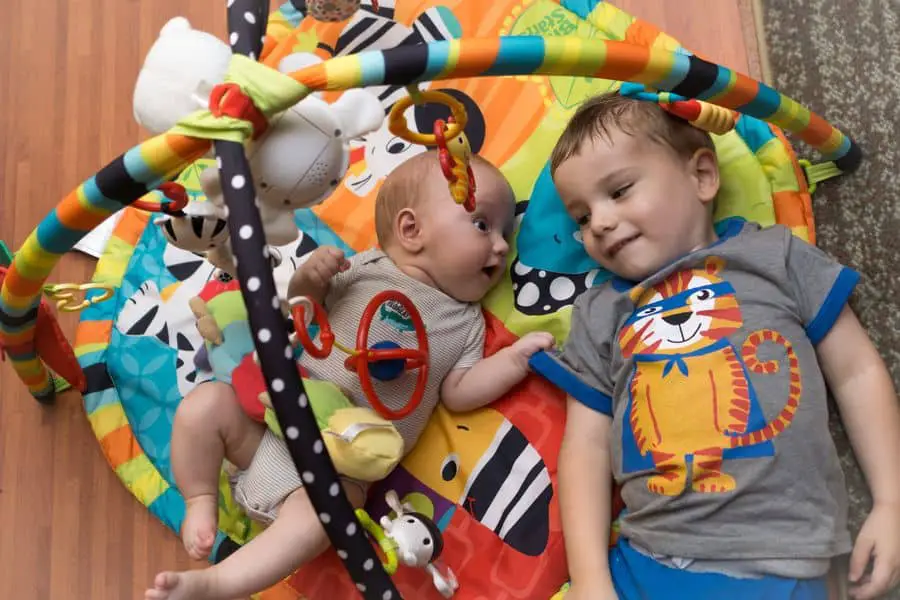 Baby Play Mat Gyms are a great way to engage and entertain babies (and their older brothers.) There are plenty of colorful characters for tummy time, and a variety of hanging toys encouraging children to look and reach. With plenty to see and do at every turn, play mats are designed to stimulate both gross and fine motor skills.
For a great play mat, try the Fisher-Price Rainforest Music & Lights Deluxe Gym (exclusive to Amazon.)
The music and lights respond to the babies movement, so they are encouraged move and play.  Best part – the mat is machine washable, so a bit of spit up or  diaper explosion isn't a problem.  It all comes out in the wash!  This one is highly rated and has well over 2000 reviews.
If you're looking for a budget option, check out this one from Bright Starts.
It's also available in pink
Car Sear Bar
Babies spend quite a bit of time in car seats during their first year, and a car seat bar gives them something to look at and engage with.  It was the car seat bar that got our first son reaching and manipulating the toys on the bar. 

I was so used to him just sitting there that it caught me off guard the first time I heard one of the toys rattle when I was across the room.  I looked up and saw him smiling and swatting at the bar of toys, knowing that he could start affecting the objects in his world.  After that, he was always playing with it (we went through several sets of batteries and I'll never forget the tunes it plays.)
Stacking Rings
This classic stacking set comes with 5 brightly colored doughnut shaped rings of different sizes.  While developing motor skills, children also learn sequencing, as the rings stack from largest to smallest.  The top ring  is a partially see through rattle with small beads kids can see and hear as they shake it. 
Stacking Cups
Our youngest loved stacking cups. They were his go to toy for several months running at daycare. He loved them so much we wound up getting him a set at home.
Shape Sorters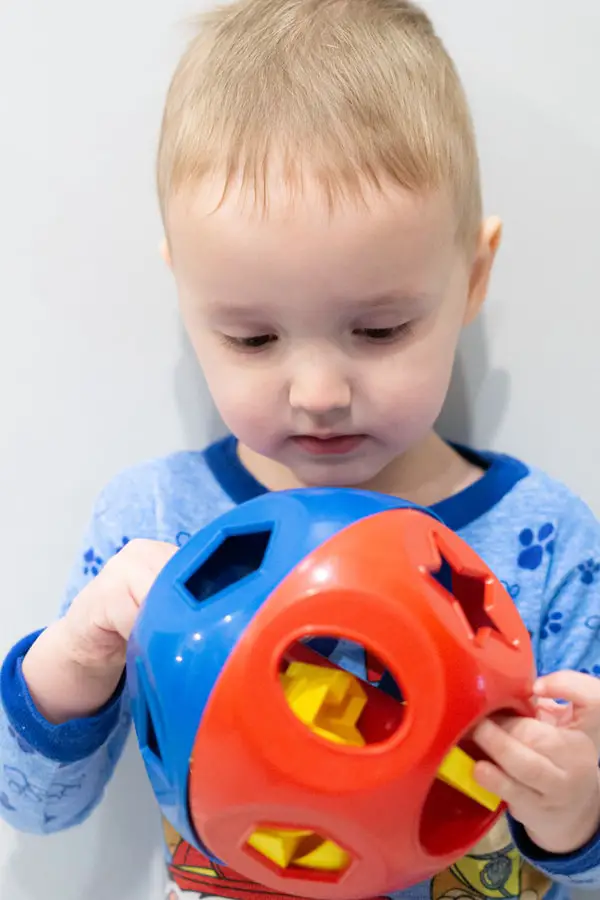 Spatial awareness is a critical skill, and is something kids can start learning early with shape sorters.  Check out this poor guy that just doesn't have a sense shape or size as he continually tries to cram his luggage in a bin.  Not going to happen.  Kids can learn a simple pivot can get the shape to fit in the hole.
The shape sorter ball from Fisher Price was the classic when I was a kid, and our kids enjoy playing with it. Today Tupperware picked up the design and has something quite similar. 
This one from Fisher Price is the one we see most often, and certainly got quite a lot of use in our house as well. 
If you're looking for a shape sorter on the go or a budget option, this butterfly shaped one fits the bill. We received one as a gift and gave it a permanent home in the diaper bag to keep the kids entertained on the go.
Mega Bloks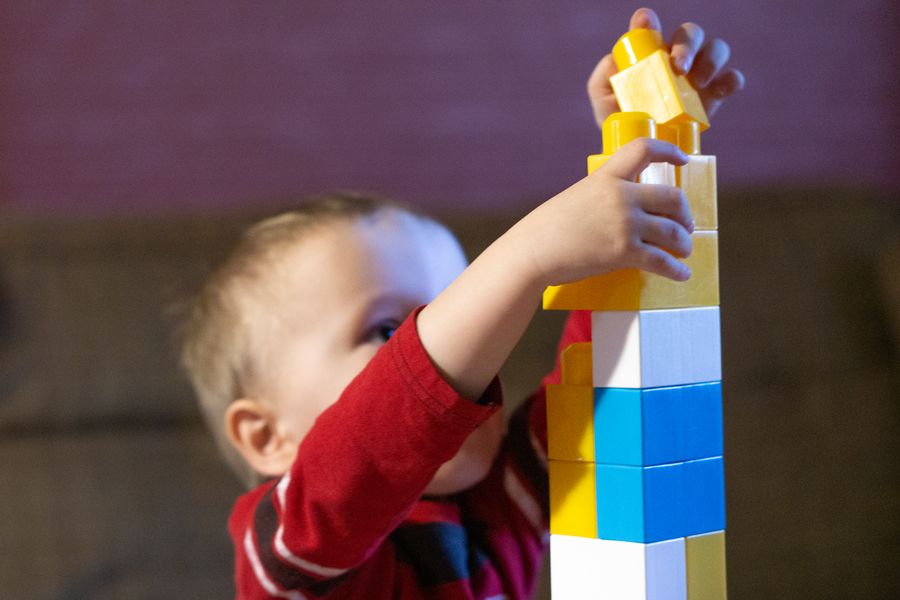 No "best toy" post would be complete without building blocks. It's no secret we love our Legos and building blocks, and one year olds need their blocks too. Mega Bloks are the best bet here.

They're brightly colored and sized right for little hands (and big enough that they they're hard to chew and near impossible to swallow.) Mega block lock in tight enough to stay together, though still loose enough that a one year old could easily pull them apart.

Mega Bloks come in collections of starter blocks, or in sets with vehicles like trucks, cars or train sets.
Xylophone
It seems a baby right of passage to have a toy xylophone. I think since I have a musical background, everyone thought it would be great gift for our kids. After shower gifts and birthdays, we wound up with quite a few of them.
We kept the one from Fisher Price (there's a reason why they call this one the "Classic Xylophone.") Out of all the ones we played with, this had the best tone, and was the easiest to play. The string on the mallet is just (barely) long enough to hit the lowest note, but still short enough as to not present a choking hazard. The rainbow colors make it bright and cheerful, and you can start teaching colors along with the notes.
Some of the others had the tines too close together and they wouldn't resonate properly, or just sounded dull (yeah, leave it to a musician to nit pick instruments for babies.)
Runner up – Skip Hop Explore & More Fox Xylophone
Activity Table
Activity tables are just the right height to encourage kids to stand (and keep standing) to play with all the toys, gadgets, and gizmos on the table.
Activity Center
Activity Centers take all the great things about Activity Tables, and seat the baby in the center of it all. Most Activity Centers have adjustable height, so it can grow with your baby. You can raise it up incrementally so the baby's feet are on the floor, but the seat supports their weight.
Jumperoo
Taking the activity center a step further is the Jumperoo. The jumperoo is kind of a mash up of the activity center and a bouncer seat, and includes the best of both.
Stand Walkers
Infants and babies move through stages so fast, it's hard (and expensive) to keep up with everything.  That's why we've always loved toys with a bit of longevity that can grow with your child. 
The Vtech Sit to Stand Learning Walker has a detachable panel for floor play for kids that haven't started walking.  When your little one is ready to get up and moving, the panel attached to the walker to keep them engaged as they are taking their wobbly first steps.  Having the walker to push around helps them gain the confidence to stand and zip around the house with the walker. It also comes in Pink and Blue color schemes.
Ride On Toys
Our boys have a vintage moon buggy ride on toy (thanks Mom for stashing this in the attic all those years.)  Suffice it to say, between the two of them, they gave it more of a workout than I ever did. 
We also have a Fisher Price Scooter. It makes motor and engine sounds, plays songs, and activities at levels that can advance as the child grows. This has also gotten a lot of mileage, especially with 2 boys. They love to race and chase around the house on these scooters.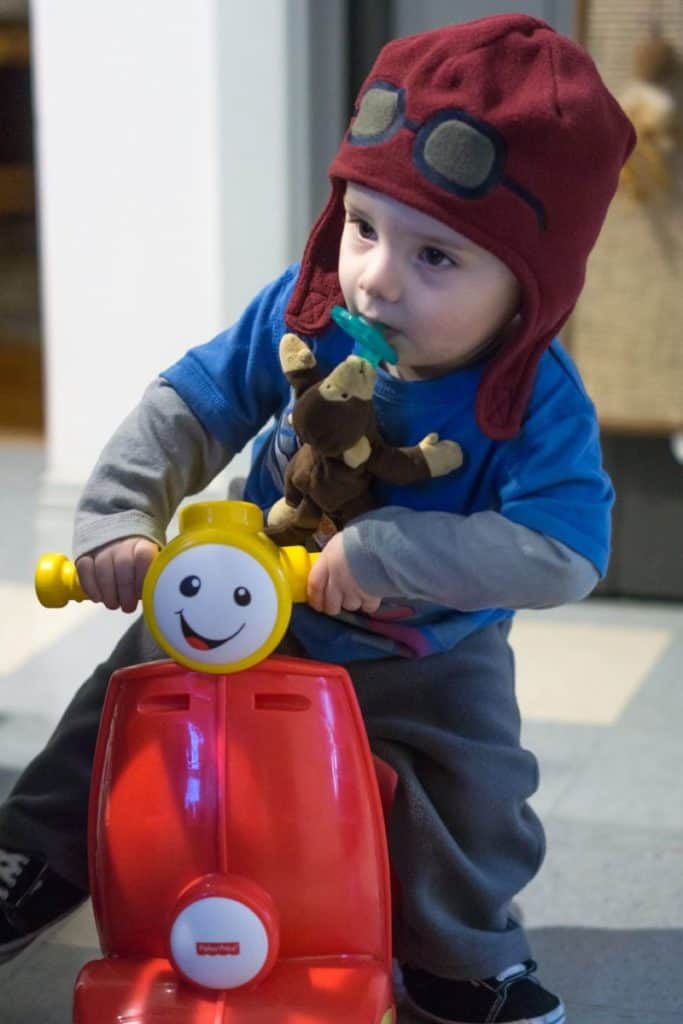 There was also the balance bike to help encourage our little guy to walk. These are basically tiny bikes without pedals. The baby can sit on it with feet firmly on the floor and practice putting one foot in front of the other.
Best Outdoor Ride On Toy
Both of our boys love the Radio Flyer 4-in-1 Stroll 'N Trike.  For younger kids, it's great to strap them in and use the handles to  steer and push from behind.  There is a removable sun shade, so this can double as a stroller. 

The Radio Flyer scales and grows with your child, from about one year old to five years (or about 49 pounds.)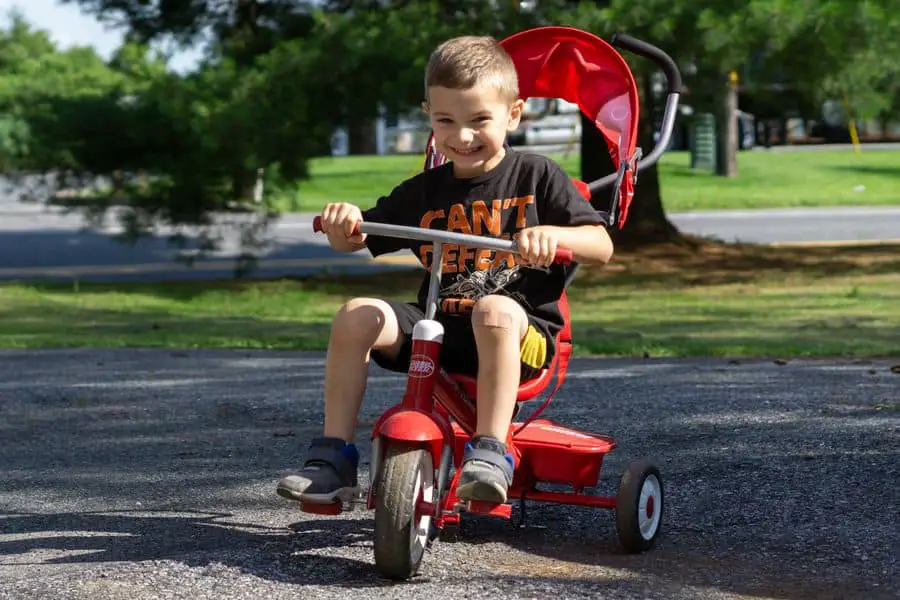 Once they can reach the pedals, they can  drive around on their own.  The sun shade and handles are both removable so it can operate as a regular tricycle when kids reach 3 or 4 years of age.  Our 5 year old still hops on it and pedals like a madman, trying to eek out as much fun as he can from it before he gets too big to ride it.  (We've already moved him onto a Big Wheel, but he still loves the Radio Flyer.)
Classic Popper Toy
If your one year old is standing, they may be interested in the Fisher-Price Corn Popper. In addition to encouraging walking, kids learn cause and effect. Turning the wheels causes the balls inside to pop and bounce around.
Final Thoughts – Best Educational Toys For a One Year Old Baby
Babies grow so fast during their first year. They go from tiny inert crying and pooping machines to babbling mobile tornadoes of wonder all in the space of 12 months. It's incredible to watch them grow both physically and developmentally.

When selecting educational toys for infants, look for toys that will grow with your child on both levels. You'll save a few bucks, and the kids can keep their favorite toys around a little longer. Everyone wins.
For our all time favorite STEM & Educational toys (for all ages) check our top picks roundup.