Your child's development starts from the moment they first open their eyes at birth, and it is up to you as their parent to foster their development. While nothing can replace quality time with your baby, adding educational toys is a great way to enhance knowledge and growth. Starting at around six months, babies can begin playing with toys and interacting more with their parents.
For babies six months of age, the best educational toys are often simple while providing enough stimulus to keep them interested and engaged for a short period. Some of the top educational toys for 6 month olds include:
Fat Brain Toys Tobbles Neo
Baby Einstein Take Along Tunes
Skip Hop Explore and More 3-Stage Activity
100 First Words Book
Fisher-Price Brilliant Basics Snap-Lock Beads
Sassy Floor Mirror
Sprout Ware Stacking Cups
Baby Face Book
Skip Hop Silver Lining Cloud Baby Play Mat and Infant Activity Gym
SmartNoggin NogginStik Developmental Light-Up Rattle
Of course, it is essential to gauge your child's capabilities and understand which toys work best for their developmental needs. Children develop at their own pace, which means one six-month-old may be very different than another, and certain toys will work better than others. It is also vital that you are working to encourage developmental skills that are appropriate for this age range, both with and without toys.
Critical Developmental Skills for 6-Month-Olds
Most babies around the half-year mark are beginning to become interested in the world around them. They may start to reach for new items and develop new motor skills. You may also find that they are more interested in becoming mobile, beginning to roll, and even crawl.
Some skills that most six-month-old children are beginning to develop are:
Rolling from back to belly or belly to back
Sliding back and forth on their tummy or army crawling
Beginning to rock back and forth on their knees
Sitting with limited or no support
Holding objects in hands, switching object from hand to hand
Using their hands to begin chewing on objects
Developing speech patterns, new coos, and becoming more responsive when spoken to
10 Best Educational Toys for Your Baby
Now that you have a better idea of what your baby should be doing and fun ways you can teach them, let's jump into some fantastic toys you can use to help foster growth for your baby. These toys range in price but are all readily available to purchase online (affiliate links below.) Let's explore our top educational toys for six month old babies:
This super fun and innovative toy has tons of creative potential for your baby and is an excellent option for long term playing and growth. These pieces are uniquely shaped and weighted to balance and nest on themselves, which will have your child stacking, spinning, and wobbling them for months to come. This is an excellent toy for teaching sensory play, coordination, motor skills, spatial skills, and much more.
This is a great compact toy for educating your child while also keeping them busy, especially on the go. This is a kid-controlled music player that plays seven classical melodies while also having flashing lights that will keep your child entertained. The take-along tune player is easy to carry and is a great way to encourage music growth, while also keeping your child busy.

Both of our children gave this toy a workout. As we were going through some boxes recently to see what we could pass along to other families or donate, we found this. The kids rediscovered it, and it once again entered rotation as a much loved toy. Though it's targeted towards babies, it can still hold a child's interest a few years on.
This activity center and those like it are a great way to encourage independent play and can be very educational. This center from Skip Hop has a musical, light-up piano, a peek-a-boo owl, colorful beads, swaying trees, and so much more.

Activity centers make an excellent addition to your child's toy collection and this 3-Stage Activity Center can grow with them by later turning into an activity table.
Reading is a major educational activity that you can add to your daily routine, and this book is a top choice. Your little one will love the exciting, bright pictures, and this book is a great way to encourage new vocabulary growth. This book, in particular, has 100 colorful pictures of simple words that are great to introduce during the first year of life.

We put this book in the cribs for both of our boys. If they woke up before we did (well – not *if*, but when they woke up before us), they would page through this book and spend time looking at all of the colorful pictures.
These beads are a great way to foster fine motor skills and coordination in your baby. The beads are brightly colored and easy for younger babies to grasp, put them in their mouths, and connect together. They are soft and small enough to toss into your diaper bag for on-the-go play.
This baby-safe mirror is a great way to encourage social skills, emotional development, and can be used during tummy time to keep baby entertained. The mirror is a great way to show expressions to your baby and allow them to explore their own reflection safely. You can also prop the mirror in front of your baby, allowing them to look at themselves while doing tummy time or sitting activities.
Similar to introducing emotion to your baby through a mirror, this book breaks down the different emotions your child may feel. The book offers diverse baby faces, showing happy, sad, surprised, and silly emotions. You can read the book to your baby, while also making similar faces to encourage understanding of the book.
These brightly colored cups are a great way to encourage motor skill development and coordination in your child. You can allow your baby to begin stacking them on their own, or you can use the cups to hide small toys inside or under to explore the concept of object permanence. This is also a great toy to bring into bath time, allowing them to fill and pour out the cups.
This is a fantastic toy for a wide range of ages, starting as young as a newborn and stretching far beyond the six-month mark, making it well worth the cost. This gym offers a soft play mat with several textures that babies love, along with several interactive toys. For younger babies, you can lay them on the mat to smack at the hanging toys, while older babies can sit on the mat and enjoy the various interactive elements with a plush landing should they lose balance.

Both our boys loved play mats, and would often lay and play together on the activity mat. Styles and colors on baby play and activity mats vary (and change from year to year), so you can find one that suits your decor and style. We had one that was brightly colored in the photo below, while the Skip Hop Silver Lining Cloud Baby Play Mat is neutral colored and will easily fit in anywhere.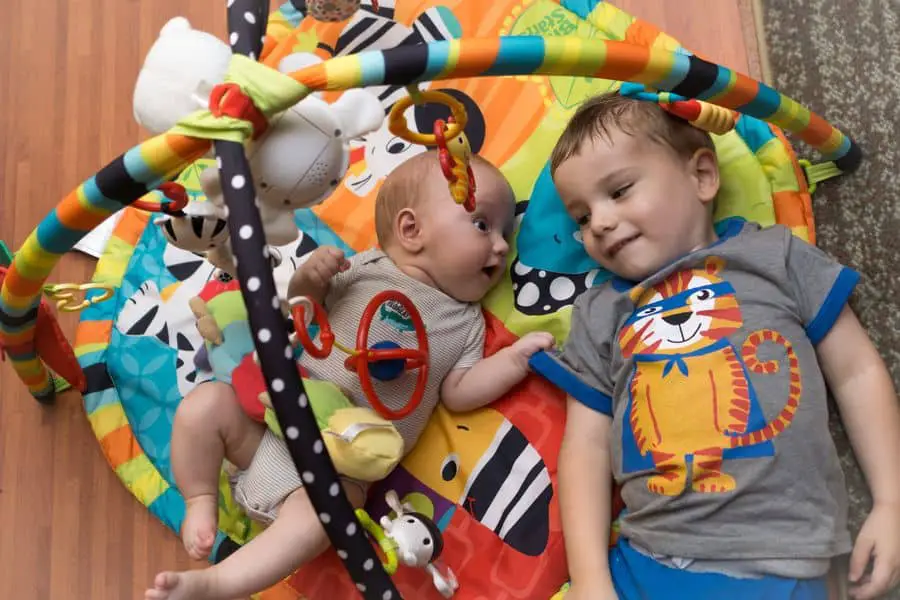 Another excellent option for a range of ages, this rattle is interactive and helps babies learn cause and effect, a significant part of development. The rattle as a tactile base and a light-up head that changes colors as the baby shakes it, teaching the baby that shaking the rattle will lead to these exciting lights. An early understanding of cause and effect is a great way to encourage STEM skills for your child later on in life.
Related Post: What is a STEM Toy?
Final Thoughts – Educational Toys for 6 Month Olds
Before implementing new toys into your baby's routine, you will want to assess where they are developmentally and what your goals are for the upcoming months.

For most babies around the six month mark, they may not play with toys on their own for long (or even "correctly.") I recall the toy bar we put on our first son's car seat. He didn't touch it for the longest time, and we were beginning to wonder why. One day, he was sitting quietly in his car seat and I heard the rattle of one of the items on the toy bar. It was the first time he reached out and grabbed a toy on his own. After that, he was continually playing with the toy bar (and everything else within reach.) It make take some patience, and you will want to work with your baby to help them understand how to affect the world around them (especially the toys!)
As an afterthought, toys don't replace the one-on-one time that children crave. The most important thing you can give a child is your time. There are many games and activities that you can do with your child that do not involve toys or extras, and their early months go by so quickly.
For our all time favorite STEM & Educational toys (for all ages) check our top picks roundup.