When kids are about 4 years old, they are becoming more independent and starting to develop STEM (Science, Technology, Engineering, Mathematics) related skills. At this stage, playing with STEM toys can help kids cultivate their problem-solving capabilities and nurture their creativity.
With so many options available in the market, it can be really confusing to pick the best STEM toys for 4 year olds. We've gathered some great toys to get you started. Let's explore!
Magnetic 3D Blocks or Tiles
Magnetic Human Body Play Set
Pretend & Play Calculator Cash Register
Monkey Balance Counting Cool Math Games
Marble Run Super Set
Light-up Terrarium Kit for Kids
My First Microscope
STEM Building Toy Set
Brain Flakes: Interlocking Plastic Disc Set
Drill Activity Center & Take Apart Toys
Magnetic tiles are a great STEM toy that keeps kids engaged in building 2D and 3D structures. This is not only an entertaining crafting game but also an educational tool to understand dimensions, shapes, and colors.
Magnetic tile sets are a great way to get your child interested in engineering, and the magnets will teach them about repelling and attracting forces.
There are lots of pieces, so kids can easily share and build their masterpieces! In this way, they can make friends and work as a team. I would often find my son building a huge magna tile castle with his friends when picking him up from daycare.
Kids can actively learn to design, reason, and construct. This also boosts their confidence by providing a sense of accomplishment. My son is always so proud to show me his latest magnetic masterpiece.
You can also take part in the game with the kids and enjoy quality time, while guiding and challenging them to build more complex structures.
STEM skills:
Applying logical reasoning
Using fine motor skills
Improving eye-hand coordination
Understand magnetic polarities
Generating a creative architectural idea
Developing a sense of color, shape, and geometry
Spatial Awareness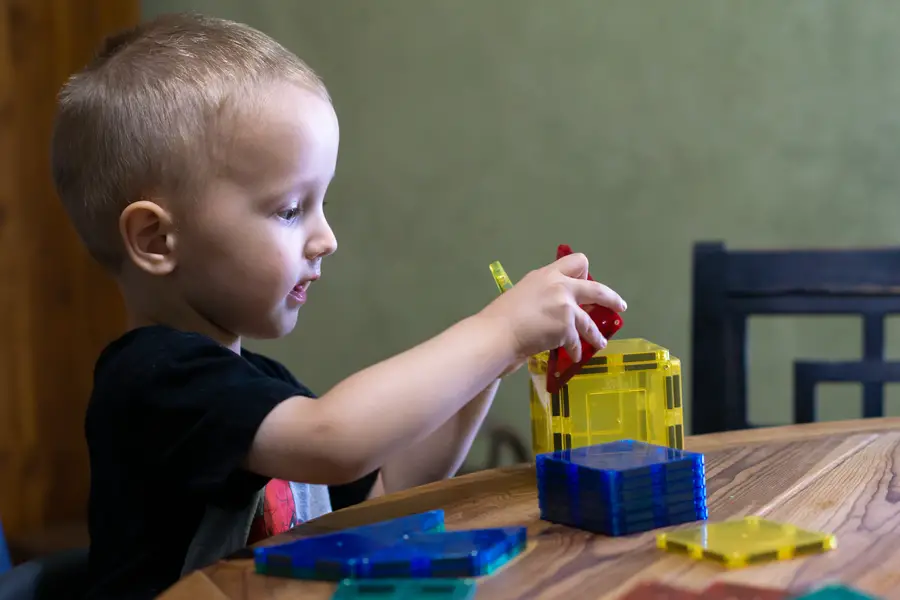 We like this 100 Piece set for the sheer size of the set and variety of pieces. You also can't go wrong with the classic Magna Tiles.
Related Post: Check out our favorite activities with Magnetic tiles
The cool thing about magnetic tiles is you can mix and match sets. Our little guy got the Magna-Tiles Glow set as a holiday gift and has been loving it. You can shine a light directly onto the the tiles and draw a design, use stencils for some more complex designs and watch them glow!
This magnetic human anatomy puzzle set can be an outstanding learning aid for your 4-year-old kid. They can visualize different body organs and systems. Thus they can learn anatomy by correctly placing the magnetic pieces of the puzzle. This set comes with a wooden stand for convenience.
Overall, this body puzzle is great to encourage the kid's interest in biology and science. This is also quite inexpensive compared to the quality and benefits it provides.
STEM skills:
Promoting eye-hand coordination
Encouraging healthy imagination
Understand human anatomy
Enhancing analytical ability
Improving memory and attention
This is a classic counting toy, which provides opportunities to learn basic math skills with pretend play. The cash register features a solar calculator, which will help kids to familiarize themselves with the calculator.
There are also pretend scanner, scale, and coin slots, which are great to know about real-life transaction process with visual and tactile learning styles. It also comes with actual sized pretend bills, which kids will have fun to handle. Thus kids can also learn the value of the currency, have ideas about weight, and do basic math.
You can watch this video to know more about how it works.
STEM skills:
Identifying bills and coins
Using Imagination to play
Sorting and matching
Processing sequential thoughts
Applying  auditory and motor skills
Using calculator (place values, add and subtract)
Your 4-year-old child will love this educational toy! This is a great tool to introduce numbers to kids. It comes with monkey scales, number toys, and lots of little monkeys, all made with non-toxic materials.
Kids can play multiple games at different levels. This game helps them to learn basic counting, equations, and scale. Through this game, you can also interact with the child in a fun way.
Moreover, CozyBomb also provides 30 days money-back guarantee if you are not satisfied.
STEM skills:
Exploring numbers and equations
Developing weight perception
Improving cognitive functions
Promoting critical thinking through iterative learning
This vibrant marble-run super set comes with 85 translucent pieces, varieties of action pieces, and glass marbles. The set also has 8 bases including 3 large ones, which provides a proper surface with superior stability.
Thus the building ser allows your kids to have endless possibilities to assemble the pieces for customized marble maze. Moreover, you see the marble action from top to bottom in different styles.
The company also offers free 'Marble Genius' instruction app (both for iOS or Android), which includes step-by-step guides for 9 projects and also updates the content. You can also play as a family as it is equally entertaining for adults!
STEM skills:
Getting hands-on experience
Fostering creativity by design ideas
Training visual and spatial reasoning
Enhancing intelligence and confidence
Developing the ability to  follow instruction
Related Post: For more marble run fun, check out our DIY Marble Run Activity in our post on STEM Activities with Toilet Paper Tubes
Terrarium kit is a very unique STEM toy. You can call it a miniature garden in a transparent container that simulates the natural atmosphere. Children can create their own garden and decorate it with this kit.
The kit comes with vermiculite soil, blue sand, wheatgrass, chia seeds; miniature river rocks, mushrooms, and bunnies. This also includes a jar, light-up jar lid, charging cable, and instruction booklet.
It's amazing how kids can transform this little toy kit into their little world. When the little plants grow and the jar glows at night, it's absolutely magical!
STEM skills:
Understanding ecosystem
Connecting with elements of nature
Learning about plants and gardening
Nurturing imagination by creating a personalized display
Another one of the least complex toys on this list, the My First Microscope from Geosafari allows children to have an up-close-and-personal look at flat and 3-dimensional objects.
This can be a great pre-school toy for your kid. With its extra-large dual eyepieces, kids can explore their new world from 2.5 to 8x magnification. Kids can look at an object and from a familiar view and zoom in to see details up close.
Four-year-olds will enjoy taking gadgets from around their home to study under the microscope. The controls are made for little hands and the LED lights brighten up the viewing area. This is an excellent tool for kids that lets them explore more about the world around them.
It's also available in Pink.
STEM skills:
Encouraging curiosity
Instigating scientific exploration
Stimulate learning about scientific tools
This set of building blocks is distinct in the sense that it was developed by a group of teachers to promote a basic understanding of physics, mechanics, and mathematics for kids.
This toy set is more like a skeleton or frame building set, which allows kids to build varieties of geometric shapes such as spheres, diamonds, houses, helicopters, birds, even a giraffe! There are numerous possibilities for design. Along with the toys, three instructional e-books are included in the set that can help kids to explore their full creative potential.
STEM skills:
Practicing problem- solving
Improving mental focus
Understanding STEM concepts
This brain flakes disc set is a great alternative to building blocks. The kit includes 500 pieces of brightly colored interconnecting discs that click together to construct whatever the kids like. The discs are made of toxin-free polyethylene (PE), so you can be worry-free about the kid's safety.
Playing with this kit can be both solo and group activity, whether it is at home, or at school.

The company stands behind its product and offers 90 days warranty for any manufacturing defect, along with a 30-day return policy.
STEM skills:
Boosting imagination
Activating spatial intelligence
Improving  coordination and dexterity
Educating about design and engineering
Drill Activity Center & Take Apart Toys
When kids are about 4 years old, they can start to handle simple tools. Our kids love building (and taking things apart), so these sets are perfect opportunities to get their curious minds constructing and deconstructing with tools build for their age.
In this game, kids can play with toy drill and chunky, fun-shaped bolts to design different patterns on the board. It comes with an activity board, 120 bolts, 1O activity cards, and the tools include a kid-sized drill (operates with 3 AA batteries), a combination wrench, and a screwdriver.
They can either come up with their own design or follow the map of the included pattern card. This game also provides a learning opportunity outside the classroom, by sorting matching color or counting the bolts. 
STEM skills:
Enhancing motor skills
Practicing attention to detail
Sorting and counting
Developing a sense of color and patterns
Once kids get the hang of using tools, you may want to look at some Take Apart Toy building kits where you can construct airplanes, construction vehicles, fire trucks, race cars, and more.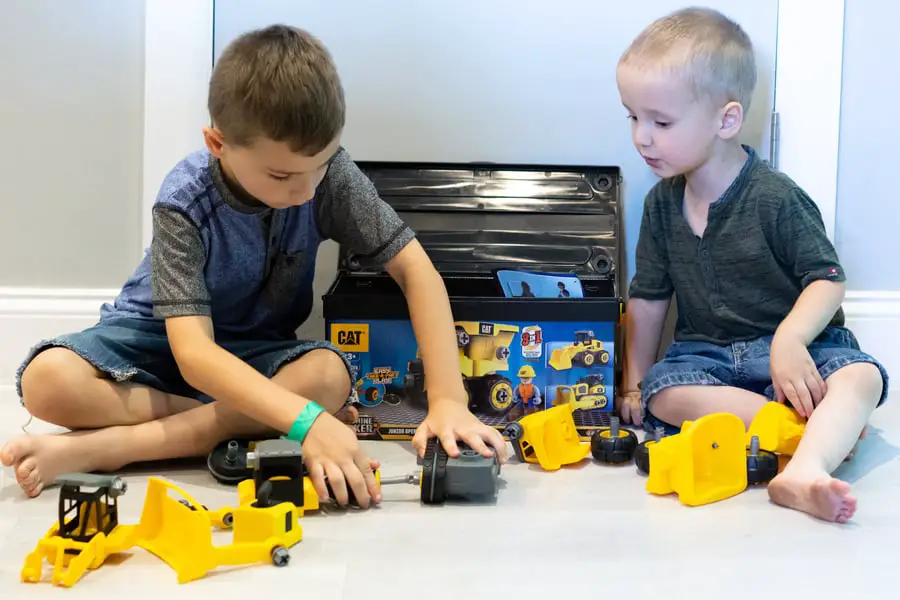 STEM skills:
Enhancing motor skills
Practicing attention to detail
Sorting and counting
Learning to use tools
Take Apart Toys Pro Tip: If you're buying multiple sets, check and see if the drill bits are the same for different sets. It can get hard to keep track of multiple drills and the matching screws if all the sets use different parts.

After having a number of sets, we prefer the Machine Maker line. The screws do not come all the way out, so they don't get lost. These are easier and less frustrating for younger kids, and well constructed.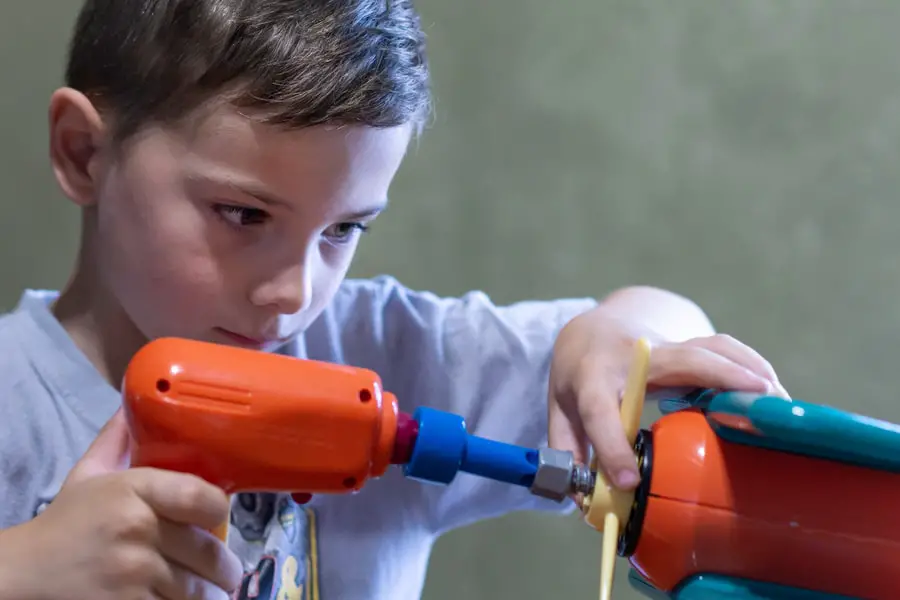 Final Thoughts – Best STEM Toys for Four Year Olds
From this post,  you have discovered some awesome STEM toys that 4 year olds will love! So get the best STEM toys for your kids and let their STEM skills flourish to the fullest.
Keep in mind children will develop differently (and some toys are so cool kids can't wait to play with them or want to keep playing with them long past their "suggested" age.) You may have a 3 or 5 year old that will enjoy these same toys just as much. Check out our picks for each age group here:
For our all time favorite STEM & Educational toys (for all ages) check our top picks roundup.