Nearly 27 billion dollars are spent each year on toys in the United States.  It is safe to say that people love to buy toys, and children love to play with toys.  However, there is a new trend when it comes to toys and their educational impact on children.  Most parents want their children to be as advanced as possible, and are searching for STEM and educational toys.
The best educational toys for three year olds are designed to stimulate the various aspects of their development, such as:
In this article, you will learn about some of the best educational toys for three year old's and why they are beneficial to the development of young minds. Let's Explore!
How to Pick the Best Educational Toys
You will see multiple ads trying to persuade you to purchase the next best educational toy, but believe it or not, every toy is not the best for your child to learn from. 
As noted by WebMD, when searching for educational toys, there are a few key things to keep in mind:
How will it help my child?

Fine motor skill development

Social and emotional development

Is it durable?
Will it last beyond the current age or trend?
Is it an independent toy, or do they need parental support to use it?
Most parents want their children to get a head-start on learning so that they are better prepared for preschool and the education setting.  The critical thing to remember is that learning needs to be fun and engaging at this age.  Do not expect to spend hours pouring knowledge into your child (I've tried, with hit and miss success at this age.)  Kids around two years old learn best through play.
Best Toys for Language Development
When it comes to the best toys for language development, you want to look for toys that speak with the simple push of a button.  Here are some examples of toys that will help with your child's language development:
These toys will help expose your little one to many different words, as well as the numbers and letters. However, while this is excellent practice, it should not be used as a substitute for regular interaction with an adult.
Best Toys for Cognitive Development
Cognitive development refers to how children think, explore, and figure things out (Source: Help Me Grow).  Offering a bit of independence to your child with learning toys helps with cognitive development.  This is a time when blocks and simple puzzles would be useful.
Here are some of the best toys to check out for cognitive development:
As you can see, most of these items are puzzles or require building and sorting of some sort. When looking at these toys, make sure the pieces are safe for your child to use. Most are wooden with large pieces that do not pose a choking risk.
Best Toys for Gross Motor Development
For gross motor development toys, you are going to look for toys that help develop the large muscles of the body. There are many different options for toys in this category: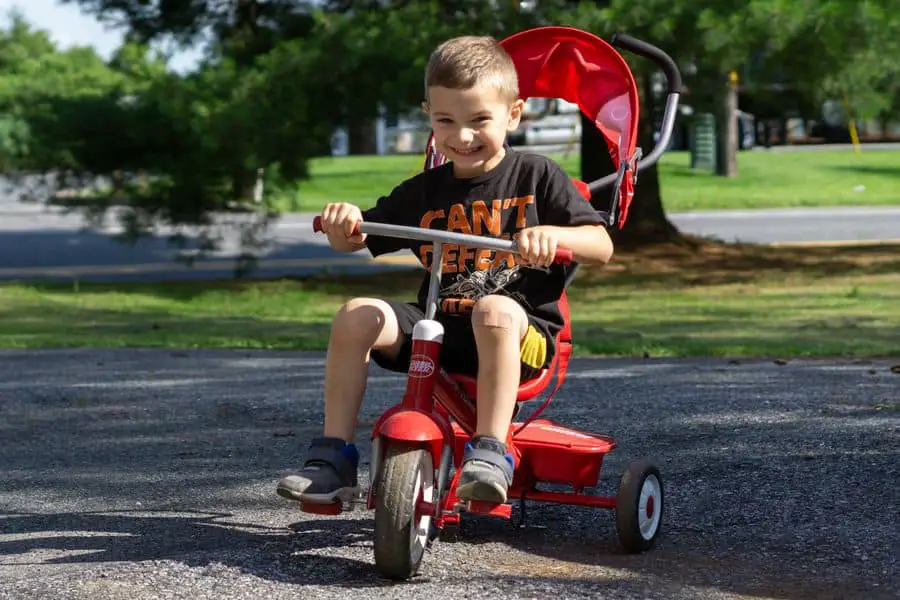 As social/physical distancing is becoming more of a long term situation, we've found ourselves venturing out less and playground visits are dearly missed. Backyard Playsets, swings, and jungle gyms have become hot items.

We've been bringing more things that we'd normally let the kids experience at the playground into the home (or yard) to keep them active and developing.
This list includes many toys that can be used outdoors or indoors if you have enough space.  Gross motor skills are very intricately connected to regular exercise, which helps develop large muscle groups.
Best Toys for Fine Motor Skill Development
The development of fine motor skills is of great importance at this age.  Children use fine motor skills to do things like holding pencils, cutting with scissors, and tying their shoes. 
Here are the best toys to help develop a child's fine motor skills:
This is not a comprehensive list of fine motor development toys; however, these are some of the best you will find to help develop these skills with your little one.
Best Toys for Social and Emotional Development
Three-year-old's need to have toys that help develop their social and emotional skills. If you made it through the "terrible twos," you already know how emotional children can be. It is vital to encourage social and emotional development through play. 
Here are some of the best toys to accomplish this:
When looking for toys to support social and emotional development, you will find that many of the toys will require the support of a parent or other adult to allow the child to engage with the toys fully.  This is because there is a dialogue that needs to occur while playing, especially when learning about feelings.
Why Provide Educational Toys
When purchasing toys for your child, it is crucial to provide a variety of toys, including educational options.  Children innately learn a tremendous amount through the act of playing, so you must provide opportunities for interaction with specific educational toys along with toys that are not educationally based. (Source: NAEYC)
Are Bright Colors Important?
You will notice that most children's toys are brightly colored, which may lead you to wonder if this is a critical part of learning toys. When children are young and have not fully developed their eyesight, bright colors are more likely to stand out to them when playing.  Children can form stronger associations when bright colors are involved.
So, while the colors themselves may not directly correlate to the effectiveness of a toy, they are connected to the child's ability to remember and make associations. For example, when looking at an alphabet chart, a child will usually be able to associate the letter A with a bright red apple.
Do They Need to Be Expensive?
Quality toys do not need to be the most expensive toys you can buy.  The cost does not determine the effectiveness of a toy.  The toys listed above are (mostly) under $100. Kids love toys, and they are not looking at a price tag when they are playing and learning.
Can a 3-Year-Old Use a Learning Toy Alone?
When you think of learning toys, you may think of toys that require explicit instruction or input from an adult for them to be effective.  The toys listed above are all toys that a child could independently play with and learn from.  The only toys that may need more direct interaction are the social-emotional toys.
It is recommended that children are engaged with an adult during play for a minimum of 30 minutes each day and independently playing for at least 60 minutes each day, as outlined by Kids Health.  It's helpful for kids to understand how to play with the toys you are providing. Sometimes this is apparent through self-discover, and at other times it's beneficial (and fun) to interact with kids while they are playing.
Final thoughts on the best educational toys for three year olds
Educational toys are essential for the development of a child because young children learn from play and interaction.  The toys in this article are specifically geared toward the areas of development that a three-year-old needs. However, all children develop differently.

While this list is for three-year-olds, you may have a 2 or 4 year old that will enjoy these same toys just as much. Check out our picks for each age group here:
For our all time favorite STEM & Educational toys (for all ages) check our top picks roundup.