There are many ways to engage children in these topics. One way is through building activities.
STEM building activities are fun ways to teach kids about engineering.  You can encourage ingenuity and creativity in your budding engineers and architects both with everyday materials at home (or school) or with building toys. 
We've collected some of our favorite STEM Building Activities to get you started.  Let's explore!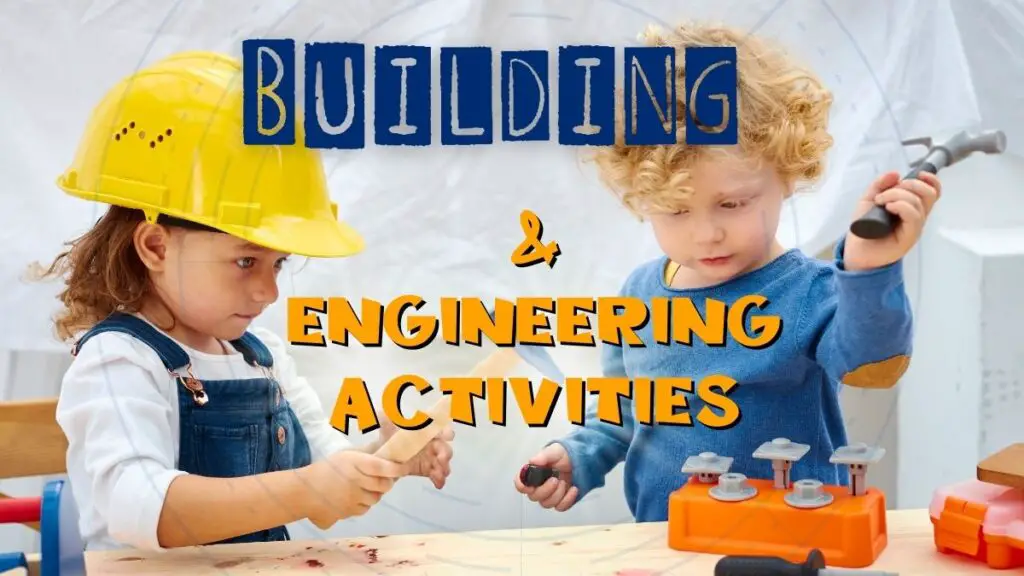 Building Activities with Materials at Home
Building structures with materials that are usually readily available at home provides activities that are quick and easy to set up.  It also challenges kids to exercise their creativity by building with a specific set of items.
Using simple materials we'd often discard is an inexpensive way to plan some STEM activities.  It may take a bit of time to save up enough boxes, cans, or tubes to build something, though the kids will appreciate the effort!
Tin Cans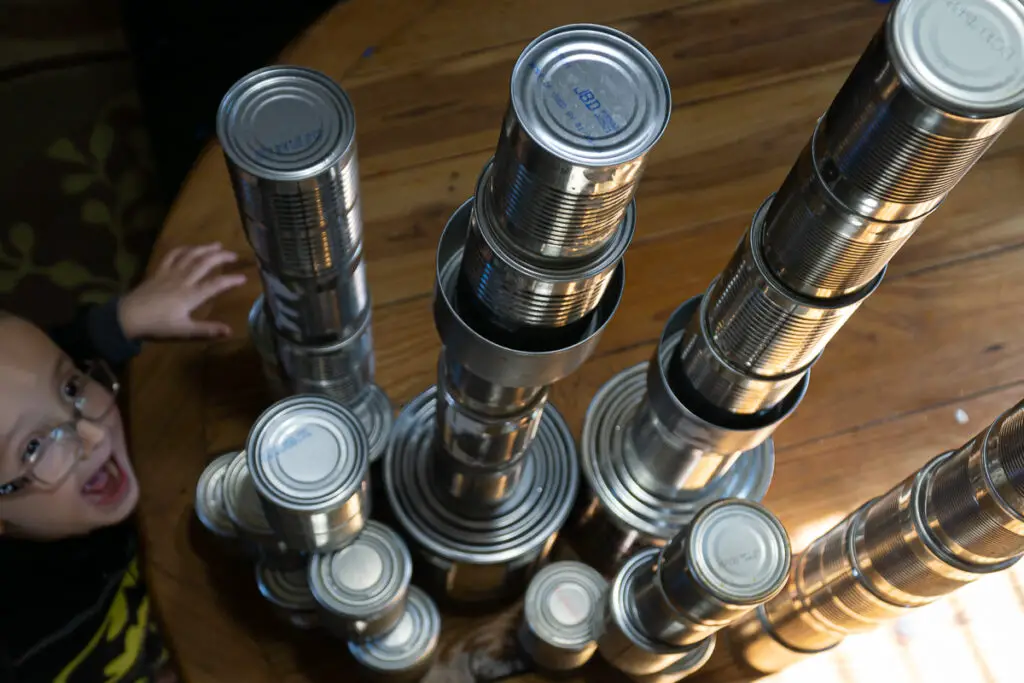 You can build all kinds of structures with empty cans.  Here are a few building and engineering challenges to get you started:
Mix and match different sizes and see who can build the coolest castle. 
Practice symmetry by having the same structure on each side.
Who can make the tallest tower (without knocking it over)? – Okay, who am I kidding? Of course we're going to knock it over! 
Our kids enjoyed laying out the cans like a castle or small city and, of course, knocking everything down! Click over to our tin can activities post for more ideas.
Plastic Cups
Similar to tin cans, plastic cups can be a simple stacking exercise to build motor skills for younger children.  Plastic cups are an easy starting material for kids to learn to build a simple structure by spacing a few cups apart and stacking on top.  
Challenge little engineers to build towers beyond the traditional pyramid shape and see what they come up with.
For more ideas, check out our post on Activities with Plastic Cups.
Popsicle Sticks
Popsicle sticks are great for crafts and deserve a space in your toolkit. You don't have to eat a bunch of popsicles to get enough to build with (though the kids usually don't mind!)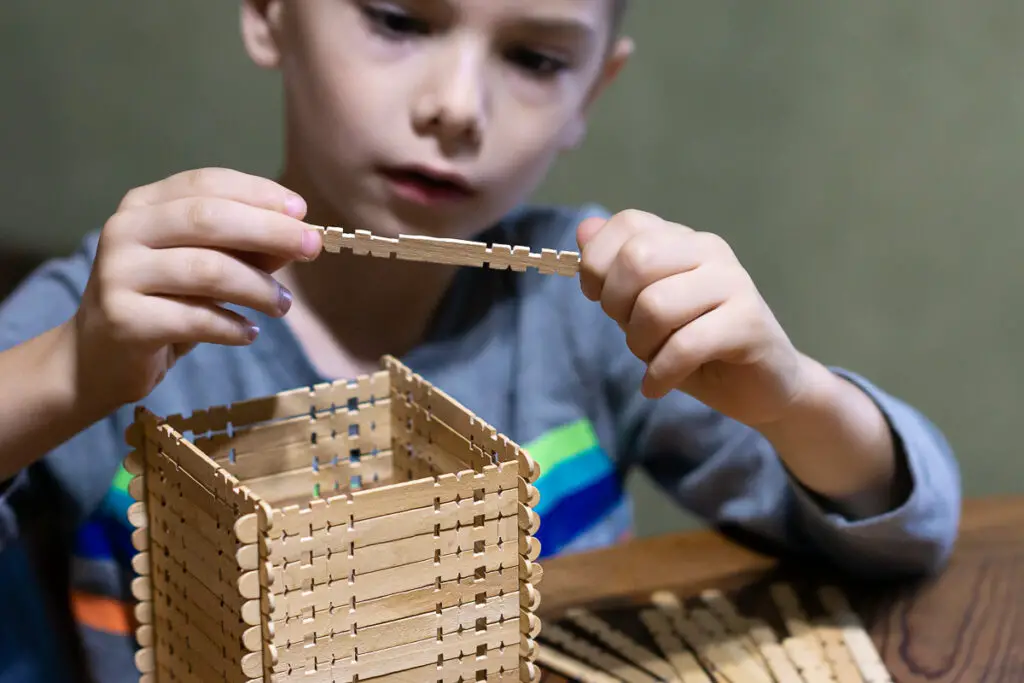 You can buy craft sticks in bulk if you need enough for a specific project or a classroom.  You can also get slotted sticks that are designed with building in mind like the ones we used in the above photo.
You can build all kinds of buildings, bridges, boats, catapults and more! Check out out popsicle stick activites post for more ideas.
Toothpicks
Building with toothpicks can be a fun challenge.  You can use something like mini marshmallows or something similar to join the toothpicks to create structures.  In our project below we used fruit snacks (gummy bears could work as well!)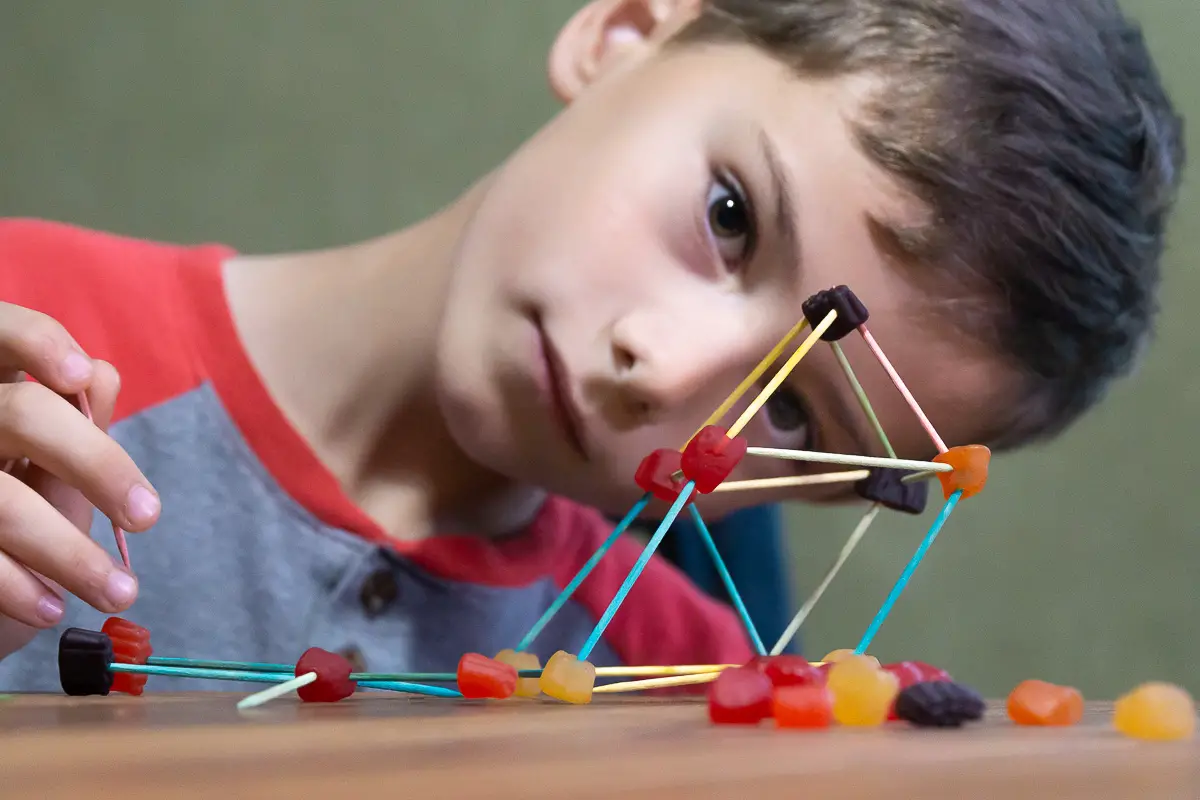 You can make buildings, animals, sculptures, or even build representations of molecules.
As you can see in the above photo, the structures can be pretty wobbly. Challenge your kids to make stronger structures. What architectural techniques can they use (e.g. supports, buttresses, etc.) and how can they build them with toothpicks?
Cardboard Tubes
Cardboard tubes are plentiful, and we often recycle them or toss them in the trash without a thought.  You can use paper towel rolls, toilet paper tubes, or git wrap tubes to do all kinds of crafts and projects.  
You can have fun building catapults with tubes.  Our kids also enjoyed using cardboard tubes as building blocks.  By making a few cuts in each tube, you can slot them together.  Add some paint or decorations and you can make some interesting structures.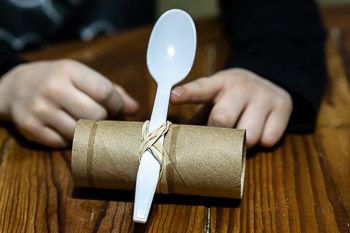 Cardboard tubes also lend themselves to building marble runs. You can design some interesting setups, especially if you have tubes in different lengths to mix it up.
For a simpler building activity, you can use different sizes of cardboard tubes to lay out a city.  It's fun to build, though our kids loved knocking down all of the tubes (and building Tube City again.)
We also used tubes as the foundation for a cardboard bridge.  To make this into a simple engineering activity, see how moving the supports under the bridge help distribute weight.  What is the best arrangement for your support columns (tubes), and how much weight can your bridge hold?
Cardboard Boxes
It's often a joke that if you buy a child an expensive toy, they'll often spend more time playing with the box it came in.  We've witnessed this many times with our kids!  We often let them play with large boxes for a while before recycling them (appliance boxes make great forts!)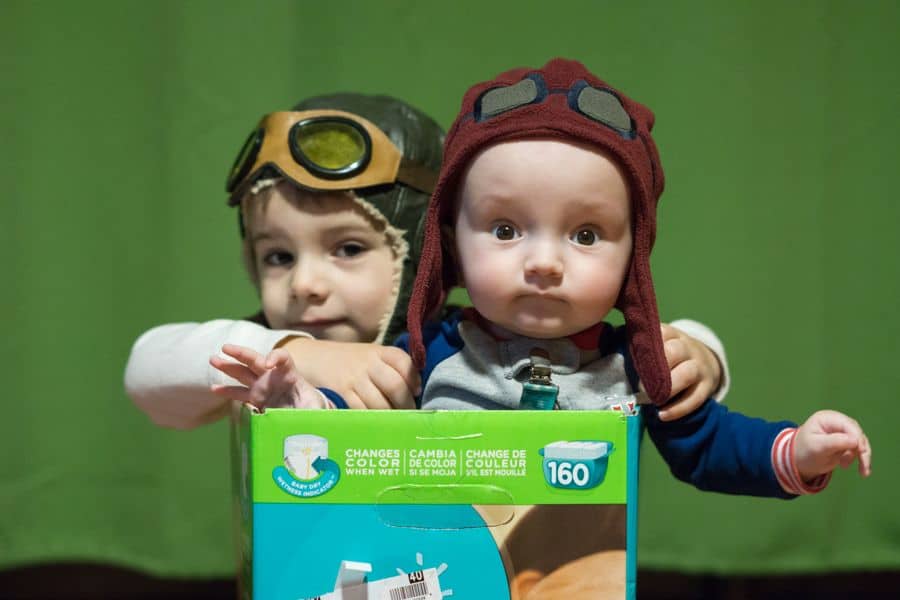 You can stack boxes to make buildings, lay them out to plan entire cities, or use them to build costumes like robots or armor.  Boxes can be spaceships or boats for some creative play.
You can lean about acoustics and how a box can shape and project sound. Follow along and make your own playable "Big Box Bass" in our post on activities with Sound.
One of the things that I've always found fascinating about cardboard boxes is the folding and cutting that goes into the box itself. We often take for granted the design of the box itself. When was the last time you've thought about cardboard boxes (if ever)? Try unfolding one and laying it flat to see the cuts and folds. Can you design your own, or challenge your kiddos to design a folding box out of a flat piece?
You can scale building challenges with your child's skill level.  For younger children, it may be simple enough to use the boxes as is.  You can add complexity, like painting or covering the boxes to add some aesthetic appeal, or add some realism to what they're building.
Gingerbread Houses
Gingerbread houses are great holiday fun, and can be an engineering challenge.  What's the best size for the pieces?  How can you get them to stick together?  You can buy (or make) gingerbread slabs individually as well as icing and an assortment of candy.  You can also find ready made kits if you're in a hurry or want to give a kit as a gift.
The folks over at Nerdforge took the concept of building with candy to the next level with a chocolate house.  Check out this amazing build:
Building Toys
While building with common household items are fun, most kids don't view cans and boxes as "real" toys.  Yes, they'll be entertained for a while, though most kids would rather something more substantial than painted tubes or cans as a "go to" toy.
There are plenty of building oriented toys available from classic wooden blocks to Legos.  Building toys encourage creativity and open play.  With a bit of direction you can provide kids with challenges to make them think and plan how to achieve their objectives.
Wooden Blocks
It doesn't get much simpler than a classic set of wooden blocks. One of the best things about wooden blocks is the simplicity.  No beeps or bloops, or repetitive sounds.  No batteries to change.  Wooden blocks are a great way to introduce shapes, and how they stack and combine together.  It's a great place to start kids stacking and building.  
I actually bought our son's first block set before he was born. We went with a starter set of 60 pieces.  There are enough variety of shapes to build some interesting structures.  You can find natural wood tones as well as brightly colored wooden building blocks.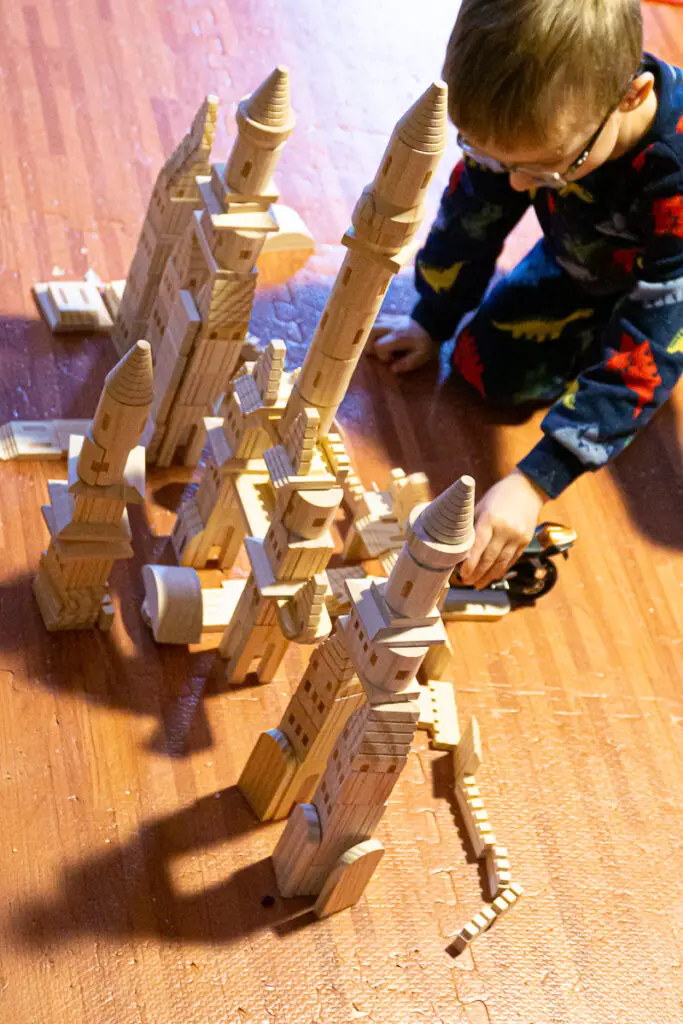 Our kids also love this block set that has pieces cut like castles.  It's fun building turrets and towers, and they love combining these pieces with their more traditional block sets for some epic creations.
Legos (and other Plastic Bricks)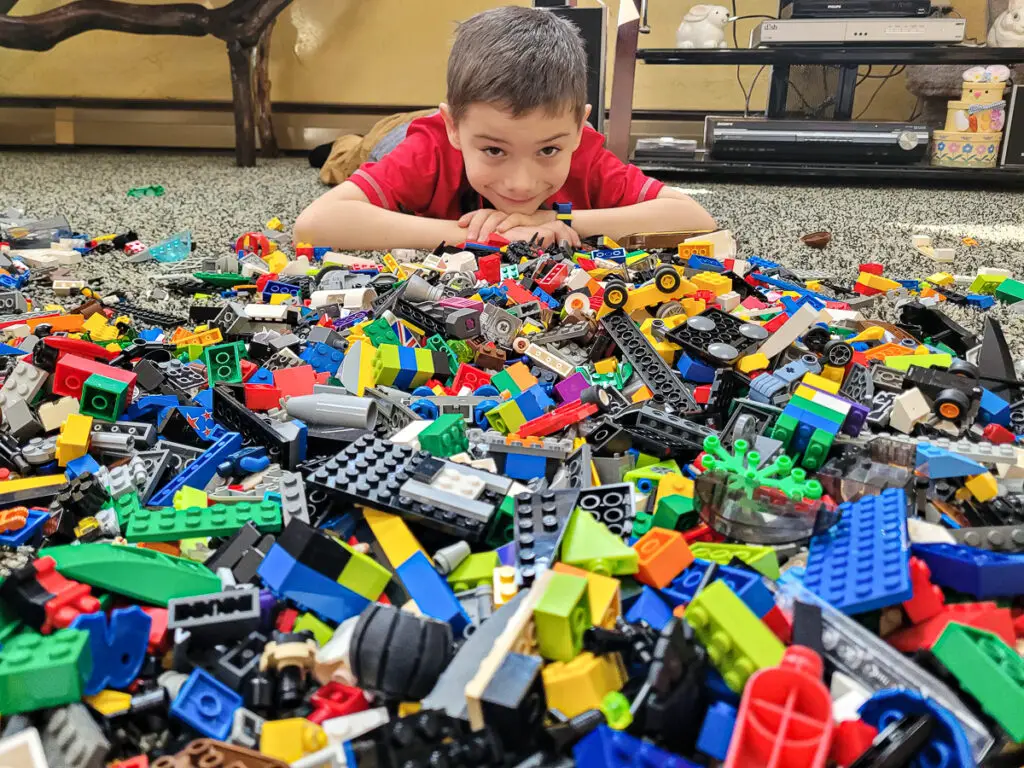 Legos are a great STEM toy, and one of our most common toy recommendations. Whether you're staring out with Mega Bloks or Duplos for younger kids, or using traditional Legos, there is much to learn while having fun. Building Legos from kits helps kids follow directions and think spatially as they're figuring out where the parts go.  Lego sets are (usually) well thought out and nice little feats of engineering. 
Our boys have learned so much about building by following along and building models as shown in the direction.  Still, they love to take apart and combine different kits and pieces or just see what they can build with a bucket of bricks.    
Want to amp up your Lego learning experience?  Try some of the more advanced building kits like Boost, Mindstorm, or Technic.    Check out our post on building with plastic bricks for more on these.
If you want to some inspiration to see what's possible with Legos, check out these awesome Lego constructions for some building ideas.  Some of these are impressive engineering.  
Related Post: Check out our post on Best Building Blocks for more!
Magnet Tiles
Whether you pick up a set of Magna Tiles, MagBlock, Playmags, Shape Mags, Picasso Tiles or another brand, the idea is the same.  These are brightly colored shapes with magnets on the sides so they snap together in place.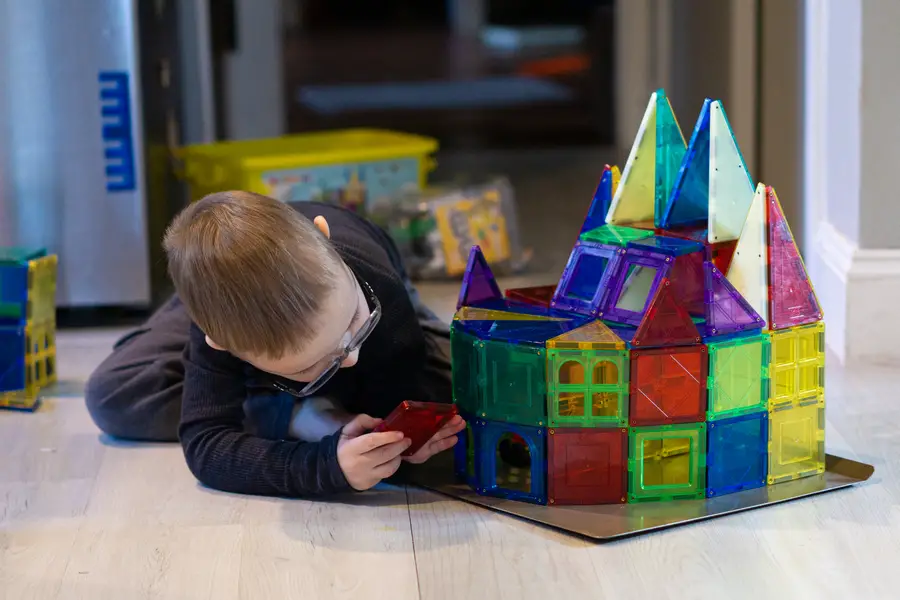 Building simple structure is a piece of cake, and most kids can do this easily.  A fun idea for a STEM challenge is to have them build some more complex structures that break out of the blocky rectangle shapes.  Can they build a slanted roof or a dome?  
We have a whole article on magnet tile activities to give you some fun ideas. Check it out.
Lincoln Logs
Lincoln logs are another classic construction toy for good reason.  Kids love building with them.   
Here is a link to a free PDF file with instructions on how to build a classic lodge building. If you'd like more how to instructions, check out this book that details how to build 37 different structures:
You can even 3D print your own "logs" if you want some extra parts.
You can build more than just cabins! Find out how to build a Lincoln Log catapult on our page of catapult projects!
Gravitrax
Gravitrax is a marble run toy designed as a fun engineering challenge.  Use science concepts like gravity and magnetism to design some cool mazes.  Test your design skill with some marble trick shots.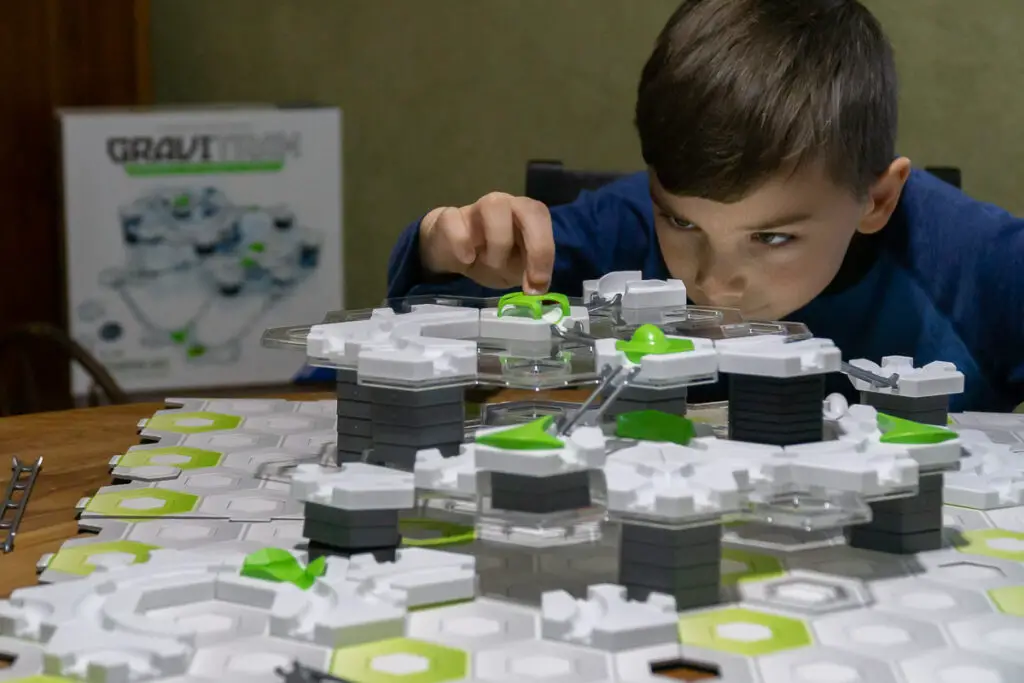 Grab the starter set to gauge interest.  The initial kit provides plenty of pieces and instructions on how to construct a number of track designs.  There are plenty of expansion sets if you want to build beyond the basics.
Wrap Up – Engineering Challenges and Building Activities for Kids
The world needs engineers now more than ever. We need them to solve problems and invent new things. But we also need people to teach our kids how to become engineers.
This is where STEM building activities come into play. They allow children to explore a wide range of engineering concepts while having fun.