Mega Bloks are brightly colored plastic building bricks and perfect for toddlers to start learning how to snap objects together. They're big enough for little hands to grab easily and help young children develop fine motor skills fitting the blocks together and stacking them.
Though Mega Bloks stay together once snapped in place, they are easy for little hands to pull apart. Toddlers can easily build by themselves, though you'll probably want to join in the fun. A big set of blocks is a great way to start.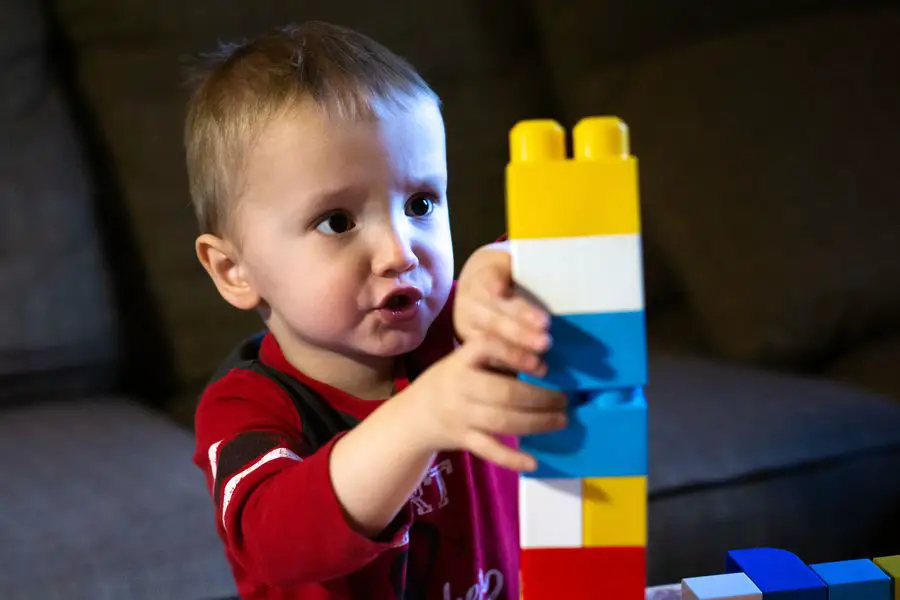 We enjoyed seeing our kids build more advanced structures, especially when they started building symmetrically and using the same colors and bricks on each side of a structure.  Symmetry makes a great STEM/STEAM challenge exercise you can do with your kids.
Though they're aimed at younger children, Mega Bloks have a long shelf life. Our 5 year old still plays with Mega Blocks (and, okay, I'll admit it – so do I.)
Your toddler has graduated from Mega Bloks, but still isn't ready for the small pieces of Legos? Duplo is the best option. Made by Lego, Duplos are essentially Legos with pieces at twice the size.  A bit smaller and less pliable than Mega Bloks, Duplos are still chunky enough for little hands to manipulate.  You can combine the pieces of different Duplo sets, so your child can build and experiment.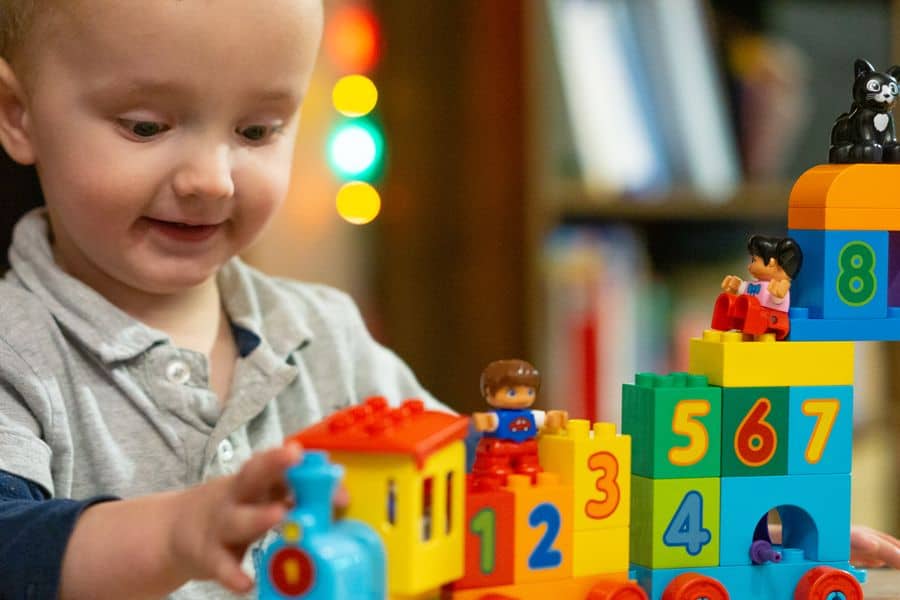 Beyond the basic building bricks, Duplos has sets for a wide range of interests.  You'll find construction vehicles, playhouses, bedrooms, cars, trucks, planes, and more to spark your child's inner engineer and builder.  Our kids  especially loved the numbered train set.  It was great  tool to help teach early counting skills, as they  were challenged to snap the numbers in the correct order on the train.
Duplos also have character sets, so your child can build with Mickey Mouse, Elsa and Anna from Frozen or with the Avengers.
For a super cool Duplo building set, check out this Steam Train Building Blocks Set. It has 59 pieces including a train, 16 track pieces, and 3 Duplo mini-figures. This set got top ratings in thousands of customer reviews!
Even better?  When your kids are ready for the smaller pieces and more complex builds that come with Legos, you can still use the Duplos.  That's right, Legos are compatible with Duplos and the blocks can snap together.  You see, Duplos were designed to be twice the dimensions of a comparable Lego.  So, for example, you can take a large Duplo base plate and use it as a plate for Legos (or vice versa.)  If you're building large structures like walls or castles, you can use Duplos to take up some of the larger spaces and use the smaller Legos for more intricate work.
Legos are the classic plastic building brick, and hands down our favorite building toy.  I couldn't wait until our first son was old enough for Legos, and neither could he. Just look at that face
Lego has just about everything, from character sets, architecture sets, adventure sets, vehicles, etc.  Bricks come in a dizzying array of shapes and configurations.
Lego sets range from small sets (perfect for that quick gift), to absolutely huge like the Death Star or Hogwarts Castle.
Legos are great for open ended play and building.  Ours son loves sitting down with the instructions and building the boxed sets, though it doesn't take long before these sets get expanded with other Lego pieces, or deconstructed to build entirely new Lego creations. 
This is one of our son's favorite Lego sets: LEGO Star Wars: Build Your Own Adventure. He loves building the space ship. More than that, he enjoys the book. It reads like a storybook with Lego characters, and there are suggestions on how to build the scenes and settings in the story. He'll sit and just look at how the pieces are put together.
There are some great books that show how to build new things from Lego bricks. 
One look at a show like Lego Masters showcase the incredible possibilities of Legos, and also that you don't have  to leave Legos behind with childhood. Not only that, there are Lego sets specifically designed to be a bit more complex:
Lego Technics are designed to be more challenging vehicle builds.  These are usually more advanced Legos set that feature technical functions and capabilities.  In addition to the familiar plastic building bricks, Technic sets include specialized pieces like gears, beams, axles, motors, and pneumatic Lego pieces.
Originally called simply "Technical Sets" in 1977, the line was rebranded as "Technics" a few years later.   Power Functions Debuted in 2007, adding motors with Infra Red controllers and a number of accessories like servos, lights, and switches.
Control+
The latest Technic Sets use a system called Control+, and are controlled via a smartphone app over a bluetooth connection.  The app adds some features beyond simple remote control.  You now have access to automation, sounds, and challenges (as well as achievements to unlock.)
Build. Code. Play. – It's right on the box and sums up the thought behind Lego Boost perfectly. If you or your kid(s) ever wanted to build robots or bring their Lego creations to life, you need to take a look at this kit.
The Boost set includes pieces to build 5 different robots:
Vernie the Robot
Frankie the Cat
Guitar 4000 (which plays music)
Multi-Tool Rover 4 (kind of like a bulldozer)
Autobuilder, which is like an assembly line robot that can build small Lego creations itself.
These can be controlled with an app that gamifies learning to code. Through the app, kids (or curious adults who like to play) can control the robots and play games.
You can see what comes in the box as well as the different robot builds in the video:
Lego Boost also has a Star Wars set worth checking out: LEGO Star Wars Boost Droid Commander
Lego Boost sets are "officially" marketed for 7-12 year olds, though I'd give that range a bit of leeway on both ends. Younger kids building with Legos can get a head start coding with this kit, and it's appeal goes way beyond 12 years old.
Related Post: Are Legos a STEM toy?
Lego Mindstorm is more than just a toy, more than a teaching tool, more than a building set. It's a gateway. I have to stop and wonder how many Mindstorm enthusiasts went on to become engineers, roboticists, AI designers, or developers.
The heart (and brain) of the Mindstorm is a brick computer that controls sensors, servos, and motors in addition to the traditional Lego building blocks. You can get an idea of the capabilities in this programming guide from Washington State Library. The folks at Hackucation did a nice article on the evolution of the Lego Mindstorm.
Want more power and more capability (and more fun) from your Lego Mindstorm? You can connect your Lego Mindstorm to Scratch. For more on this, check out the link to the official Scratch site. Microsoft MakeCode also can connect to the Mindstorm, for another spin on block based coding to text based Java coding. Find instructions and tutorials here.
The LEGO MINDSTORMS EV3, is now retired. It has been replaced by Robot Inventor,
For an affordable (and easily giftable) intro to Mindstorms, check out the Lego Mindstorms Mini Robots Building Set
Lego Mindstorm is recommended for ages 10 and up.
Cubelets
Cubelets are like building blocks with robotic superpowers. Each block is a combination of hardware and software that can be snapped together into some pretty cool creations. 

Each Cubletes block is one of 3 different types: Action, Sense, or Think. Individual blocks may be lights, servos, light sensors, temperature sensors, distance sensors, speakers, knobs, and more.
As you build a robot with Cubelets, you're also building a simple program. Kids can get started with concepts of sequencing, coding, and data flow just by snapping a few blocks together.
You can find Cubelets in several sized sets, each one adding more pieces and capabilities. Sets come with Lego adapters and a Bluetooth "hat" that snaps on to the blocks to allow connectivity with the Cublets app (Android, FireOS, or IOS.)
Discovery Set – 5 blocks. An entry level building and coding toy for kids, the Discovery set provides the basics for connecting blocks together and building some cool little robots. Great for teaching cause & effect, sequencing, sorting, and gross motor skills.
Curiosity Set – 11 blocks, including: Battery, 2 Drive, Flashlight, 2 Distance, Brightness, Inverse, Passive, Rotate and Bluetooth Hat
Brilliant Builder Pack – 19 blocks, including: Battery, 2 Drive, Flashlight, 2 Distance, Brightness, Inverse, Passive, 2 Rotate, Knob, Temperature, Bar Graph, Speaker, Blocker, Maximum, Minimum, Threshold and Bluetooth Hat. You get at least one of each Cubelet available, and can start digging into more complex creations.
You can also just get individual blocks if you want to build something specific or just need single blocks instead of a whole add on set.
Guess what –  Cubelets are compatible with Legos!
Wrap Up – Building Blocks and Legos (and other plastic bricks)
Building toys are a staple in nearly every kid's toy collection. From the most humble alphabet block to toys that nearly qualify as robotics, there are plenty of options to choose from for all age levels.
One word of caution on the Lego technology sets: technology advances and is not always backward compatible. I unearthed an older Lego Mindstorm set for our son. It's basically incompatible with any current system. I'd need to take a trip through the Wayback machine to find a Windows 98 computer if I wanted to power this thing up today. Even without the "brains" of the kit, he still enjoyed building with the parts and adding these to his other Lego creations.)

Technology is fluid; the Bluetooth connection some of these toys run on is the standard today. It may be with us for decades, it may be obsolete next year. Still, they're Lego bricks at the core, and fun without all the gizmos. And so are basic wooden building blocks. Sometimes, simple is perfect.
For more ideas, check out our post on Building & Engineering Activities.