Getting kids today excited about the world of STEM is a lot easier than ever before, in large part because of all the great toys on the market right now! Some tech toys and gadgets can be pricey, though we've found some awesome STEM toys under $100.
"Educational" toys used to be the last thing any kid wanted to find under a Christmas tree or gifted to them on their birthday. Those toys of the past were stuffy, unimaginative, and anything but exciting or engaging. They always seemed to be heavy on the educational part and light on the fun!
Today's STEM toys couldn't be any more different. Today's STEM toys are fun and exciting, engaging and creative, and not only lay down a solid foundation for the principles of STEM fields but also guarantee hours and hours of interactive playtime at the same time.
These are the kinds of educational toys that don't feel or look like educational toys at all. Below we dig a little bit deeper into our favorite STEM toys that you can pick up for right around a hundred dollars or less. Let's explore!
littleBits Star Wars Droid Inventor Kit
K'NEX Imagine – Power and Play Motorized Building Set
Snap Circuits Pro SC-500 Electronics Exploration Kit
Thames & Kosmos Code Gamer
Osmo – Little Genius Starter Kit for iPad
Magnetic Tiles
Stomp Rockets and Cars
Legos
This post contains affiliate links, and we may earn a commission from purchases. We only suggest the best. As always, thanks!
These are the droids you're looking for. Build R2-D2 or your own custom Star Wars droid with this cool inventor kit. This kit won over 50 "Best Toy" awards, and has been updated with new coding "missions."
Assemble your own droid and either program with block based coding it or directly remote control it.
Use your iPhone (iOS 10.0 or later) or Android (KitKat 4.4 or later with Bluetooth 4.0 or later and an accelerometer). Note: If you're planning to use an Amazon fire tablet, then move along, these are not the droids you're looking for; it's sadly not compatible with Amazon devices.
There isn't a kid on the planet that doesn't dream of building their very own robot, and that's exactly what this playset makes possible.
Designed for children as young as seven (and much older than that, too), this playset includes everything that children need to create motorized robots with little headache or hassle whatsoever.
The proprietary connecting components work with every other set from this company, too. That means you're able to add other connections from other kits to this power and play sySTEM, opening up a world of freedom and creativity that's tough to find with other toys.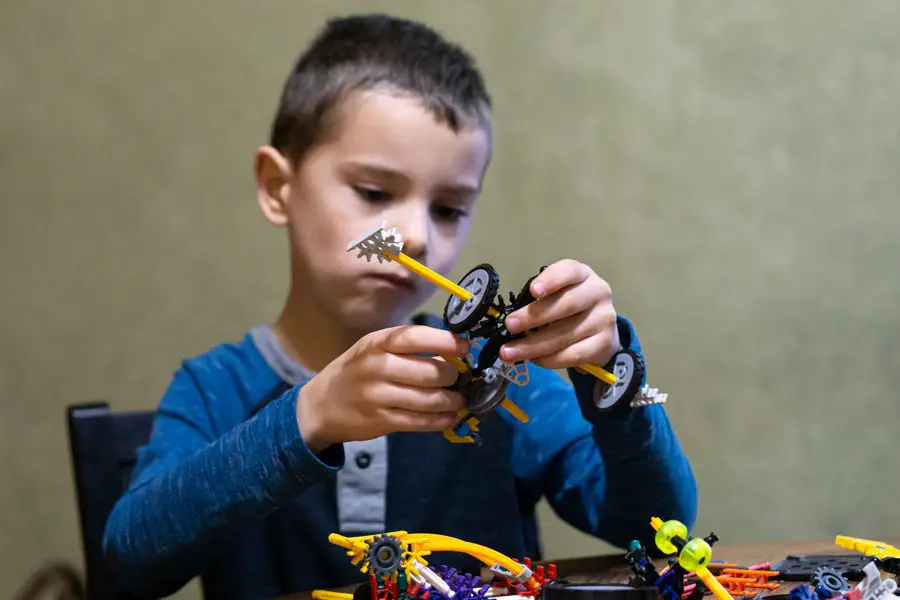 Whether you decide to work with your little ones to build a project from the box or create something unique from scratch, you're looking at an unlimited amount of playtime – STEM focused playtime – with this toy.
It's no secret that our modern world revolves around electronic gizmos and gadgets.
One of the smartest things you can do for your child (or a child in your life) is to give them the gift of playtime that lays down the foundations of electronics and how modern technology works "under the hood".
Now, the odds are pretty good that even the most gifted child won't be able to put together the next iPad with this Snap Circuits Electronics Exploration Kit. But they are going to learn how those amazing cutting edge devices work on a really granular level, getting a foundation in electronics that can spark a lifelong interest that helps them change our world for the better.
This is one of the most fun STEM toys to play with for kids and adults, too. As soon as you start to add a bit of "juice" to the system the sky is the limit. You'll be able to build digital voice recorders, AM and FM radios, AC current generators, and so much more.
Best of all, this playset can be combined with any other from Snap Circuits to really extend the functionality by quite a bit.
Learning how to code at a young age gives children a significant advantage, not only as far as their education is concerned but as far as their career prospects and general philosophy on life is concerned as well.
There are systems and models of thinking that coding helps to teach better than may be anything else aside from the practical skills they will pickup with these toys.
At the same time, children that use this STEM focused toy workshop will learn how to build and code their own video games, will learn how to build a videogame controller from scratch components, and will learn how to master a programming language all at the same time.
This story is a little more advance (probably best suited for kids eight years of age and older) but it is a game changer, no pun intended
Related Post: Find more Coding Toys in our Coding Toy Roundup!
This "Little Genius" set is designed to take advantage of an iPad with more physical and three-dimensional STEM teaching aids, creating a multifaceted educational experience that covers the foundations of STEM fields while still offering a lot of fun.
The folks behind this series of toys have won numerous awards, not just from educators around the world but also from toy companies, too. This is one of the unique toys that blends the world of education with the world of fun and playtime in a way that is almost impossible to do.
Little ones between the ages of three and five are going to get a world-class education in math, reading, and other life skills while playing all kinds of puzzle games, creating, and sort of charting their own course through the STEM curriculum hidden inside these games.
They are going to love it!
Magnetic tiles are a great building and construction toy, and a nice twist on classic building blocks. The magnets lock the tiles together and hold them in place, so it's easy to build taller structures, especially for little kids.

Magnetic tile sets can foster an interest in architecture or engineering, while the magnets will teach them about repelling and attracting forces. They'll be so absorbed with playing, they won't realize they're learning.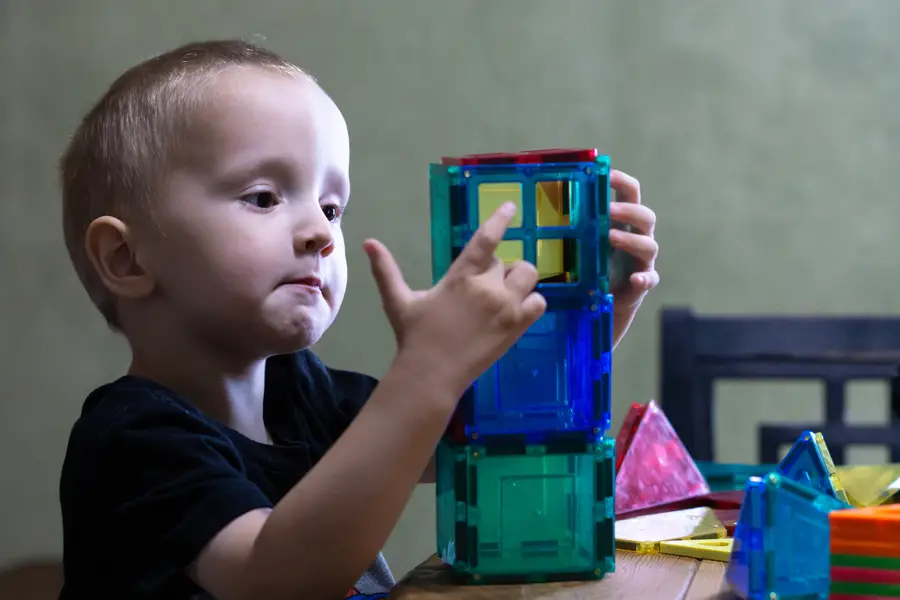 Our littlest guy can't get enough of these. They are easily his most played with toys. We see him playing with them when picking him up from daycare, and it's the first thing he'll open up at home. He'll build until he's out of tiles, show us what he's built, just to knock it down and start again.
We'd recommend the Picasso Tile 100 Piece set for the sheer size of the set and variety of pieces, or going with the classic Magna Tiles.
The cool thing about magnetic tiles is you can mix and match sets. Our little guy got the Magna-Tiles Glow set as a holiday gift and has been loving it. You can shine a light directly onto the the tiles and draw a design, use stencils for some more complex designs and watch them glow!
You can also look for sets with different color pallets, like this one that features pink and purple pastel tones:
Related Post: Magnet Tile Activities
Stomp Rockets are fun air powered rockets that launch by stomping on an air chamber. Not only will your child learn about force and energy, but they'll get in some physical activity with this fun toy! Assembly is easy, and there are no batteries required. The rockets are powered by the ferocious stomps of your little ones, and oh, will they love stomping on this!
Help them learn about how air can be used as a force as they stomp their feet on the little pump that shoots off a foam rocket, sending it soaring into the air. Stomp rockets will teach them all about the compression of air and how pressure is used for energy. This is just the toy to ease your child into the world of physics!
Rockets aren't the only thing that can be propelled by air power. Our boys love these Stomp Racers. They work the same as the rockets, though shoot forward instead of into the air. This set includes 2 cars so you can see who can stomp the fastest and furthest.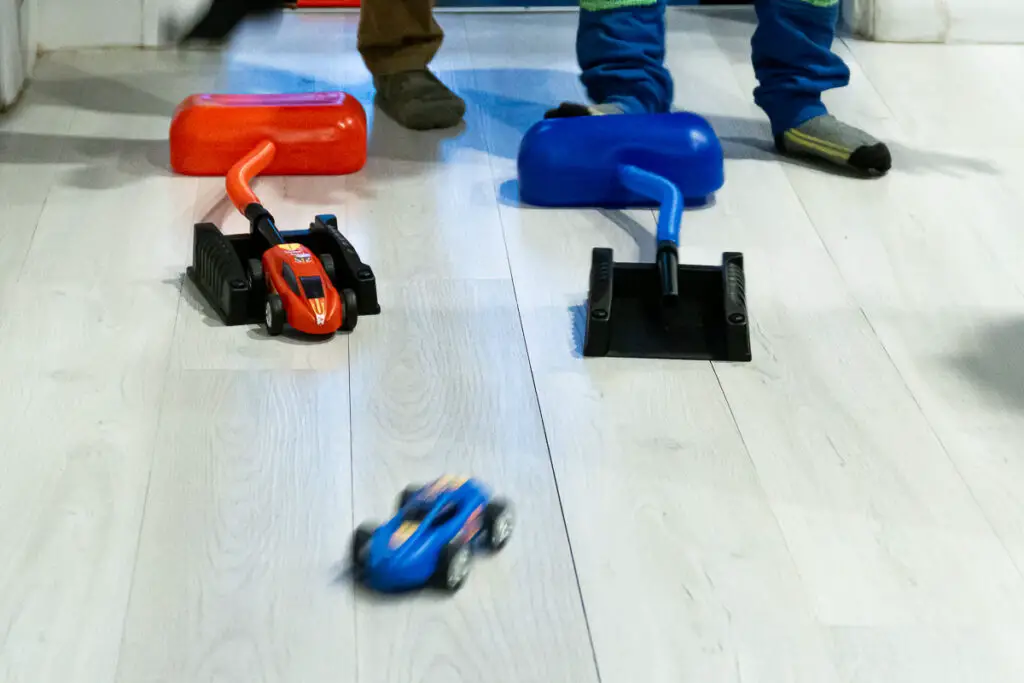 What would a 'top toy' list be without Legos? We love Lego here at STEMtropolis; they're a great building toy that can teach a number of concepts like spatial thinking, design, following directions to build a set, and encouraging free form building and play.
You can find some big sets that come in just under $100 like the LEGO Creator 3in1 Pirate Ship pictured above, or Harry Potter Hogwarts Clock Tower, International Space Station, Poe Dameron's X-Wing, to smaller (and easily giftable) sets priced under $20.
Related Posts: Need some inspiration with Lego? Check out these amazing Lego Machines nad find out how Legos relate to STEM
Wrap Up: Best Stem Toys Under $100
Toys can be expensive, especially when you're looking at STEM and technology. You can find some great quality STEM toys under $100 that are sure to please without breaking the bank.
If you're looking for more STEM and Educational toys or age specific recommendations we have a series of posts just for you: