STEM activities are great for kids and parents alike. They provide hours of fun while teaching important skills such as problem solving, collaboration, critical thinking, creativity, and teamwork.
Kids' books are one of the most popular forms of entertainment for kids. What happens when we use the power of stories from kids' books to create STEM activities? In this article, you'll find our favorite STEM activities inspired by kids' books. These activities will engage your kid and teach them valuable skills.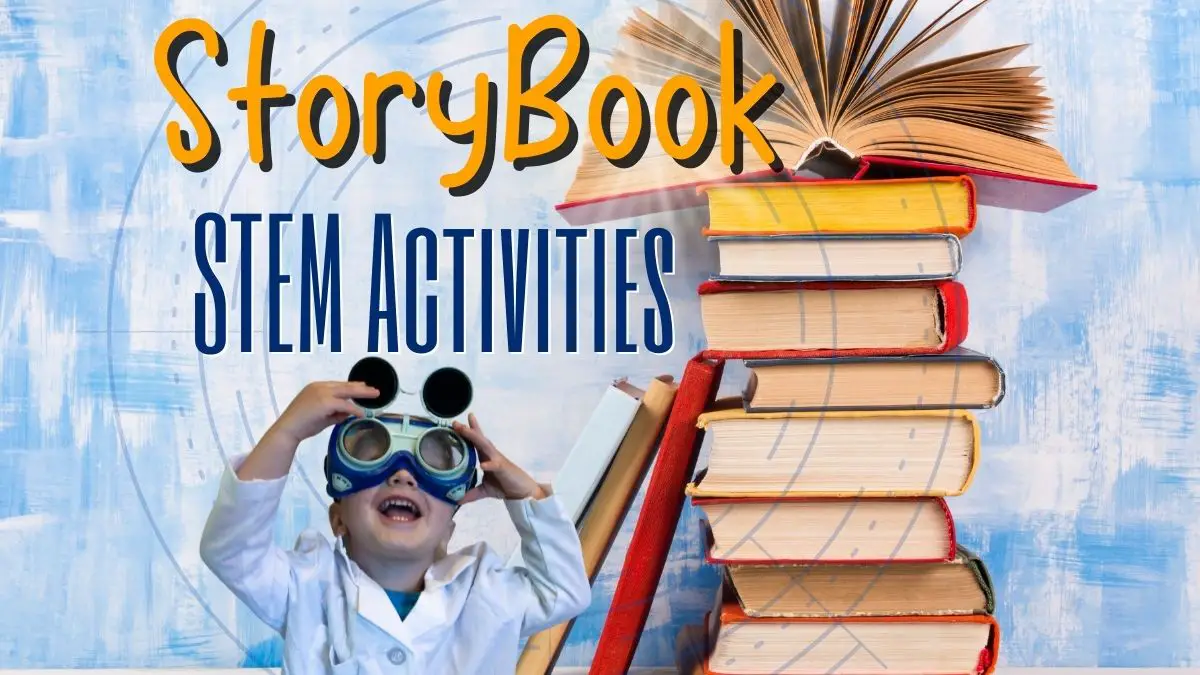 What are Storybook STEM Based activities? 
Storybook STEM-based activities use kids' literature as a topic for the lesson.  This could be as simple as creating a STEM challenge around a situation in the story, or challenging the kids to identify a problem in the book and come up with a creative solution.
These storybook activities work equally well at home or in the classroom, and can encourage problem-solving and creativity. The possible solution can be reenacted, created with clay or Lego's, or you can ask kids to create a new story twist in which the problem is solved. 
With these literature based STEM activities, the sky is the limit.  Here are some hands on projects based on some of our favorite books.  Let's explore!
Three Little Pigs
The Three Little Pigs is a fairy tale story most kids are familiar with, and it contains some great science and engineering lessons.  Each pig chooses a building material, and when the Big Bad Wolf comes huffing and puffing, we learn what materials are most durable. 
We can use the story as a starting point for some fun experiments for kids.  We can use different building materials to see which structure is the strongest.  We can use a simple folded hand fan to simulate the Wolf trying to blow the house down.
Build with straws
Using drinking straws and tape or glue (we used a hot glue gun), build a simple house structure.  It can be just a frame, or something more elaborate. Use scissors to cut the straws and get as fancy or elaborate as you like.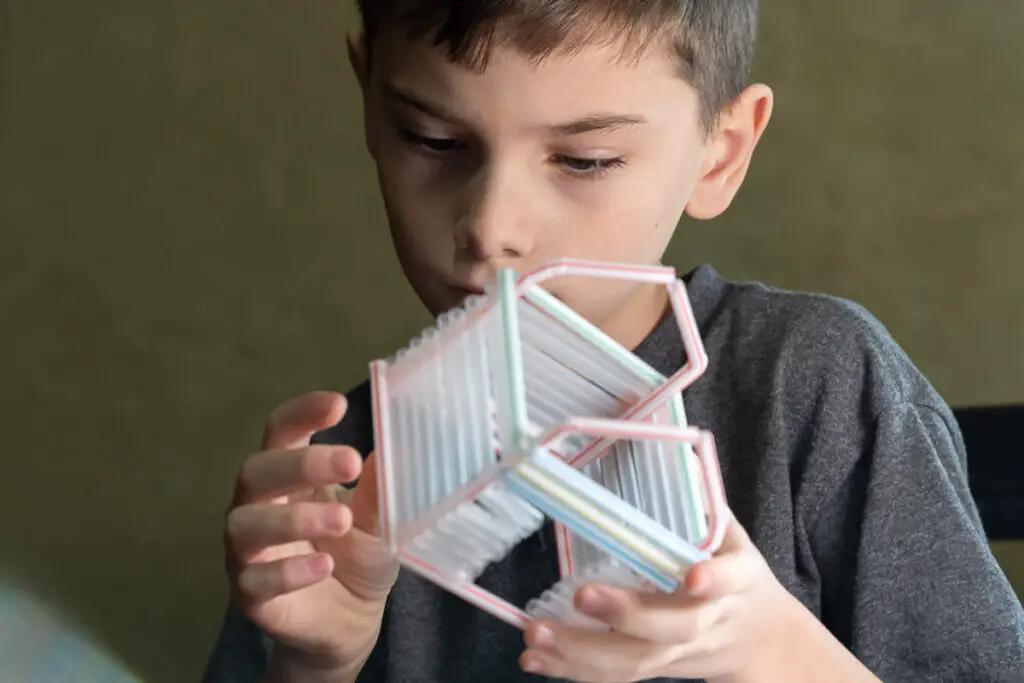 Once done, wave the fan as hard as you can and see how firm the straw house is.  The straws are very light, and will most likely get blown away by a bit of a breeze.
Build with popsicle sticks
Do the same with popsicle sticks to build your second house.  How does it stand up to the wind?  The wood has more mass than the straws, though with enough wind from the fan you can most likely move it or knock it over.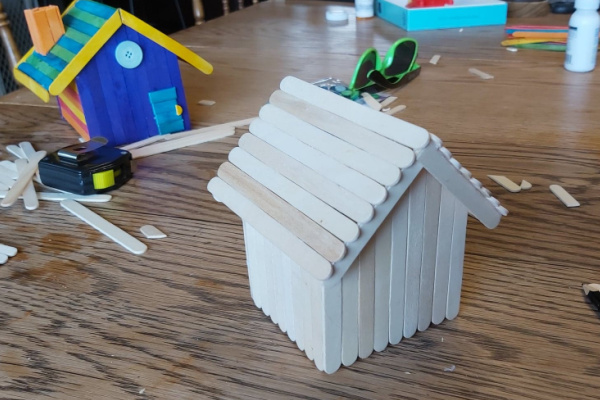 Build with bricks
For bricks, we'll use Legos!  Build a house with Lego bricks.  
The bricks are heavier, and lock together.  The Big Bad Wolf doesn't stand a chance against the power of Lego!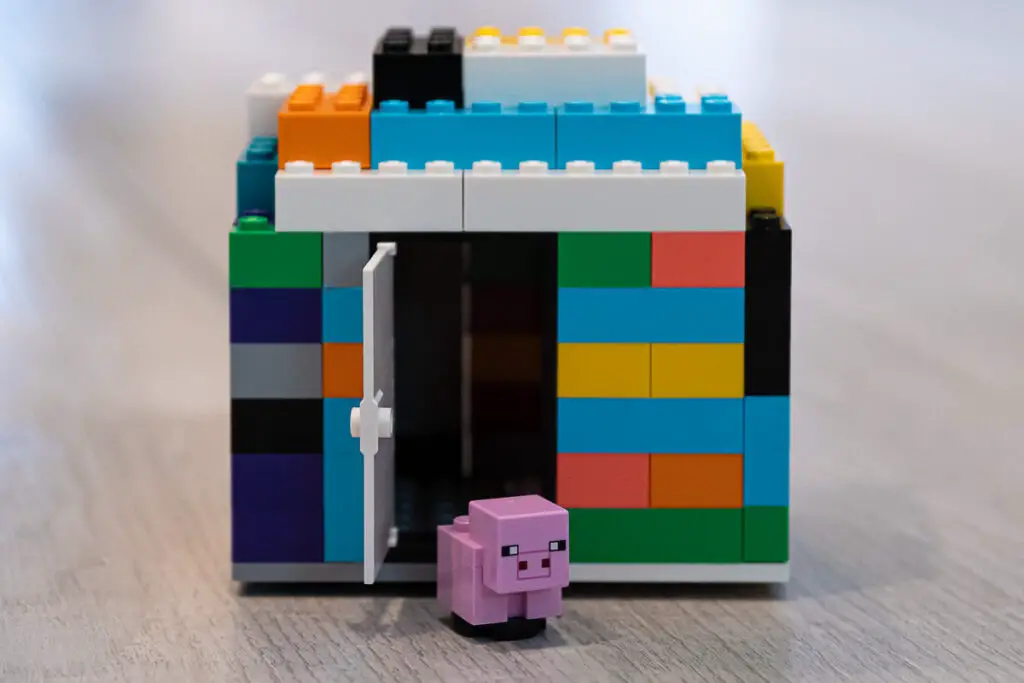 The Three Little Pigs: An Architectural Tale tells the familiar story with a lean towards engineering and architecture, and introduces readers to famous architects (Frank Gehry, Phillip Johnson, and Frank Lloyd Wright) and their styles.
"If I Built a House" – Design a House
While we're in building and architecture mode, check out "If I Built a House" by Chris Van Dusen.  Jack imagines a dream house of his own design, complete with an anti-gravity flying room, a swim through aquarium, and a bedroom with quite a view.  There's an automated kitchen and bathroom, an art room, and more. 
This is a great STEM read for its creative design.  There are elements of design, engineering, and architecture, along with a lot of creative thinking.  The key here is to let imaginations run wild; sometimes the craziest ideas lead to innovation.
What would your house look like?  Draw a floorplan or some blueprints.  Get as creative or silly as you like.  
Can you use cardboard boxes (or other materials) to build it?  
Also – don't miss "If I Built a School" by Chris Van Dusen.  How would you redesign your school or a campus you attended?
"If I Built a Car"  – Design a Car Activity
This is another great story from Chris Van Dusen. "If I Built a Car" just begs the reader to follow in the footsteps of young Jack and unleash their imagination.  In this book, a young boy named Jack decides to build a car with the help of some friends. 
Challenge your kid(s) to think of what their car would be able to do, or what kinds of features or accessories they would include.
You could simply have them draw their designs and explain how everything would work.
Taking the design exercise a step further, challenge them to build their own model car.  You can use materials on hand like Legos, balloons, bottles, bottle caps, and cardboard boxes.  
If in a classroom, have the students work together in groups and discuss the problem among their peers to develop a workable plan.  As always, parents and teachers are encouraged to help but not to answer questions in a way to give a definite solution, but rather to give hints and lead kids to the answer. 
Upcycle Trash into Inventions Like Rosie Revere 
Rosie Revere, Engineer is a great STEM Storybook by Andrea Beaty (check out our post featuring this book and other engineering storybooks for kids.)
Young Rosie is an inventor and uses many discarded items to make her inventions.  Challenge your little inventors to build something out of recycled items, whether they source the items themselves or use a specified set of materials.
For inspiration, check out our post on STEM activities with tin cans, plastic bottles, toilet paper tubes, popsicle sticks, and recycled materials. 
Also check out other Adrea Beaty books Ada Twist, Scientist and Iggy Peck, Architect and encourage kids to experiment or get building!
Crinkleroot's Guide to Knowing the Trees – Tree Leaf Identification & Nature Sketching
There's quite a bit of information packed into a short storybook.  You'll learn the various parts of a tree, as well as the difference between broad leaf (deciduous) trees and evergreens (conifers.) One of the charms of the Crinkleroot series is the artwork and sketchbook nature journal style.
The Guide to Knowing the Trees showcases plenty of hand drawn examples of commonly found leaves and pine needles from each category, so you can easily identify a tree by comparing a leaf to the drawings.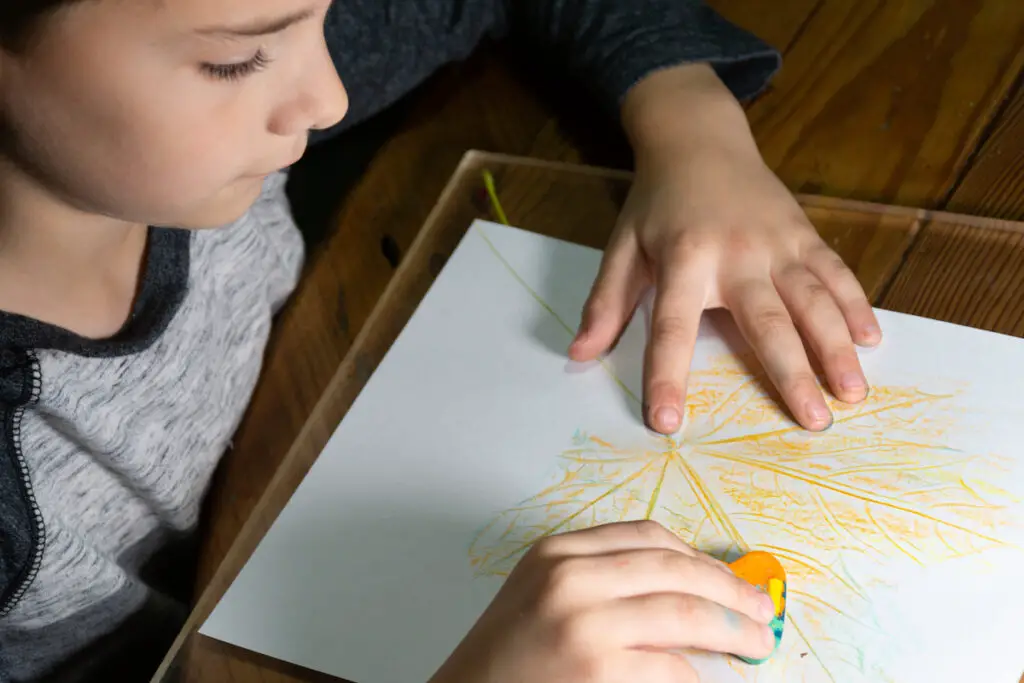 Use these drawings as inspiration for your own.  Go outside and find some leaves and sketch them as accurately as possible.  Identify each leaf and what makes them unique.  Identify the parts of the leaf.  Draw a whole tree or a series of trees; again, stretch your powers of observation to identify the parts of the tree and what makes each tree unique.  How is a conifer different from a deciduous tree?  How is an Oak different from a Maple?  Log these in your own nature journal.
Check out our post for more Nature Science books like this one.
When Pete's friends don't have time to play, Pete builds a robot.  Challenge yourself and your kids to design a robot.  What would it look like, what parts would it have?  Would it have legs, tank treads, or a single wheel like a unicycle?  How would it see, and where would the cameras and sensors be located.
For smaller kids, you can take a more fanciful approach. 
For more fun, you can use some cardboard boxes to build a model of your robot, and decorate them with markers, paint, or aluminum foil.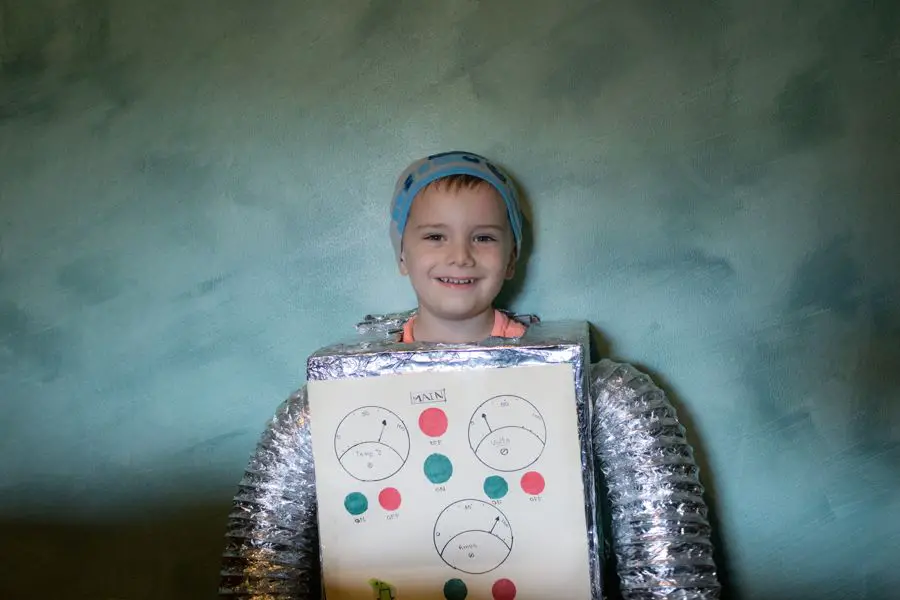 For kids that are beginning to learn how things actually "work," challenge them to design with real technology in mind.  Look at developments like Boston Dynamics for inspiration.  How would your robot balance?  What kind of motors or controls would be needed for it to open a door?
"Harry Potter and the Chamber of Secrets"  Magic Wand Activity
As with most STEM activities, it is often interlinked with other subject matter.  In this example, we will be assuming that learners have read the book "Harry Potter and the Chamber of Secrets," and the material will now be used to apply to a lesson in a Science that deals with circuits. 
In the novel "Harry Potter and the Chamber of Secrets," Harry, Ron and Hermione struggle to create light from their wand for the first time.  In the Science lesson, we will be creating our wand that can illuminate light using a circuit that we build into the wand. 
This activity will encourage learners to build a circuit with the material they have while fitting everything neatly into a wand.  Learners will be encouraged to be creative and to use any means necessary to build a circuit that works. 
Kids may not have any prior knowledge of circuits and, that's okay.  It's a great opportunity to apply critical thinking skills.  For older kids, encourage a bit of research before (or while) attempting this project.  
Younger kids may need a bit more direction.  Demonstrating how a LED can be powered by a battery can be enough to understand how the mechanism works, and have them design a mechanism to create a want that houses the battery and light.
After the project is done, the core information about circuits will be reinforced, and the learner will receive holistic knowledge on the subject.  The fact that the project is based on a story they're interested in gives them a vested interest in recreating some of that magic.
The interlinking of the subjects and the prior knowledge that kids will discover on their own while working on the project will inspire out-of-the-box thinking and problem solving while at the same time saving the information in a tactile, auditory, and visual manner. 
Bartholomew and the Oobleck
Bartholomew and the Oobleck is a wonderful story from Dr. Seuss to inspire a fun hands on activity.  I've always wondered how would Oobleck move in the real world.  Would it be jiggly like Jello or would it move like maple syrup?
What do you think Oobleck would feel like?  Goopy? Oozy? Slimy?  Perhaps non-Newtonian? Huh?  A Non-Newtonian fluid, flows and drips like a liquid, but settles into more of a solid when at rest.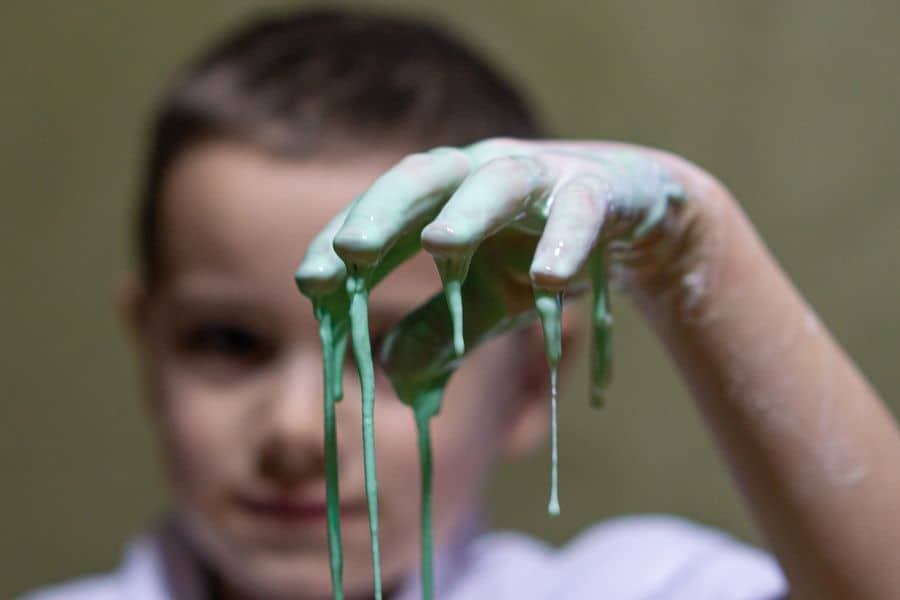 A non-Newtonian fluid is just the thing for our own Oobleck!  All you need is some corn starch and water mixed in a 2:1 ratio (so, 2 cups of cornstarch for every one cup of water.)  Knead them together in a bowl and add some food coloring if you like.
We used a similar recipe in our Gross Science Experiments and Dinosaur Dig activities.  Check them out!
This story by Jill Esbaum is a humorous spin on the theme of adding a new family member with dinosaurs. You don't have to have a baby or hatch an egg to grow a dinosaur. We did it with an inexpensive kit like this one (also check out your local dollar store of the section at the front of most Target stores.)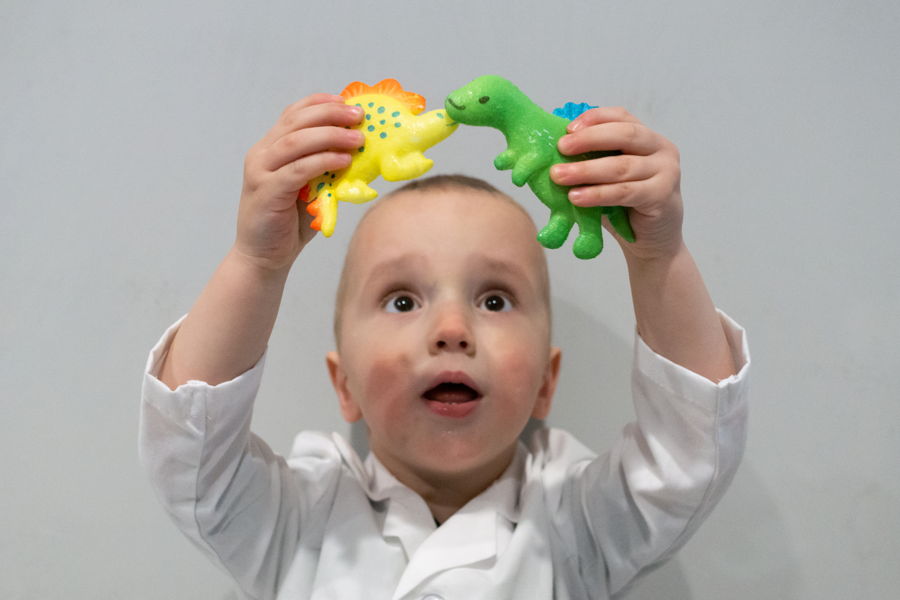 Just drop the tiny dinosaurs in water and watch them grow several times their original size over a week or so.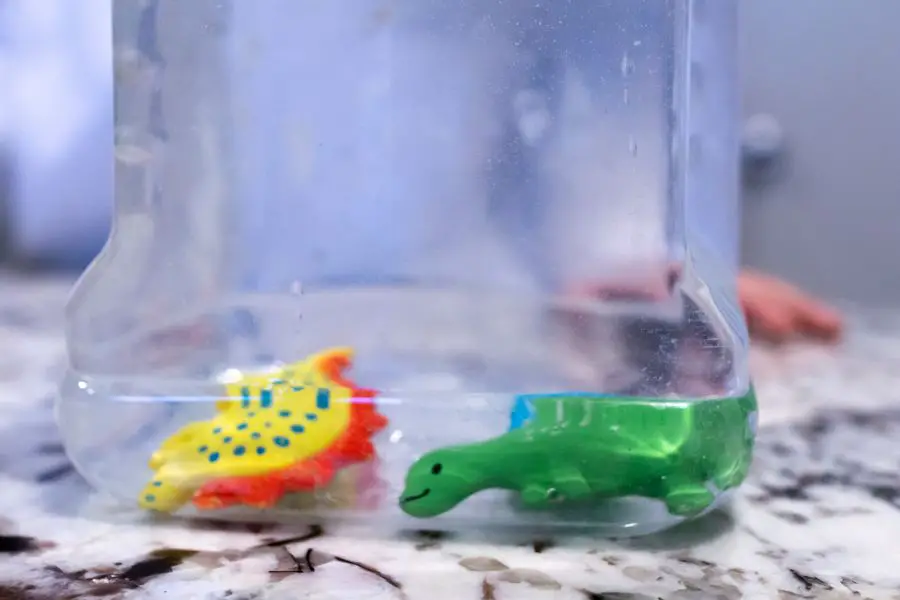 Grow your own dinosaur! is part of our post on Fun Dinosaur Activities. Our kids enjoyed measuring and charting the growth.
Wrap Up – STEM Activities Inspired by Kids Books 
Our kids love reading and doing activities, and we enjoyed sharing some of our favorite books with you.  Hands-on activities themed around a story are a great way to bring books to life and foster an appreciation for science, technology, engineering, or math.  It's also a great way to introduce new books or spark an interest in reading.
By interlinking stories (i.e. English and Language Arts) with STEM concepts, kids can find another way into topics they may not have otherwise explored.  This is a beautiful way to encourage kids that struggle with reading to overcome their barriers.  Encouraging kids to explore their imagination while developing STEM skills is a great way to learn and have fun at the same time.
Want to grab some of these books? Check out your local library, and don't miss our post on why every kids needs a library card.