Dinosaurs seem to capture the imagination of every child at some point, and almost every kid I've known has gone through a dinosaur phase.  Some kids never grow out of it.  What better way to keep your kids active and  learning than with dinosaur activates you can do at home.
Here are a few of our favorites:
Grow Dinosaurs
Bath Bomb Dinosaur Eggs
Dinosaur Ice Eggs
Dinosaur Dig
Make Your Own Fossils
DIY Dinosaur Footprints
Lego Dino
Grow Dinosaurs
You can usually find these little guys in the dollar stores or the cheap gifts section in the entrance of Target, so it's an inexpensive dinosaur activity.  You can also get some of these guys in bulk at Amazon, which seems to be a cheaper option per dinosaur all around. These little dinosaurs could make great party favors , stocking stuffers, or giveaways.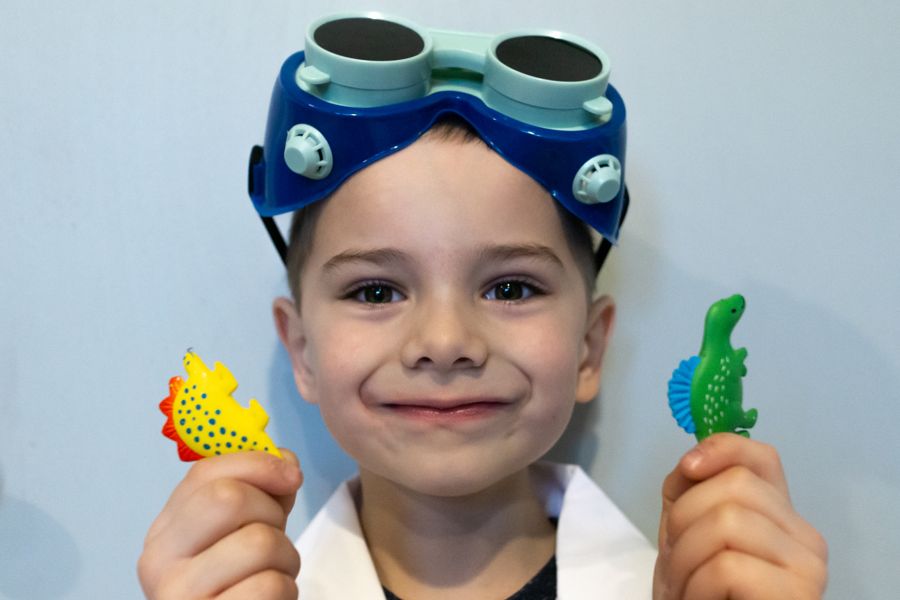 The process is simple once you've got your dinosaur ready.  You'll just need a container or bucket and some water. Once you've got everything together:
Fill your container with water
Drop in your dinosaur
Watch it grow!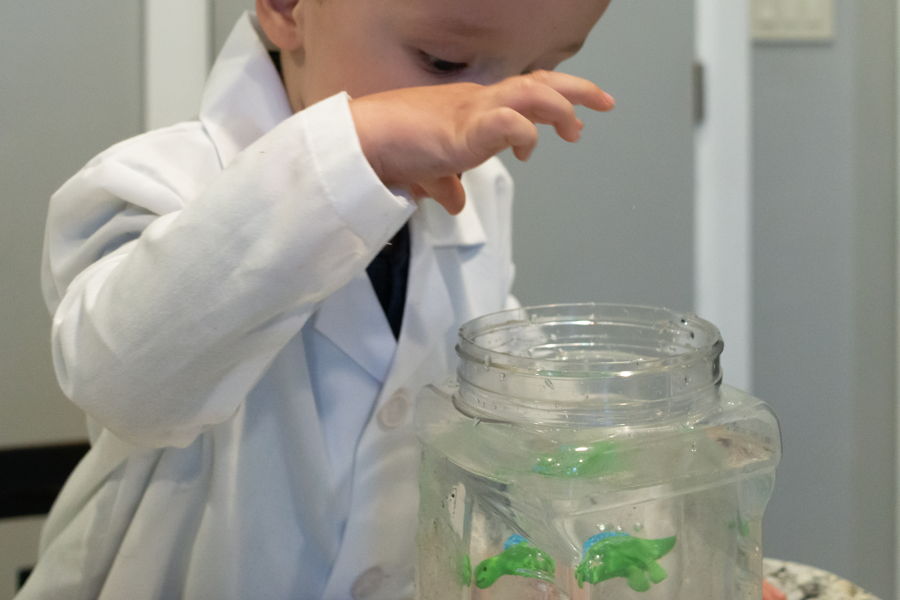 We left our dinos on the kitchen counter and checked them before heading off to school each morning, then again before bed over the course of several days.  They hadn't done much the next morning or evening, but had noticeably growth the following morning.  By the suggested 72 hours or soaking time, they had grown quite a bit.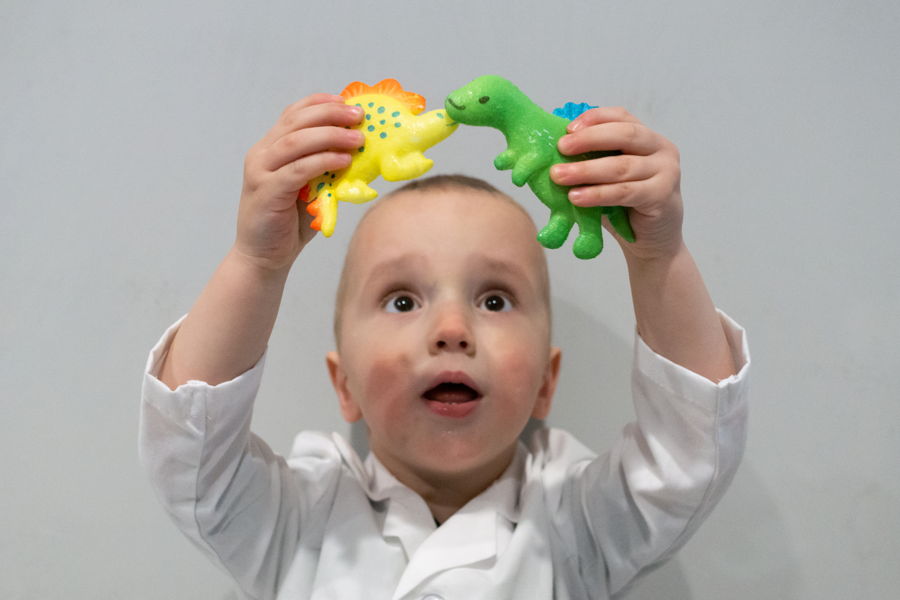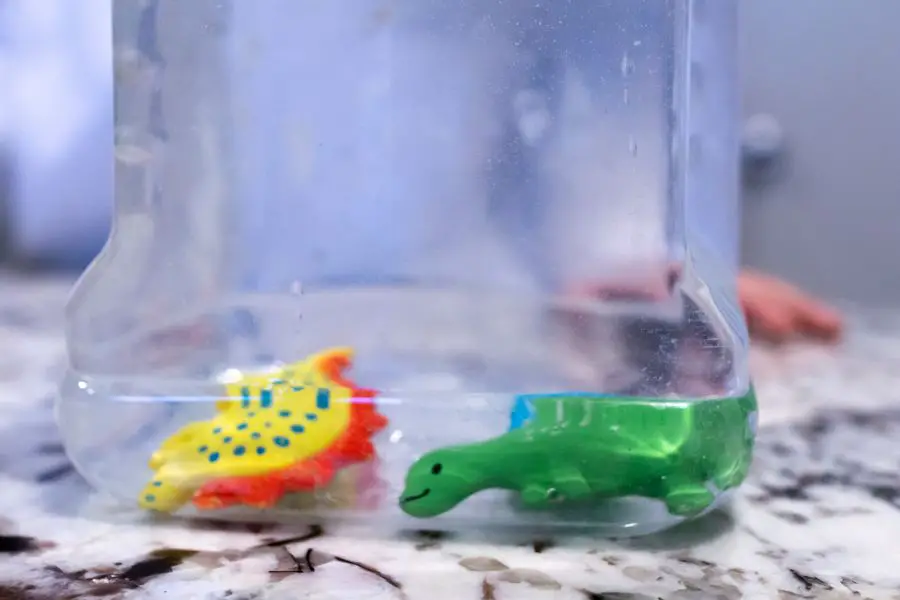 After measuring and playing with our dinosaurs for a bit, we put them back in the water and let them sit for nearly a week.  They grew considerably, though not nearly the 600% that the packaging suggested.  Still, this is a fun exercise and can get your kids measuring, making observations, predictions, and gauging results over time.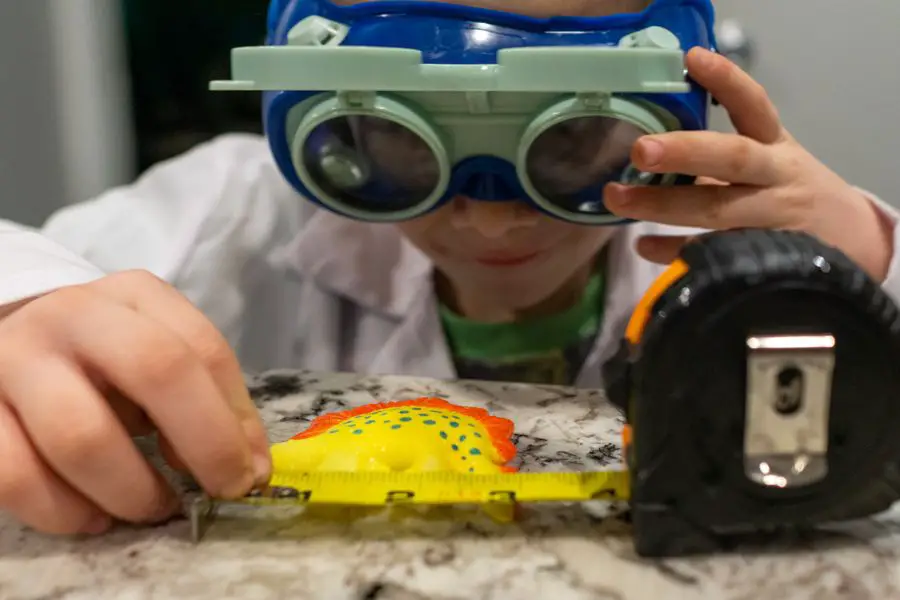 Here's a quick chart we used to track the growth. It was a fun exercise to let the kids measure and observe the changes over time. They learned that creating a simple log allowed them to measure and compare progress, just like their growth chart on the wall.
| | | |
| --- | --- | --- |
| Day | Time | Size & Observations |
| 1 | 9AM | 2 1/4 inches |
| 2 | 7:30PM | 2 3/4 inches |
| 3 | 9AM | still 2 3/4 inches |
| 3 | 7:30 PM | still 2 3/4 inches long, but much fatter |
| 4 | 7:30 PM | 3 1/2 inches |
| 5 | 7PM | 3 3/4 inches |
| 7 | 7PM | They got HUGE! 4 3/4 inches |
Once the dinosaurs are removed from the water, they dehydrate and slowly shrink.  I took about a week for these dinos to return to their original size. You can drop them in water again and repeat.
DIY Bath Bomb Dinosaur Eggs
Make some home made bath bombs with a twist.  Put your plastic dinosaurs inside and make some hatchable dinosaur eggs for bath time fun.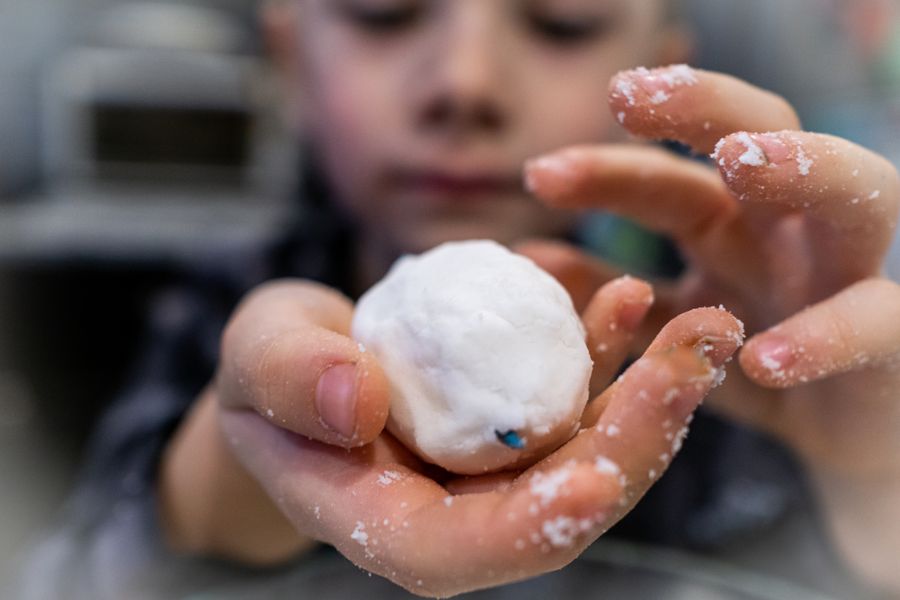 Small Plastic Dinosaurs
Mixing bowl or container
1/2 cup Baking Soda
1/4 Teaspoon Water
2 Tablespoons of Citric Acid*
2 Teaspoons Oil (We prefer coconut oil, because it's solid at room temperatures which helps the bath bombs stay together. Olive oil or vegetable oil will work as well)
Water Soluble Coloring (optional – Note: food coloring may stain your tub, or your child)
Essential Oils if you want some fragrance (optional)
Molds (optional)
*Citric Acid is the ingredient in this list most frequently not on hand, but it is easy to find online. It's the citric acid that makes the bath bombs fizz. And what's a dinosaur bath bomb without the fizz? You could also check in your local pharmacy or bulk foods section or your grocery store.
To form your bath bomb eggs, do the following:
In your mixing bowl, combine 1/2 cup Baking Soda and 1/4 Teaspoon of water.
Add a few drops of your coloring if you want colored eggs
Knead mixture until it's a uniform consistency
Add 2 Tablespoons of Citric Acid (it will start fizzing a bit. The citric acid is reacting with the baking soda.)
Add the oil. If you're using coconut oil like us, you may want to heat the oil briefly to get it into a liquid form. A quick zap in the microwave should do the trick.
Add 1 Teaspoon Coconut Oil and mix
You should have a fairly dry and flaky consistency.  It should stick together if you squeeze it in your hands.  If your mix is not clumping together, add a bit more oil.  Just a little at a time, you want to keep it dry. You can always add a more.  Too much oil, and you mixture will be more like a dough.

Our little scientists didn't care for the scent of the mixture, so we added 1/4 teaspoon of vanilla extract at this point, and he was quite happy with that.

DO NOT add water at this point, as it'll cause the bath bombs to fizz now, instead of when you drop them in the bath.
Once you've got some good clumping action, help your little paleontologist  pack the mixture around your little plastic dinosaurs into egg shapes (or whatever shapes you like.)  If you want a smoother, less lumpy shape, feel free to press the mixture into molds. Plastic Easter eggs or muffin pans can work well (lightly greased so you can get the bath bombs out in one piece.)
The only thing left to do is to wait until the eggs dry and harden, which should take about 10 to 12 hours.  We usually leave ours overnight, and try to wait a few days before using them.
Then, bathtime! Drop one in the bath and watch it fizz.
Dinosaur Ice Eggs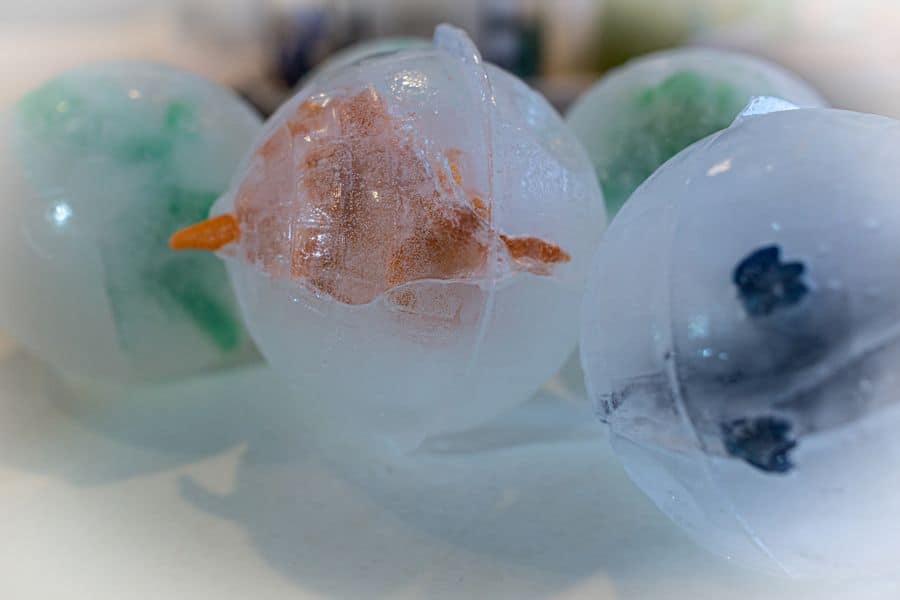 You've heard of the Ice Age?  What about Ice Eggs?  That's what our little guy thought he heard when we first talked about the Ice Age, so we decided to go with it and make some "Dinosaur Ice Eggs."
Well, okay – our first few were more like Ice Spheres rather than ice eggs, since we didn't have any egg shaped containers to freeze the water in. We did however have this handy Death Star ice mold, which worked quite well.
Plastic Easter eggs may come in handy here, if you can fine ones large enough for your dinosaurs. If they do not have holes in them where you can get some water inside once the egg is sealed, you can use a drill or soldering iron to make a small hole to fill with water. Remember to not fill all the way, as water expands when freezing.
Pretend you and your kid are arctic explorers and find a dinosaur encased in ice!  Or a whole bunch of them.  How should you get them out? 
Let your little scientist brainstorm ideas.  Should you simply wait around for the ice to melt?  Or perhaps speed up the process with a hair dryer?  Maybe pour some hot water on the ice?  Chisel the dinosaur out?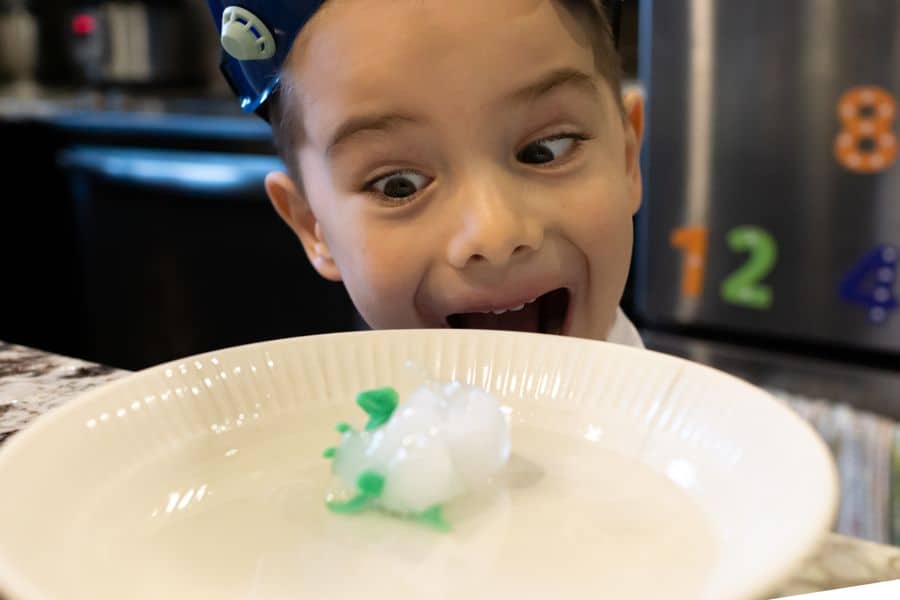 Try out each idea and note the results.
We left one to thaw at room temperature, which took about 3 1/2 hours to melt. Another one went into a bowl of warm water, which took several minutes to thaw. Dumping boiling water on another ice egg freed our dinosaur immediately. Chipping away at the ice took time and effort, and made a mess with ice chips flying everywhere.
What was your child's best idea for getting the dinosaurs out of the ice?
Dinosaur Dig STEM Activity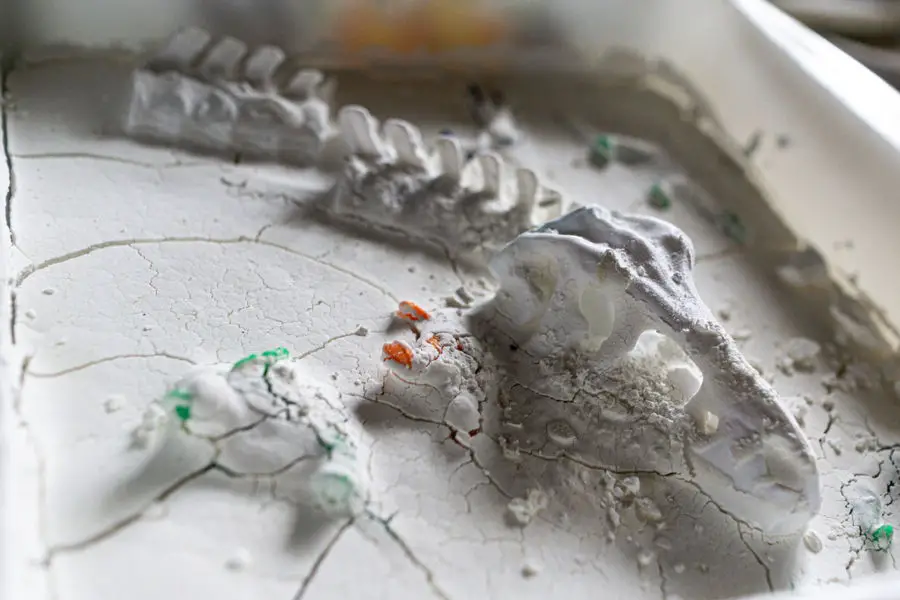 Kids often love digging in the dirt or discovering hidden surprises.  You can channel their curiosity and inner archeologist with a dinosaur activity designed to unearth hidden dinos.
If you want a quick dinosaur dig activity, there are pre made kits like this one on Amazon that has everything needed.
Or, if you and your kiddo are up for an adventure, you could make it more of a DIY dinosaur project with a little creativity.  Start with any small plastic dinosaurs (check your local dollar store, or this link on Amazon for a huge pack of inexpensive dinosaurs.)
Looking for a more authentic fossil look? Grab some dinosaur skeletons like the ones pictured here.
If you happen to have a 3D printer or access to a makerspace, you could also print your own dinosaurs! Learn how in this post. We printed the T-Rex skull and neck bones for our Dinosaur dig.
Once you have your dinosaurs, you need to bury them so your young archeologist can go on their dinosaur expedition.
A backyard sandbox is great in the summertime, or just a small tub of play sand where you can bury them for your budding archeologist to dig up. We all know that sand can get everywhere, and if the though of vacuuming up buckets of sand gives you pause, let's look at another option for a dinosaur activity digging material.
You can make some simple 'clay' with just a few simple ingredients:
2 Cups Cornstarch
1 Cup water
Shallow baking pan
It's easy to mix any quantity you want with a simple 2:1 ratio of cornstarch to water. If your mix is too dry, add a bit more water, if it's too soupy, add a bit more cornstarch. You get the idea.

For a more authentic "dirt" look, try mixing in some coffee grounds.
Drop a few of your dinosaurs in the pan and cover with the mixture. You may want to partially push in a dinosaur or two from the top, to give the appearance that a fossil is poking up from the ground waiting to be discovered.
Now, it's a matter of waiting until it's dry, which may take a day or two. Bonus if you can put them outside in the sun for a bit. In the wintertime, we've put them on top of our furnace to help dry quicker. You'll know when the surface starts to crack, it's digging time!
We used some clay sculpting tools and a paintbrush to dig up our fossils. You could just as easily use a spoon and an old toothbrush. We carefully dug around each of our dinosaurs and extracted them, then brushed them off.
One cool thing about the cornstarch "clay" mixture: when it drys out, you can just add another cup of water to make the goop again. You can set up another dinosaur dig, or just play!
Make Your Own Fossils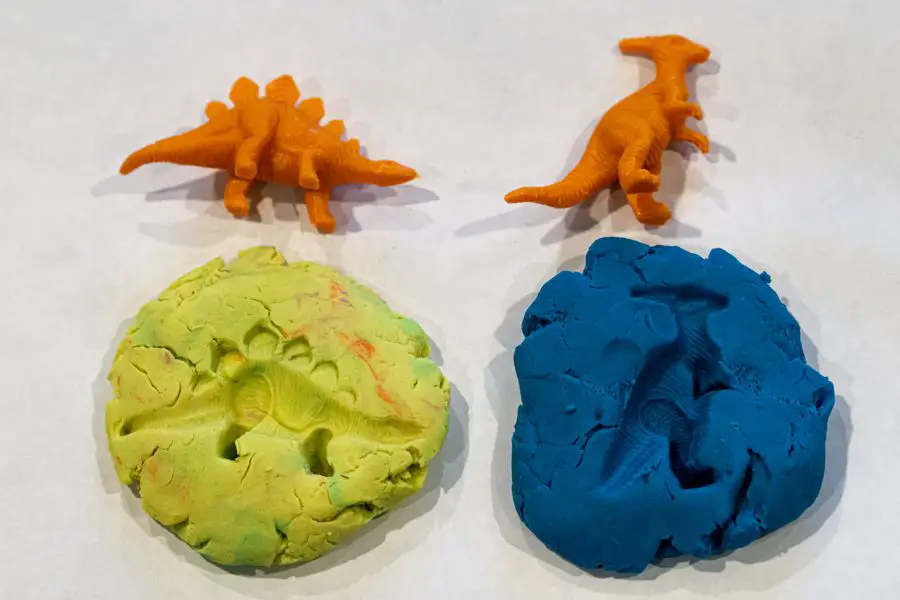 Using Play Dough or the the homemade cornstarch and water mix above, you can roll some segments out flat and press the dinosaurs into the mixture.  If you let the imprint dry, you'll have what resembles a dinosaur fossil.
Related Post – Playdough STEM! Find out how playdough relates to STEM, make our favorite playdough recipes, and find more playdough STEM activities.
In addition to dinosaur fossils, you can also make:
DIY Dinosaur Footprints with Play Doh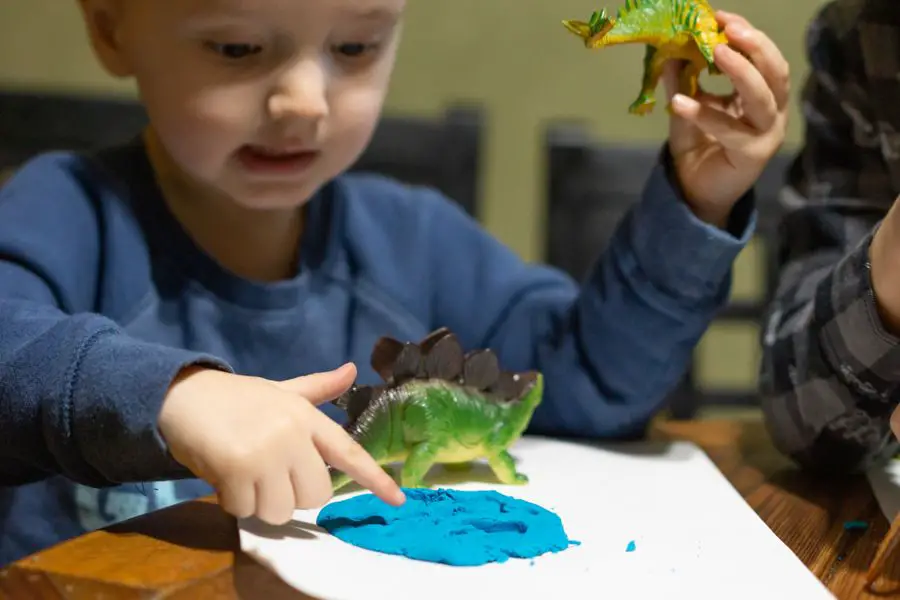 If you have Play Dough, that can be a quick and colorful to make some dinosaur footprints. Just push the feet into the dough to give the impression of dinosaur tracks.  Follow the footprints.  Where did all the dinosaurs go?
For more of an adventure and a fun activity, you could make your own play dough.
For some delicious fun, you can make dinosaur tracks or fossils in cookie dough. It's fun to watch the tracks as the cookies expand in the oven and see how they come out after baking.  It's even more fun to eat them!
Lego Dino
Sure, there a plenty of Lego dinosaur kits you can buy off the shelf (this one looks particularly cool), but sometimes it's a fun challenge to just try to create from scratch. 
If you have Legos around the house, see what kind of dinosaurs your child can create with what they have.
Long necked brontosaurs or a giant T-Rex? Perhaps something a bit smaller like a velociraptor? Let your Legos and imagination guide you.
Related Post: Lear more about LEGO and STEM!
Wrap Up: Dinosaur Activities to do at Home
So, there you have it. Seven dinosaur activities to do at home. For a quick activity you can pick up or order a kit that's ready to go, or just have one to keep handy for when you need something on the spur of the moment and don't have time to prepare.
For when you want to make it more of an event, there are plenty of DIY dinosaur activities to keep you and your little explorer busy and learning.

Our little paleontologists love playing with dinosaurs and enjoy the activities. Which dinosaur activity is your favorite?
Looking for more STEM Projects and Activities? Check out our other STEM Challenges.