If your kids love dinosaurs, they'll love these free cute dinosaur coloring pages.  Featuring a collection of cute dinosaurs, they're perfect coloring pages for preschoolers of kindergartners. (Or kids of any age!)
Are you looking for a fun and educational activity to keep your little ones entertained? Look no further than our collection of dinosaur coloring pages, available for free printable download!
Printables coloring pages are a fun way to keep kids occupied and engaged, and are a great alternative to screen time. We use printables to keep the kids busy for a bit when working from home, making dinner, etc.  They're also great to give kids something to do when traveling on a plane or road trips.
Sign up for the Free Printable Library for access to the Free Dinosaur Pages and More!
Fill out the form above to download yours, and you'll also get access to our free printables library. Grab your crayons, markers, or colored pencils and download your printable dinosaur coloring pages now.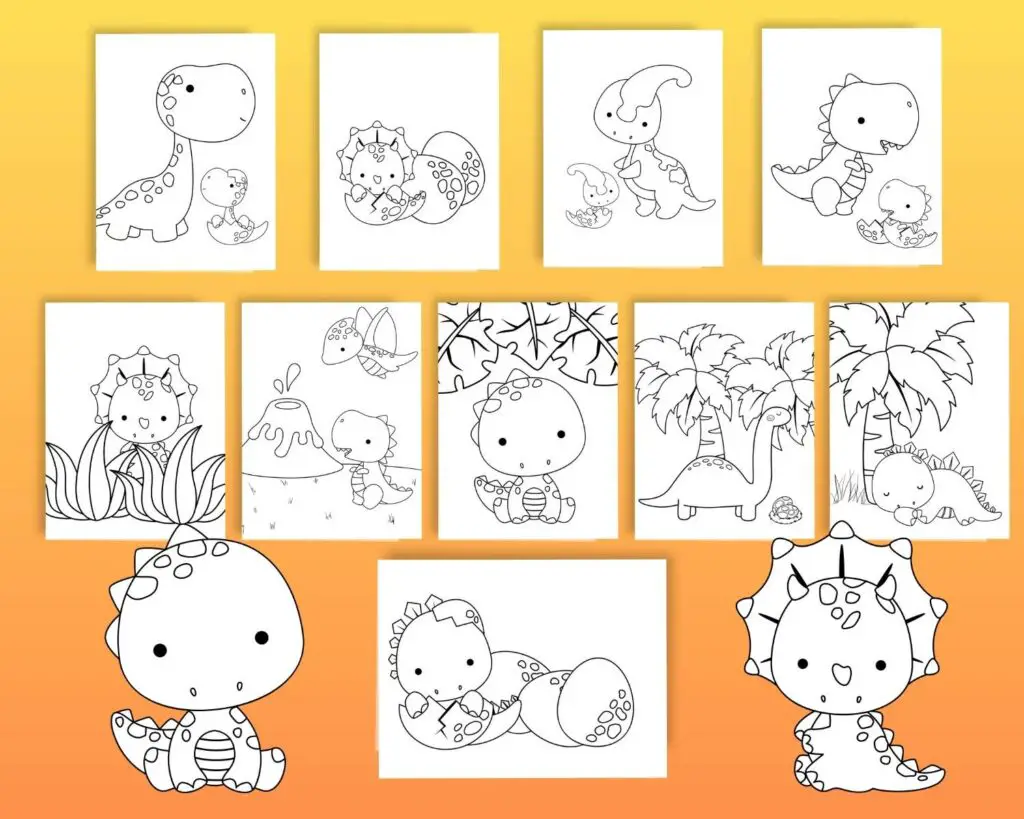 Baby Dinosaur Coloring Sheets
These adorable illustrations of baby dinosaurs will surely captivate the hearts of little ones. Not only are these coloring pages fun and engaging, but they also serve as a great tool for early education. With large open spaces and simple outlines, these coloring sheets provide ample room for little learners to practice their coloring skills and handwriting.
As kids color in each dinosaur, they can also practice fine motor skills by staying within the lines and using their favorite colored pencils or crayons.  Coloring pictures is a simple activity allowing kids to explore their creativity as they experiment with their favorite colors.
Have fun coloring different types of dinosaurs, baby dinosaurs and their parents, eggs, palm trees, and more!
More Printable Dinosaur Coloring Pages
If you want more fun dinosaur pictures, check out our collection of dinosaur coloring sheets.  You'll find printable coloring pages for every occasion.  What if the dinosaurs came back to school, joined us for some summer fun, or showed up for Valentine's day.  Would we recognize them at Halloween, and would they eat the whole Thanksgiving or holiday feast?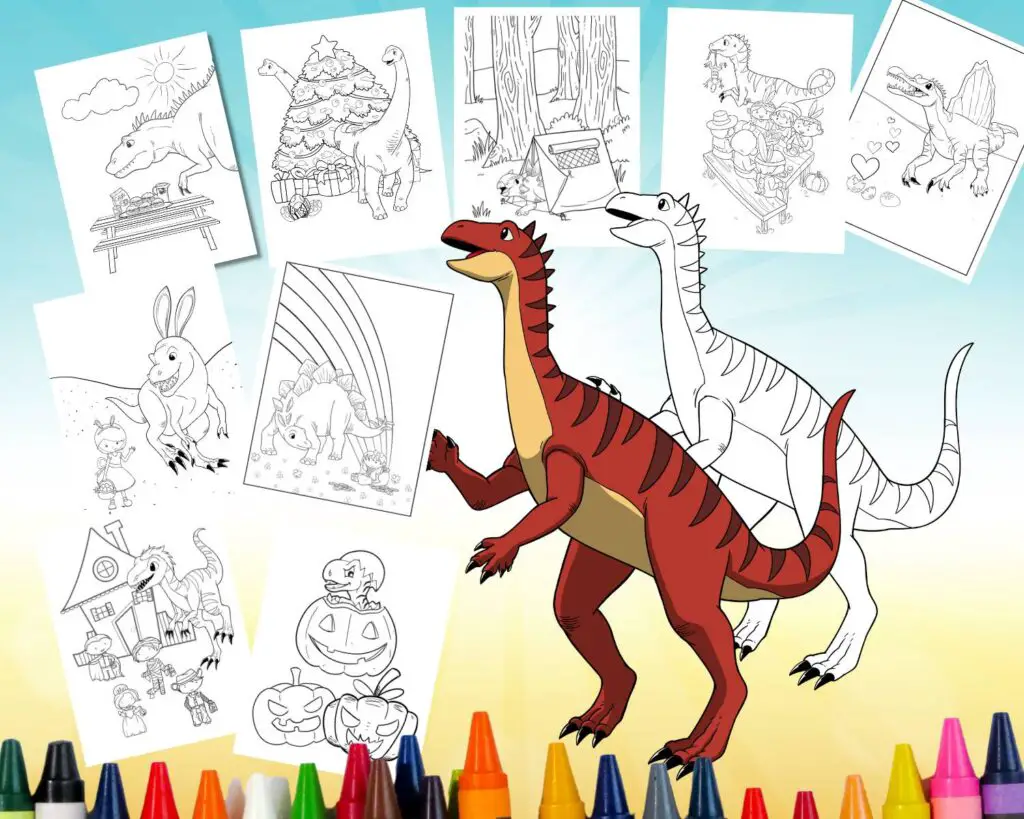 Grab your favorite holiday pack, or go for the gigantic savings and get them all in the mega bundle!
Whether you grab one of our coloring packs or start with your 10 free coloring pages, you're bound to have some fun coloring. Use the form below to get your free pages now.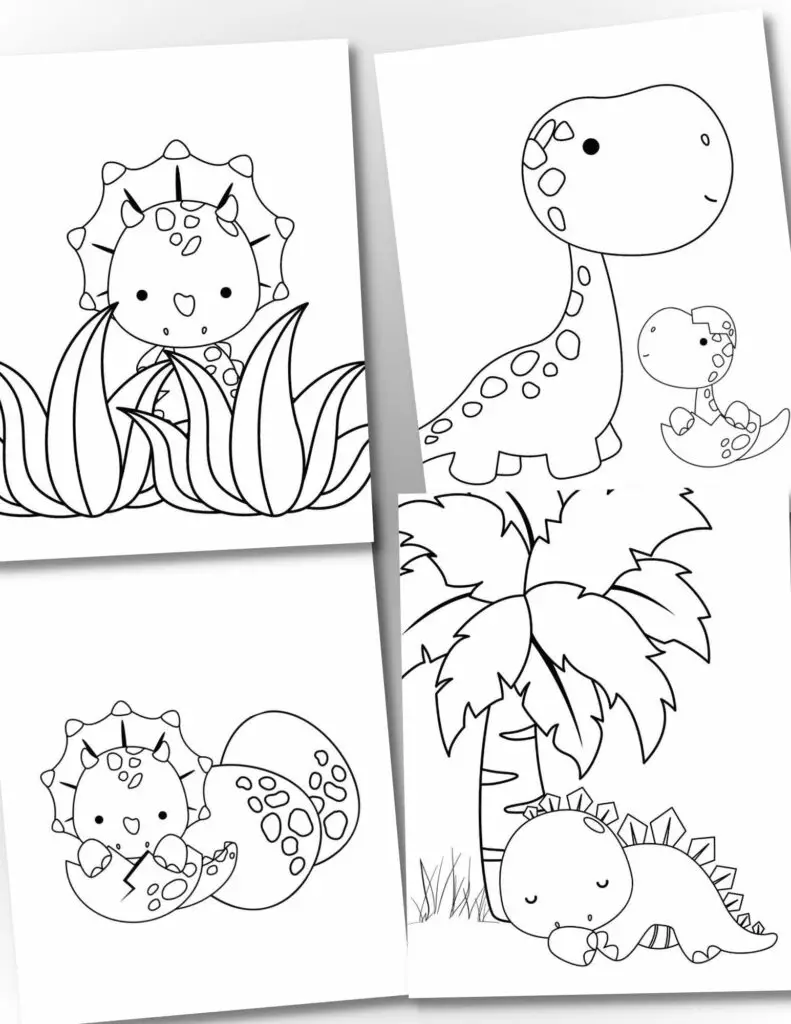 Whether you need a quick indoor activity, want to put away the screens, or encourage some creative expression, these free pages are an easy solution.  These pages are perfect for kids who are fascinated by these prehistoric creatures and love to color. Baby dinosaur coloring pages are adorable; you'll get 10 more unique pages of cute dinosaurs! Plus – you get access to our full free printables library.