If you walk through your big box department stores, you're likely to find a generous chunk of shelf space dedicated to "STEM and STEM kits and toys."  Many of these are also geared toward coding or programming.  While they're great for a gift and check the box for "educational,"  many of them are only scratching the surface.
Makeblock has a series of robot kits that go beyond "toy" and tread into "tool" territory.  While our kids had fun playing, mBots are full on learning tools.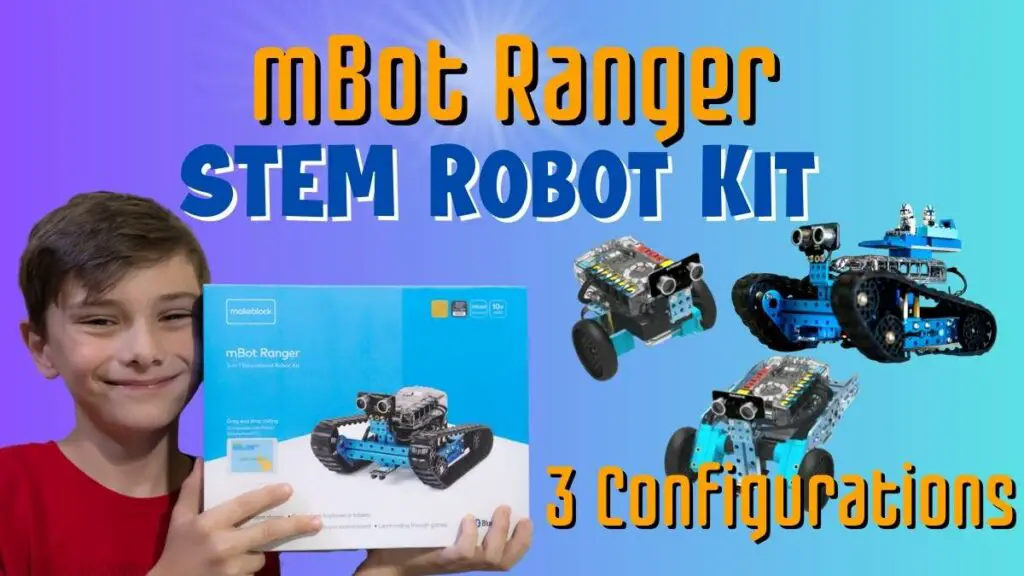 We were excited to get our hands on the Makeblock mBot Ranger robot kit – it's perfect for anyone interested in robotics, coding, and DIY projects.  The kit comes with everything you need to build and program 3 different robot designs and includes a microcontroller, sensors, motors, assembly tools, and a variety of building blocks/brackets.
The mBot Ranger is a versatile robot that can be programmed and customized to perform a wide range of tasks, making it a great learning tool for both beginners and experienced users. There's plenty to do in the kit, and a number of expansion packs and accessories to get even more functionality.
Key Takeaways
The Makeblock mBot Ranger is a versatile STEM robot kit suitable for both beginners and advanced programmers with block-based (Scratch) and Arduino programming languages.
The robot provides an excellent platform for problem-solving and encourages experimentation and out-of-the-box thinking
mBot robots have a solid build quality; these aren't just toys
Lego compatibility lets you add on to your mBot.
The Makeblock mBot Ranger has great educational value and can be used in classrooms to teach STEM concepts, with a user-friendly programming interface and clear instructions and tutorials.
The robot has impressive features such as temperature, sound, and light sensors, multimedia support, and Bluetooth connectivity for remote control.
We'd recommend getting the rechargeable battery pack with it (details below)
mBot Ranger Product Overview
The mBot Ranger is a versatile educational robot kit that's designed for beginners, educators, and robotics enthusiasts. The product design is sleek and modern, with a sturdy aluminum frame that can withstand rough handling.
The kit includes various sensors, motors, and other components that can be used to build different robot models, such as a robot tank, a three-wheeled car, and a self-balancing robot.
Not only is the mBot Ranger aesthetically pleasing, but it also has great functionality. The robot can be programmed using the mBlock programming software, which is a block based code editor like Scratch. This intuitive interface makes it easy for beginners to learn programming concepts and create their own robot behaviors.
The mBot Ranger also has Bluetooth connectivity, which allows users to control the robot remotely using a smartphone or tablet or optional game style controler.
The mBot Ranger is an affordable option for those who want to explore the world of robotics. In addition to its affordability, the mBot Ranger also has great educational value. It can be used in classrooms to teach STEM concepts, such as programming, electronics, and mechanics. In fact, Makeblock offers educational packages for classrooms.
Features and Capabilities
With its impressive array of sensors and easy-to-use programming interface, the Makeblock mBot Ranger is like having your own personal assistant. The AI integration of this robot kit is truly remarkable, allowing for voice recognition and even facial recognition capabilities. This makes it an ideal tool for educational applications, teaching kids about the latest in sensor technology and wireless connectivity.
In addition to its AI integration, the mBot Ranger also boasts an impressive array of sensors, including light, sound, and temperature sensors. This allows for a wide range of applications, from environmental monitoring to multimedia support. Using the included programming software, users can easily program the robot to perform a variety of tasks, from navigating obstacle courses to playing music.
Makeblock mBot Ranger is a powerful and versatile tool that is perfect for anyone looking to explore the world of robotics. Whether you are a student, teacher, or hobbyist, this robot kit has something to offer. 
Unboxing and Setup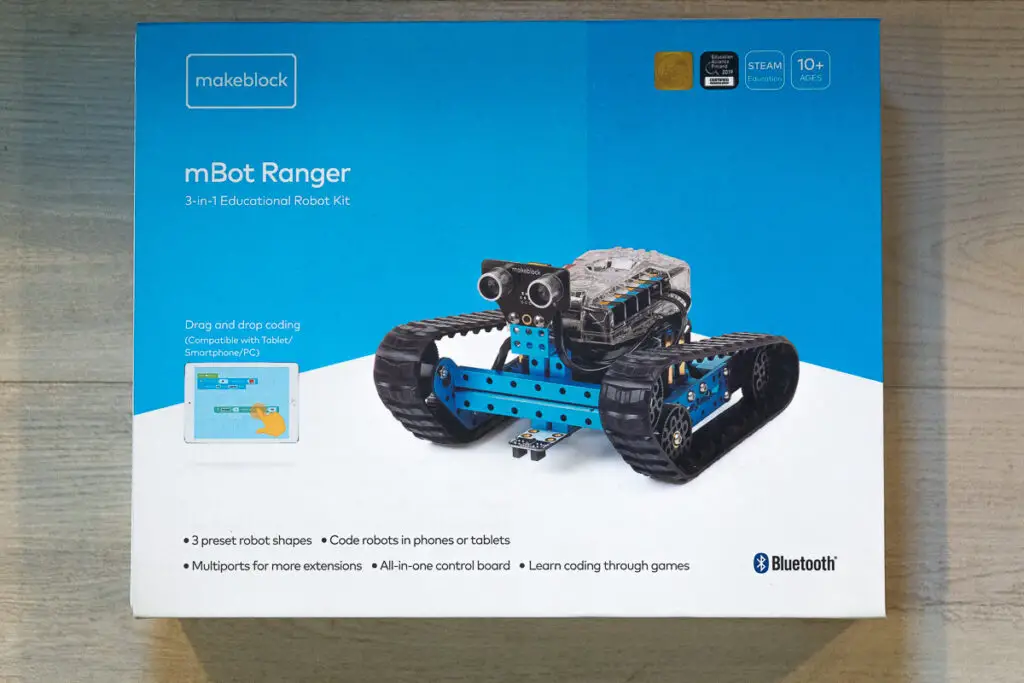 As we unboxed and set up the mBot Ranger, we were impressed with the quality of the components.  This isn't a flimsy plastic robot.  The frame and parts are a lightweight but sturdy aluminum.
Everything needed for assembly is  included in the package, so you won't have to worry about buying anything separately (except batteries.) 
You'll find the main board and some components in a top tray, with the rest of the pieces underneath.  You'll also find the instruction booklet and a foldable track for use with the follower sensor (the mBot Ranger can detect lines and follow a path.)
We found the assembly process to be both fun and challenging, as it required us to follow step-by-step instructions and use problem-solving skills to troubleshoot any issues that arose.
When it comes to troubleshooting, the mBot Ranger has got you covered. The Makeblock website provides resources, including video tutorials and FAQs, to help you solve any issues you may encounter during the setup process.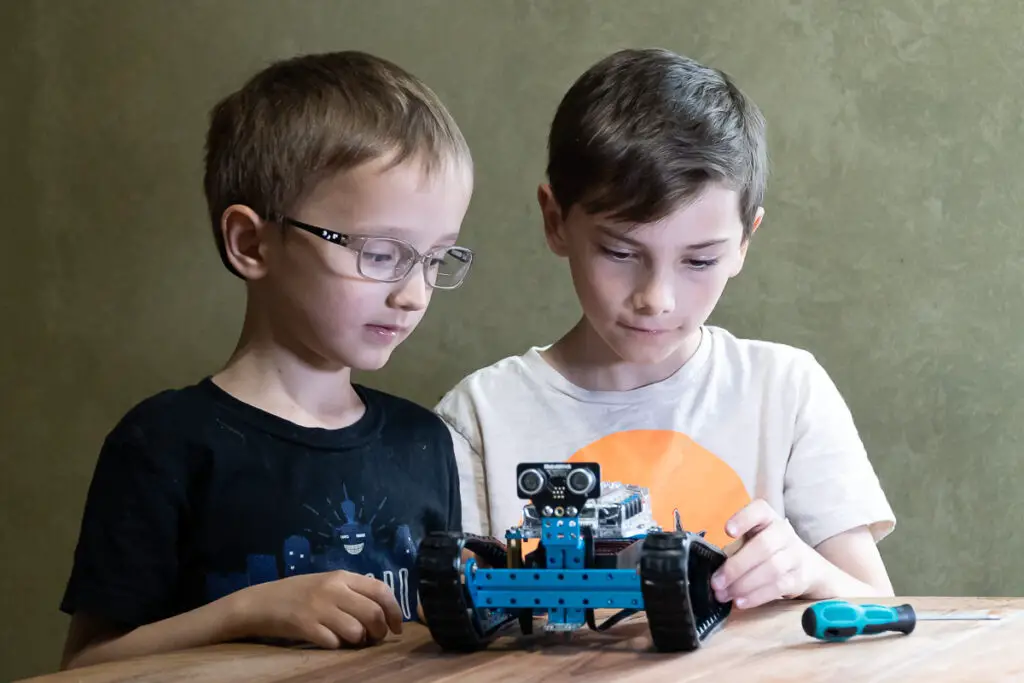 Building the mBot Ranger
So now that we've unboxed the mBot Ranger, let's roll up our sleeves and get started building it!  This is a 3-in-1 robot building kit, with directions to build 3 different configurations: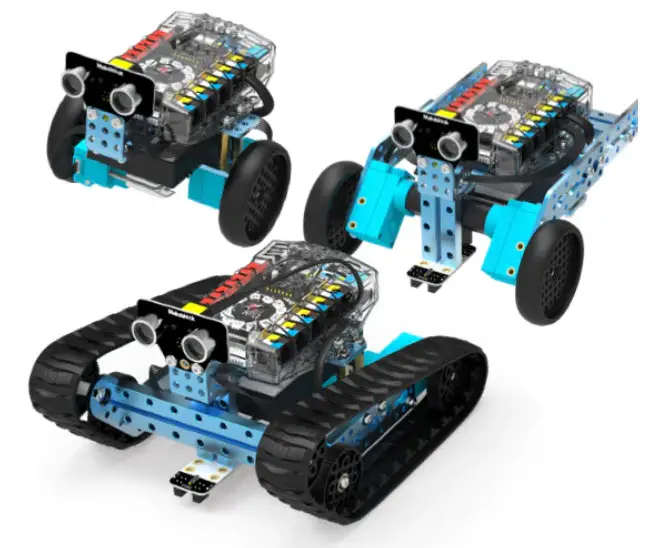 | | |
| --- | --- |
| Land Raider | A rugged off road tank tread robot (hands down our favorite) |
| Dashing Raptor | This is a 3 wheeled "racer" robot |
| Nervous Bird | This is a 2 wheeled self balancing robot that makes use of the gyro sensor  |
Note that even though it's a "3-in1" kit, you can only build one of these at a time.  There is only one of each of the electronic modules included.  You'll need to take it apart and reconfigure it for different builds (which is part of the fun with kits like this.)
You can choose form these 3 build configurations when assembling your Makeblock mBot Ranger, or you can build something of your own design if you like.  The customizable options and design flexibility of the mBot Ranger allow for unique configurations, giving you the opportunity to explore and try out different designs.
The build configurations range from a simple two-wheeled design to a more complex four-wheeled design with tank treads. Each configuration has its own set of advantages and disadvantages, so it's important to consider which one will work best for your intended use.
For example, if you plan to use the mBot Ranger for off-road exploration, the four-wheeled design with tank treads may be the best option due to its increased traction (this was hands down our favorite!) On the other hand, if you plan to use the mBot Ranger for speed and agility, the two-wheeled design may be the better choice.
Regardless of which configuration you choose, the mBot Ranger's building process is sure to inspire your creativity and curiosity.
Assembly and Use
So, you've opened the box and are looking at a bunch of parts.  How hard is it to build the robot?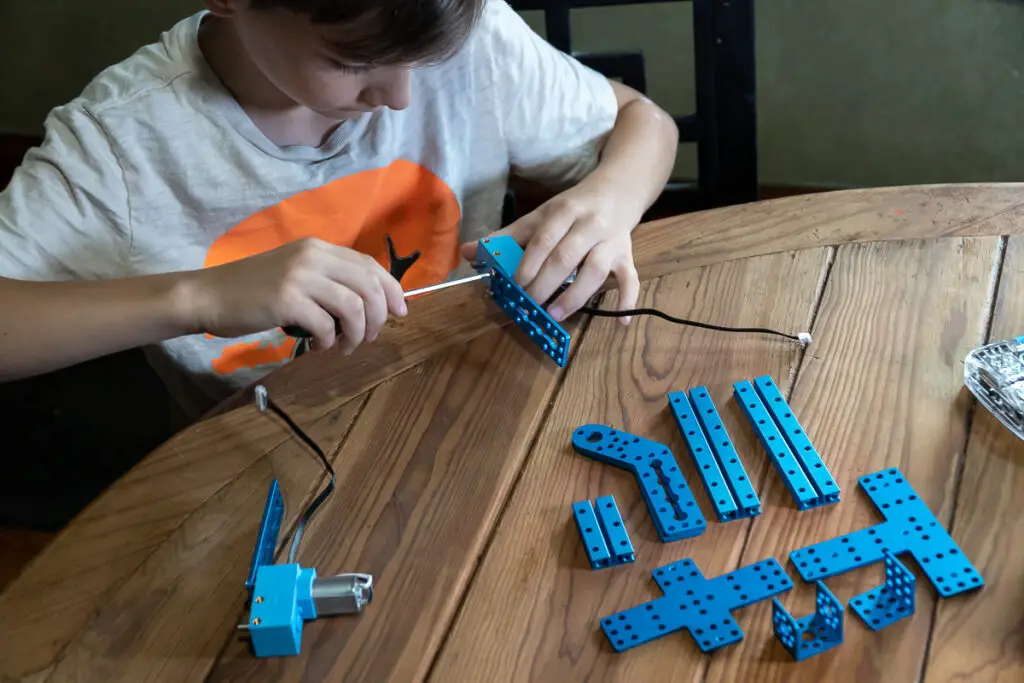 Assembling the Makeblock mBot Ranger by following the step-by-step instructions, and soon you'll have a versatile robot that can roam, race, and conquer any terrain with ease. The assembly process is fairly straightforward and can be completed in under an hour.
We found the instructions easy to follow, even for beginners.  It's advertised as being designed for kids 10 years old and up.  Our 8 year old was able to use the included instructions and tools.
If you've ever built a LEGO kit, the instructions are laid out in a similar fashion. Each step is a picture that includes the pieces needed and where they go.  The included screwdriver tool is reversible and fits all of the included screws.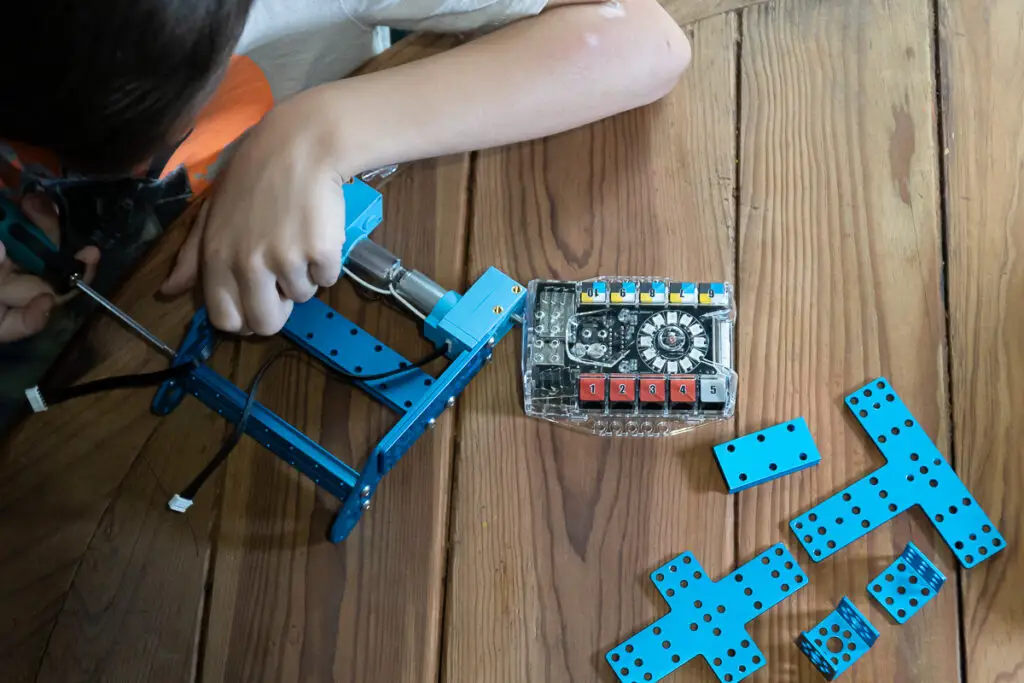 We had a few minor issues during the assembly process, usually a result of placing screws in the wrong notch and needing to backtrack a few steps to get things aligned properly.  Nothing major, and it's designed to come apart as easily as it is to put together.
Connectivity 
Building the Makeblock mBot Ranger was enjoyable (they love the tank so much it'll be hard to convince them to take it back apart!)  Our biggest hurdle was connecting it via Bluetooth once we built it.  
We loaded the battery holder with the necessary 6 AA batteries (batteries not included!)  The unit turned on, and we could see LEDs lighting up on the main board, but couldn't get Bluetooth to connect to the app on my phone.  It'd just sit at the Bluetooth pairing request screen unable to connect.  The problem wasn't in the Bluetooth module, it was power (or more appropriately, lack of power.)
We struggled with this for a bit, and I wound up getting the add on battery pack.  Once we swapped out the AA batteries for the rechargeable battery we were able to connect and get moving quickly.  The AA batteries weren't giving it enough power (make sure you're using fresh batteries and be ready to replace them regularly.)
Do yourself a favor and just order the battery pack right off the bat.  It's rechargeable and will save you from burning through batteries.  We'll average about 2 hours of continuous playing with the battery pack before needing to recharge it.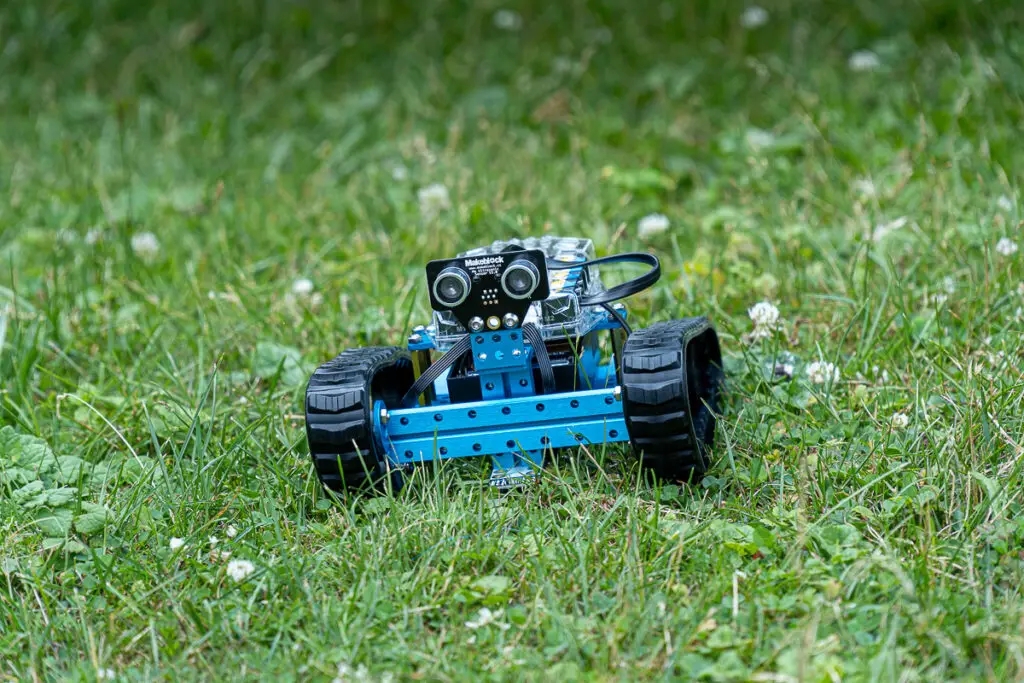 Once assembled and connected to the app, the robot performed well and was able to navigate various terrains with ease in its tank form. We were impressed by its speed and agility just driving it around using the in-app remote control function, and it was fun to see it in action. 
As with any new electronics, we recommend running a firmware update to make sure you're using the most recent version. This is easy to do with the software and USB connector.
While our kids had a great time using it as a remote control robot, that's only part of the fun.;  mBots are fully programmable.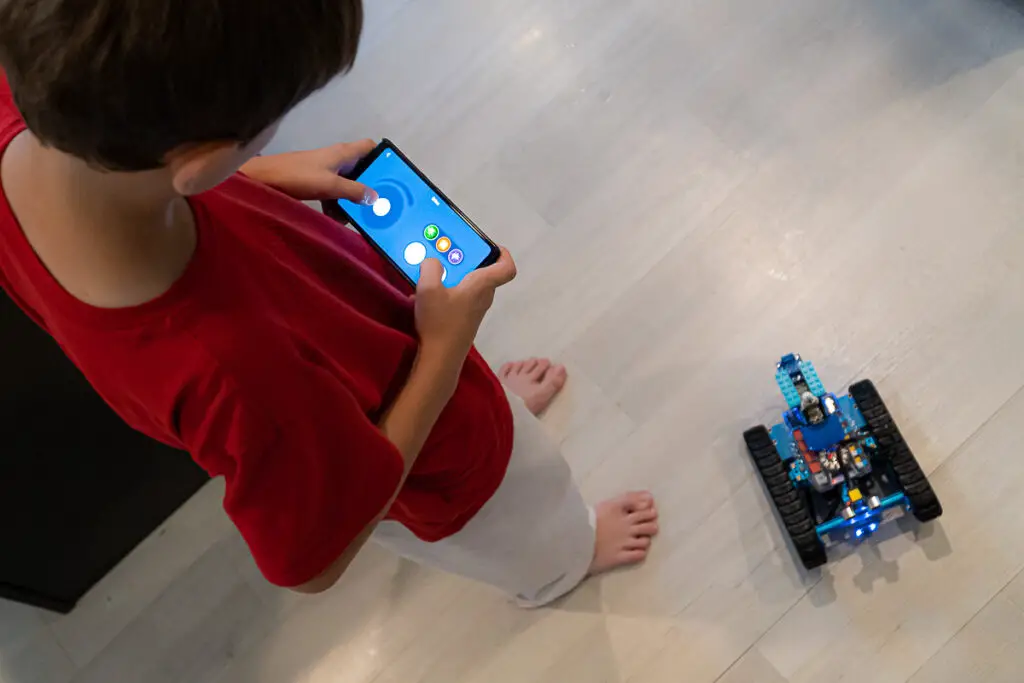 Programming Options
Now that we've talked about how to assemble and use the Makeblock mBot Ranger, let's dive into the programming options. There are a few different options available, depending on your level of expertise and preference.
You can download the programming app to a phone, tablet, or desktop/laptop or use a browser based version online.  You'll need to add the model of mBot you're using, and you should be ready to go.
The easiest way to get started (especially for beginners) is the block based programming. The visual programming language is a great option if you're just starting out with programming, as it allows you to drag and drop blocks of code to create your program.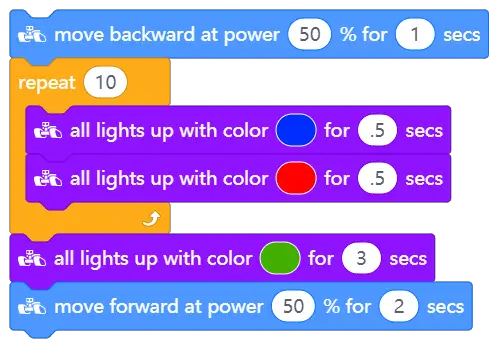 It's easy for kids to visualize and build their program by dragging, dropping, and arranging the various blocks and changing variables.  At the moment, this is where our 8 year old's skillset is.  
The cool thing is, that as he advances, the mBot Ranger can scale with his skill level.  It can also be programmed Arduino.  For those who are more experienced with programming, this allows for more complex coding, and gives more control over the robot's actions.
There are plenty of examples and quick start guides on the Makeblock site with step by step instructions. You can follow these examples to get coding right away and use these as learning tools – these would make a great starting point for class projects or lessons.
No matter which programming option you choose, the Makeblock mBot Ranger is a great robot for learning and exploring the world of robotics. With its easy-to-use programming options and versatile design, you can create your own custom programs and see your robot come to life. Whether you're a beginner or an advanced programmer, the mBot Ranger is a great tool for learning and exploring the world of robotics.
 Plus, the mBot Ranger is compatible with Lego pieces, adding even more customization options. 
LEGO Comparability
It's no big secret our kids love LEGOs.  Finding out they can build onto their mBot was exciting for them.  In newer versions with the plastic case around the motherboard unit, there are several spots where LEGO bricks can be attached.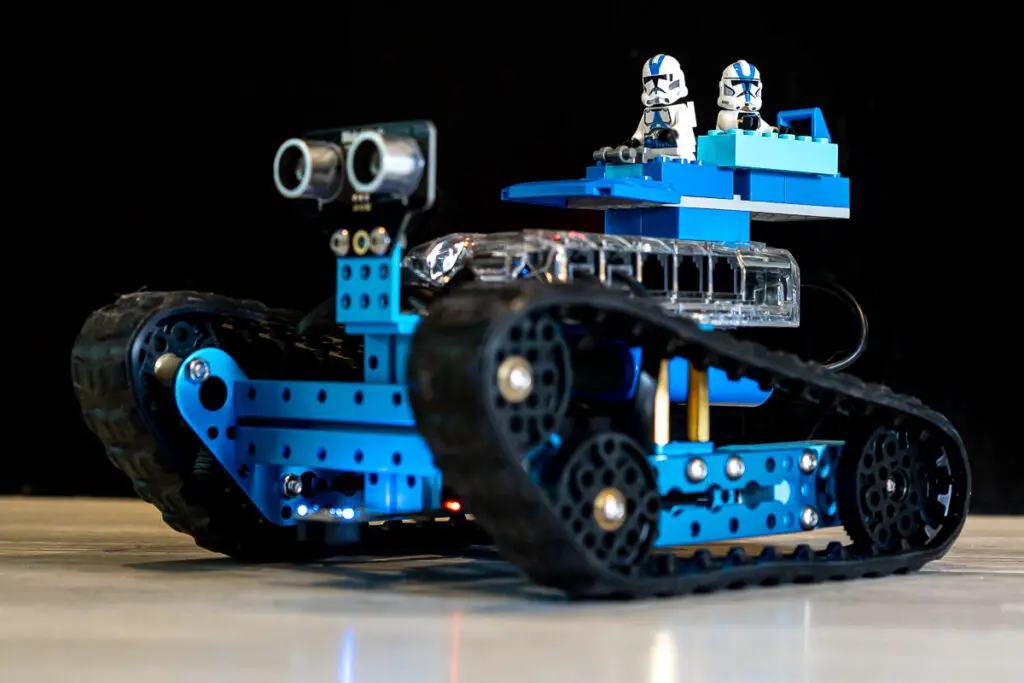 Of course, the first thing our kids did was to make it into a tank and built a platform for Star Wars mini-figures.  
Don't expect to build huge structures here, we found the LEGOs would fall off if we hit bumps at full speed, or if they drove it right into a wall and the tank went vertical trying to climb it.
That said, you can have some fun by adding some LEGOs into your builds.  Try flexing some creativity, problem-solving, and critical thinking skills by exploring new ways to use the mBot Ranger and incorporate some LEGO challenges into your robot builds.
Pros and Cons
Although there are multiple programming options available for the Makeblock mBot Ranger, it's important to consider the pros and cons of each to determine the best fit for your level of expertise and desired outcome.
What we like:
Building the robots:  Some users may want a robot ready to go out of the box, and that's not the mBot series. (check our coding toys post if you want something already assembled.) We enjoyed the hands on activity to build the robot.  

Having a hand in building it, the kids felt more connected to it than simply taking something out of the box and pressing a power button. They had more invested in it.

Ease of use:  With the ability to use the app or optional game style controller to operate the mBot as a remote control robot, our kids were able to start having fun with it right after assembly.

With the block based code, it's agreat dragging and dropping actions and seeing the robot carry them out, and figuring out what adjustments they want to make.

Scalability: Beginners can get started easily with visual block based coding.  As kids learn more advanced coding languages, the mBot Ranger can grow with them.  It also uses Arduino, making it a versatile option for those who want to advance their programming skills.  

LEGO Compatibility: Though the LEGO connectors on the plastic casing feel like a bit of an afterthought, it was a good one!  Our kids love LEGOs and they've spent almost as much time building things onto these few brick slots as they have doing programming or driving it.

Expansion Options: Makeblock has some add-on packs available for the mBot Ranger.  We went for the battery pack and controller from the start.  If you're looking for a bit more functionality or want to add some cool new things to do, check out the laser sword. 

You can also get a set of the blue brackets for building custom creations or adding onto your mBot, or a pack of Perception Gizmos that adds 7 more types of sensors.
What we found frustrating:
Power Consumption: This robot eats batteries.  Our first batch of AA batteries didn't have enough juice to fully power the mBot – sending us down a troubleshooting rabbit hole to figure out why we couldn't get it to connect.  Thankfully, there's a better solution with the option add on battery pack.  
So far that was our main "con."  As we run our mBot though its paces and get heavier into the programming, we'll add on to this page.
Skills Learned
Learning to program the Makeblock mBot Ranger can develop valuable skills in both block-based and text-based coding languages, providing a versatile foundation for future robotics and programming projects. Here are some skills that can be learned with this amazing robot.
If you're looking for a robot or STEM kit for classroom use, consider these benefits for your students (or kids at home):
1. Critical thinking: While programming the Makeblock mBot Ranger, one needs to think critically to solve problems and find creative solutions. This skill is essential not only in programming but the logic learned has many "real life" applications.
2. Problem solving: The Makeblock mBot Ranger provides an excellent platform for problem-solving as it requires one to identify and solve various challenges while programming. It teaches one how to break down complex problems into smaller, manageable parts. Whenever dealing with programming or computer systems, troubleshooting skills come into play.
3. Creativity: With the Makeblock mBot Ranger, you can use creativity by designing different configurations and programming the robot in unique ways. Have fun with experimentation and out-of-the-box thinking.
4. Teamwork: The Makeblock mBot Ranger can also teach teamwork as it can be programmed by a group of people working together. This feature promotes collaboration and communication, essential skills in any project.
The Makeblock mBot Ranger is an excellent tool for developing skills in critical thinking, problem-solving, creativity, teamwork, and programming fundamentals. It provides a fun and engaging way to learn these skills, making it perfect for both beginners and advanced programmers.
With the Makeblock mBot Ranger, kids can learn these skills while having fun and creating something amazing.
Wrap Up – Makeblock mBot Ranger Review
We're really enjoying the Makeblock mBot Ranger 3-in-1 Robot Kit. Overall, we were impressed with the capabilities and features of this robot kit.  It's got sturdy quality components, and I think will last us longer than some of the plastic robots the kids have played with.
The mBot Ranger has a lot to offer for both beginners and experienced roboticists, from its versatile construction to its programmable options.  One thing to keep in mind is the battery life of the mBot Ranger. Make sure to charge the batteries fully before using the robot, and be aware that the battery life may vary depending on how much you use the robot.
Building and programming a robot may seem daunting at first, and the mBot can ease budding robot enthusiasts into the hobby. With the ability to learn and practice skills such as hands on assembly, coding, robotics, and electronics, the mBot Ranger is a great tool for anyone interested in STEM education.
We highly recommend giving it a try!