Legos are fun toys, and sets come with easy to follow instructions.  Legos are also great for free play or just building whatever comes to mind.  When our kids don't know what to build, or start in with, "I'm bored" – it's Lego Challenge Cards to the rescue!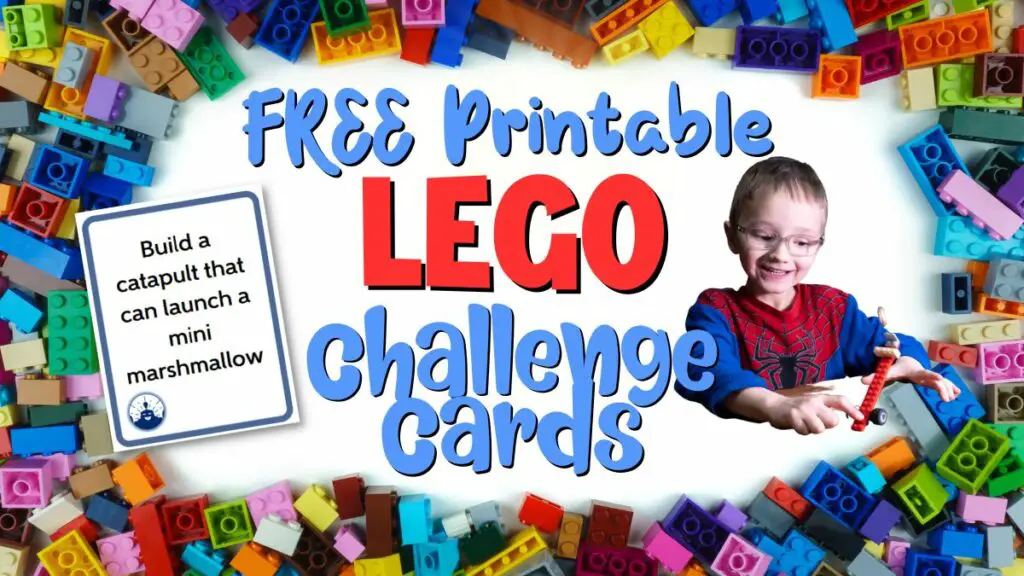 What are Lego Challenge Cards?
Lego Challenge Cards are basically prompts that give a specific task to complete using Lego bricks. These cards are designed to provide building ideas that inspire creativity and flex your imagination while also serving as an educational tool.
These cards are perfect for both kids and adults and can be used in a variety of settings including classrooms, after-school programs, summer camps, home school, and (of course) at home.
We're offering the same printable Lego Challenge Cards we use at home for free!  Give these a try and see what amazing structures you can come up with!
Fill out the form above to download yours, and you'll also get access to our free printables library.  You can just print the basic challenge card pages, or print double sided for the full challenge experience!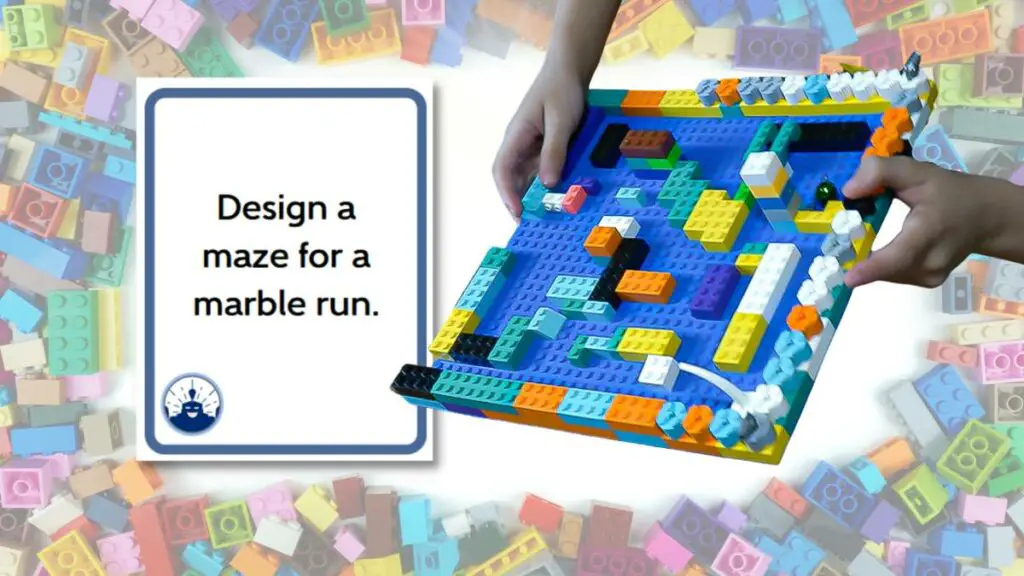 Benefits LEGO Challenge Cards
One advantage of using Lego Challenge Cards as building prompts is that they encourage kids to think outside the box. By providing a set of guidelines and a goal, these cards teach children to be creative problem solvers. They learn to approach a problem from different angles and find new and innovative solutions. This skill is not only useful for building with Legos but also in many other areas of life, like school projects or future careers.
Moreover, Lego Challenge Cards aren't just creativity boosters, they also help develop building skills. As children work through the challenges, they learn new techniques and become more proficient builders. These cards can be great team-building activities, fostering collaboration and communication among peers (or sharing among siblings.)
Types of Lego Challenge Cards
There are several different categories of Lego prompts, each designed to challenge builders in different ways.
One type of Lego Challenge Card focuses on building skills, such as creating a tall (and stable) tower or constructing a bridge that can hold a certain weight. These prompts encourage builders to think outside the box and come up with innovative solutions to difficult problems.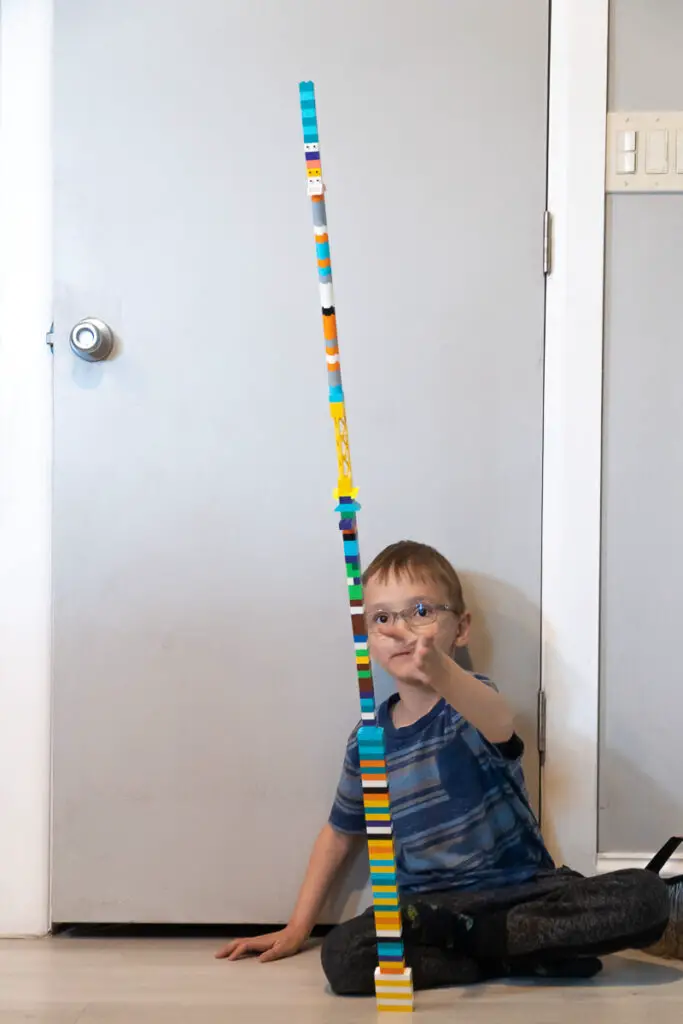 Another type of Lego Challenge Card is centered around creative play and imagination. These cards might ask builders to create a fantastical creature or build a scene from their favorite storybook. These prompts allow builders to explore their creativity and use their imaginations to bring their ideas to life.
Other cards may focus on motor skills or Lego STEM challenges. 
Lego Challenge Cards are a great way to promote STEM learning, creativity, problem solving, and team building, all while having fun building with Lego bricks.
Tips for Using Lego Challenge Cards with Your Children
Get ready to ignite your child's creativity and problem-solving skills by incorporating these tips into your family's Lego Challenge Card building time.
First, encourage your child to think outside the box by using creative prompts. These prompts can range from building a cityscape to creating a spaceship. By using these prompts, your child will learn to think creatively and expand their imagination.
Second, use Lego Challenge Cards as a way to build teamwork skills. Encourage your child to work with siblings or friends to complete the challenge. This will not only teach them how to work together but also develop problem-solving skills.
Finally, Lego Challenge Cards can help build confidence. As kids complete more challenges, they will feel a sense of accomplishment and be more willing to take on new challenges in the future.
Fun Ways to Use LEGO Challenge Cards
Spice up our family game nights by adding some pizzazz with these fun-filled LEGO Challenge Cards! These cards are perfect for unleashing your family's creativity and imagination. You can use them to create team challenges or to encourage individual problem solving.
One fun way to use the LEGO Challenge Cards is to create a team building challenge. You can divide your family into teams and give each team a set of challenge cards. Each team must work together to complete each challenge before moving on to the next one. This activity promotes communication, problem solving, and creative building skills.
Another fun way to use these cards is to encourage imaginative play. You can challenge your kids to build something based on a specific theme or concept, like a robot or a castle. With LEGO Challenge Cards, your family can embark on a STEM exploration journey while having fun and bonding together.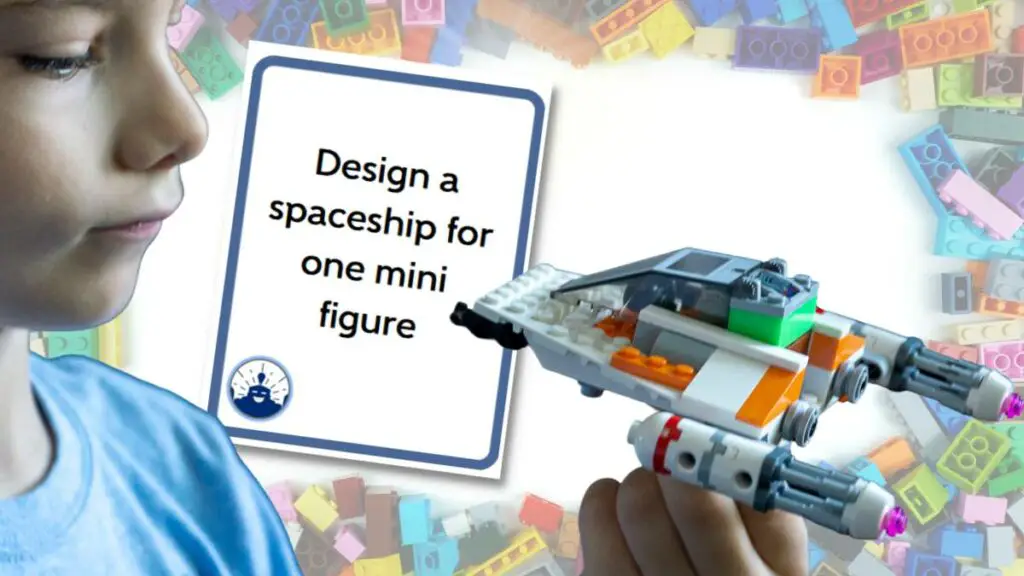 Download FREE Printable LEGO Challenge Cards
Wrap Up – Download your Free Printable Lego Challenge Cards
These cards are a fun and engaging way to get your children's creative juices flowing with LEGO challenge ideas. By using these cards, you can help develop problem-solving skills and boost imagination and creativity.
When our son is bored, he actually asks for a LEGO card.  I'm happy it's an educational activity (and alternative to screen time) and he's thrilled to have a building task to focus on.
If you need a fun activity for kids (and adults) or a cure for boredom, download these today!
Also, find out what to do with your LEGOs after they're built and read more about LEGOs and STEM.