3D printers are amazing tools. They allow us to make almost anything we want. From toys, tools, jewelry, decorations, instruments, and more there are endless possibilities. But what about Halloween? What could you possibly do with a 3D printer for Halloween?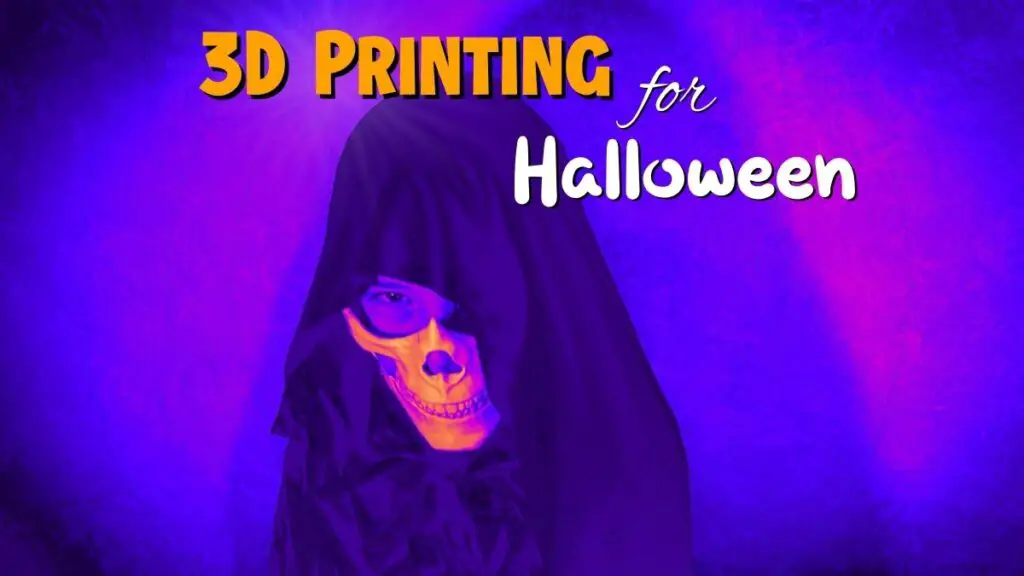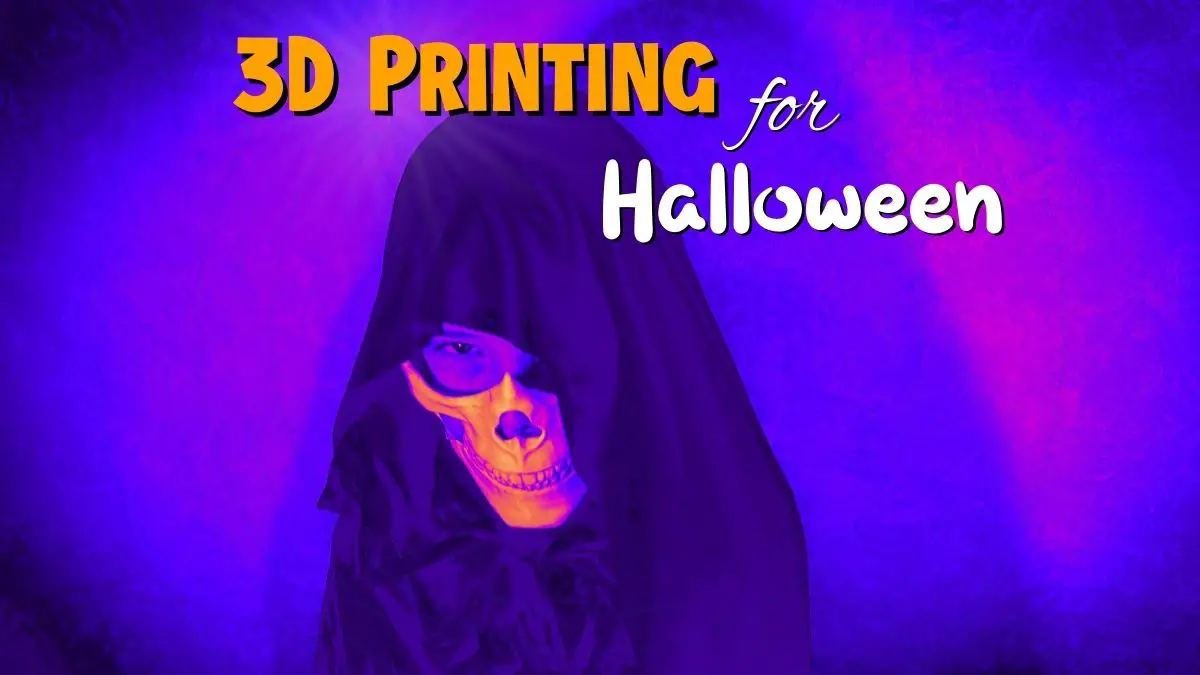 With a 3D printer and a bit of creativity, you can custom make your own unique costume, accessories, and decorations. Whether you're looking for something cute or terrifying, here are our favorite ideas for 3D printed Halloween costumes, props, and decorations.
Let's explore!
3D Printed Halloween Masks
3D printing masks is a great way to customize your Halloween.  If you don't want to go out and buy a costume, why not make one yourself? We've compiled a list of some of the best 3D printed Halloween masks we could find – for free – online.
Skull Mask
Whether you're going as the Grim Reaper or Ghost Rider, you can't go wrong on Halloween with a skull mask. There are a ton of free digital files in STL format you can print at home.
We like this half face skull, and you can get creative with makeup if you want a scarier look.  
If you're looking for a classic full skull, this one is great.  The model is set to print all of the pieces in one shot with minimal supports.  A little bit of glue and assembly once the print completes and you're all set for a frighteningly good time.
This skull prints in 2 pieces, and is a versatile mask. Paint it for a great sugar skull day of the dead look.
For something more whimsical, try the king of Halloweentown: Jack Skellington.
Plague Mask
This is a cool looking plague doctor flavored mask from the 12 Monkeys Sy-fy TV show. It's an easy build with 2 major parts and a few pegs to attach the parts together. You could get fancy and paint it, though we thought it was scary enough printed in red PLA.
It seems a bit small for an adult if you don't alter the model, so you may want to scale up slightly when slicing your model depending on your size.
For a more traditional plague doctor look, try this mask.  It prints into 3 pieces, so you'll need to do some minor gluing (otherwise you'd need a huge print bed to fit the whole mask.)
Low-Poly Mask
This 3D printed low polygon face mask is just creepy enough to make any clothes into a Halloween costume.
Grab this version of the low poly mask; It's be adjusted for a more comfortable fit and is listed as an "easy breathing" version.
Jason Voorhees Mask
It's just a hockey mask, right?  The look from the Friday the 13th movies has become an iconic scary mask, and it's an easy print.  
If you want something to set you aside from all the other Jasons out there, try this damaged version from Jason Goes to Hell.
Brain Hat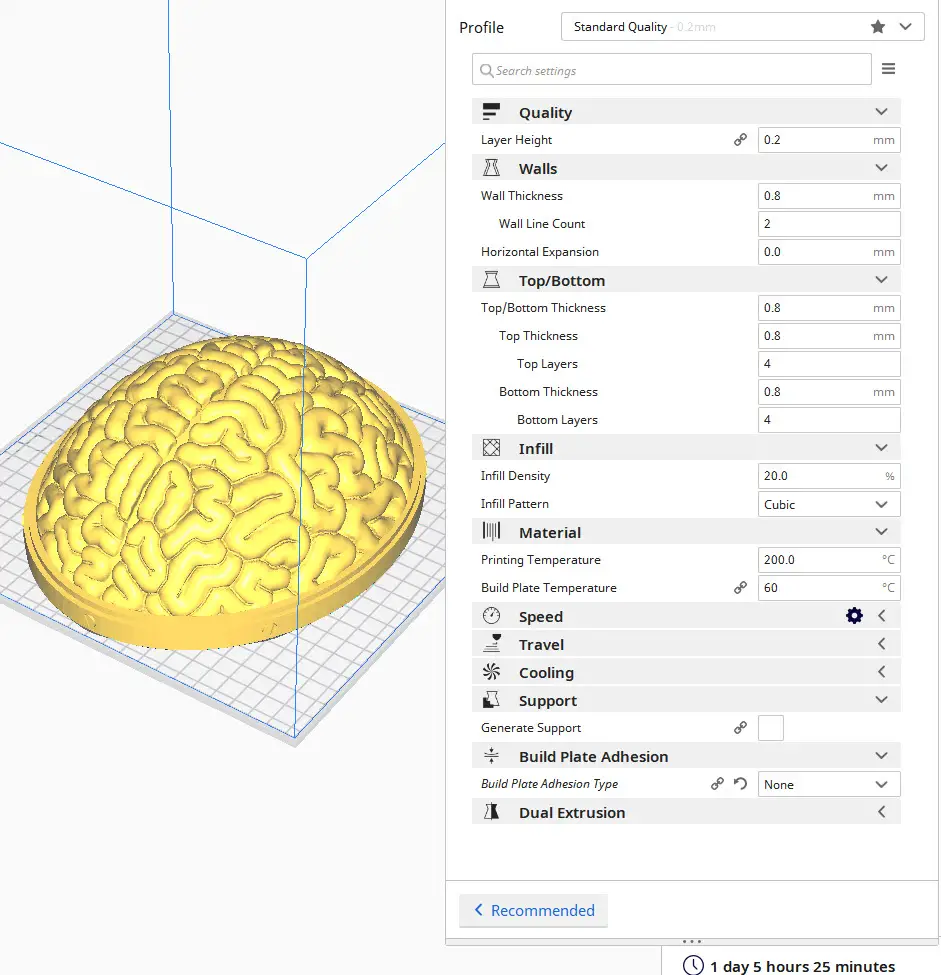 It's not exactly a "mask", though a 3D printed brain hat can be a clever costume accessory or an interesting conversation starter.
The brain-hat is a simple Halloween costume by itself, and can go with just about any outfit.
Monocle & Mustache
Need a quick costume with no fuss?  Or want to check the "wore a costume" box without really dressing up.  You can print this Monocle & Mustache on a stick and call it done. 
The stick is made into 2 pieces so it can print on printers with tiny beds – and you can fold it up and stick it in your pocket once you've made an entrance.
Harry Potter Glasses and Scar
Here's another simple and minimal effort costume.  Make a magical appearance with these glasses and attached lightning bolt scar.  
Related Post – New to 3D printing or not quite sure where to start? Check out our Elementary Guide to 3D printing.
3D Printed Costume Props & Accessories
Maybe you need that one accessory to pull your look together, or a prop you can't find for sale.  You may be able to find a printable model to finish your costume.  A few of these props may be worth building a costume around.
3D Printed Star Wars Lightsabers
A simple lightsaber prop can be the centerpiece of a jedi or sith costume. There are many (like, many many) 3D models available. You can go simple or screen accurate if you prefer. We made this simple one that prints in place and has a collapsible telescoping blade.
Print the hilt in one color and the blade in another color. (You'll have to make your own lightsaber sounds, but that's part of the fun!)  Choose the Dark Side with Darth Vader's blade or the Light Side with Luke's lightsaber.
Star Trek Badge
Turn any primary colored shirt into a Starfleet uniform (good enough for Halloween, anyway) with these Star Trek Badges.  
This Next Generation badge has a space for a magnet to easily attach it to a shirt.  If you're looking for a particular show, try these from Voyager, Discovery, or Picard.
Finish the look with a phaser.  One to beam up.
Wizard Wand
Any wizard will want their wand, especially on Halloween. Here's a great model of Harry's wand from the movies. For something scarier, you can print Voldemort's wand.  Pair a magic wand with the glasses and scar above and you've got a quick and easy magical costume.
Demon Baby
This creepy Halloween costume for adults looks like a nightmare come true. With a few well placed pieces and a tight shirt, you'll look like you've got a baby demon ready to burst from your belly.
The evil demon baby belly Halloween prop is made up of 3 pieces; the face and 2 hands. Place the pieces under your shirt, and you'll be ready to go. You may want to place a pillow under your shirt fist to enhance the effect of looking pregnant.
For the finishing touch, you can glue add a few fake blood drops onto the front of your shirt to make it look like your demon spawn is ready to claw its way out.
Articulated Fingers
It feels like there were a zillion parts for this articulated finger extension build, but they're worth the effort.  If you've got these, even on one hand, you can do nearly anything for the rest of your costume.  These fingers/claws pair well with the plague doctor or skull masks above!
This one is complex enough to warrant its own Assembly Guide video:
You can also check out the In-depth Sizing & Scaling to make sure you print them out at a size that fits.
Just for fun, you can also check out this build for finger extensions if you want  different look than a skeletal hand.
Freddy Krueger Claws
If you've got a red striped shirt and a hat, complete this iconic scary movie look with a set of Freddy Krueger claws.  It's small enough to print in one piece, though you could separate the pieces when slicing if you wanted to print the blades in a different color.
Wolverine Claws
If you want some claws with a simple build, these Wolverine claws may be just the thing, Bub.    
Devil Horns
Horns are another classic Halloween prop, and there are a number of models and styles you can find online.  These simple devil horns are small, easy to print and have slots to fit into a headband.  For something more detailed, try these. If curved horns are more your style, take a look at this set.  
Jack o Lantern Death Whistle
Death whistles sound horrifying at any time, and can add some terror to your Halloween.  This one looks like a jack-o-lantern.
We printed ours in glow in the dark PLA.
3D Printed Costumes
If you have the time and are up for a more challenging project, you can go beyond masks and accessories and print a full costume. Projects like these can see life beyond Halloween with cosplay events or comic conventions. 
Iron Man
This Iron Man suit 3D printed cosplay armor is a popular choice among the fans of this comic book hero. It is based on the design of Tony Stark's MK6 armor from the 2008 movie. The 3D model includes the full suit. It's an impressive build!
As cool as it looks, it's an involved build and may be best tackled by experienced printers. In the designer's own words, "It looks great, but it is NOT comfortable." It's a good thing that when you're not wearing it, the costume makes great display pieces.
If you want love Iron Man, though want something a bit less involved, go with this arc reactor. Add a few LED lights to complete the effect.
Star Wars Armor & Suits
It's another big full suit build, though the original white stormtrooper armor is an iconic look.  Go with something a bit more recent with the Mandalorian or Boba Fett.
3D Printed Halloween Décor and Decorations
Customize any party or gathering with some DIY creepiness.  Set the mood with some ghoulish decorations, or print small party favors for your guests. 
Zombie Hands
Zombie hands reaching up from the ground, or phantom hands reaching out from a wall make a great party prop. This set has 4 different hands to make it look like you've got a zombie hoard just out of reach.
Bookcase Monster Hands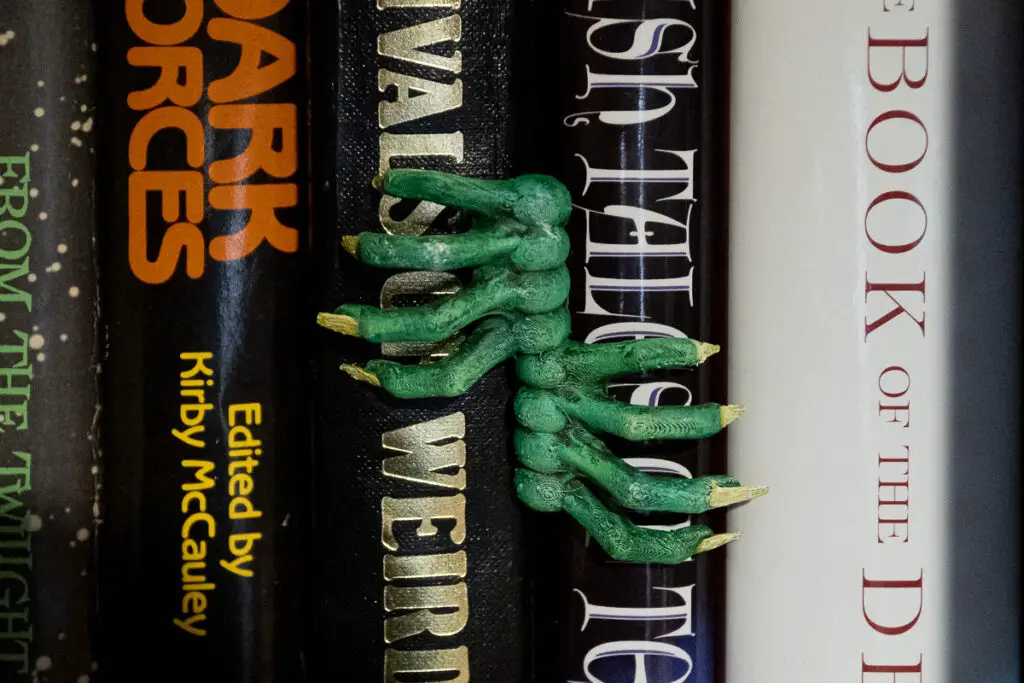 If you have a shelf of books, these hands will make it looks like gremlins or goblins are ready to burst out from the pages. We painted ours with acrylic paints to make them look extra scary.
3D Printed Door Knocker
This dragon door knocker can great guests and set the tone to a monstrous party.
Cookie Cutters
If you're going to bake cookies, make your own cookie cutters for some custom Halloween shapes.  You can find models ready to print for skeletons, jack-o-lanterns, skulls, ghosts, bats, hats, and cats, just to name a few.
Skull Bowl
If you've got some cookies or candy, a skull bowl can be the perfect way to serve them up.  Also check out this version with 13 faces.
Halloween Coasters
Nothing's scarier than cup circles on the table!  Print your own coasters to protect your counters and set the mood.  This set of 4 coasters has you covered with a zombie, ghost, pumpkin, and skull.  Add a spider into the mix, or some spooky Starbucks themed designs.
Candle Holders
Here's some jack-o-lanterns designed to fit over a votive sized LED candle.  (Don't use actual candles; the plastic used for most 3d printing will not hold up to the heat.)
Similarly, this skull lantern can add some spooky lighting and shadows to your space.
Ghost
Halloween wouldn't be complete without a ghostly appearance, and this little ghost is just the thing. We printed a few that were about the size of a Lego figure, and our kids love them (and they'd make a great treat or party favor.) Print them out a bit bigger for some quick decorations.
Bonus – use glow in the dark filament!
3D Printed Pet Costumes
Humans don't have to hog all the fun.  Pets can get in on Halloween too!  
If you're using one of the skull masks, why not print one for your dog as well?  Or make any dog into a mean looking demon dog with these canine horns.  Perhaps your dog can be a knight in shining armor with this doggie knight's helm.
If you have a cat that can tolerate a helmet, here's a model of a Judge Dread helmet for cats.
Wrap Up – 3D Printed Halloween Ideas
Halloween is one of those holidays where you can dress up like anything you want. Whether it's a superhero, a princess, a zombie, or even a robot, there are plenty of options out there.
Sure, you can buy a costume, but who wants to be one of the many wearing this year's costume fad? Why not wow everyone with a custom costume? Take your costume game to another level and 3D Print your own Halloween!
We hope you find the perfect costume, prop, or decorations to take your Halloween to the next level.  These 3D printing projects should provide tons of ideas.  Though these are some of our favorites, there are plenty of spooky decorations or cosplay props you can print for free. All of the printable models from this article are available for free on Thingiverse.  
If your costume needs a musical prop – check out builds for a 3D printed Guitar or Violin.