Autistic children often don't play in the same way as neurotypical children. This leaves some parents, extended family, and friends baffled as to what toys to buy an Autistic child. Loud and flashing toys, often popular, can be the fast road to sensory overload. STEM toys are growing in demand, but are STEM toys good for Autistic children?
Yes, STEM toys are good for Autistic children. They are often Autistic children's preferred toys. STEM toys often appeal to an Autistic child's strengths, which builds their confidence while helping them focus and develop fine motor skills. The key is to find what they enjoy.
The Autistic spectrum is both wide and long. What suits one family or child might not suit another, as challenges within the spectrum differ. Each child is unique. However, there are some generalities, one of which is that many Autistic children enjoy STEM toys. STEM toys are good for them, too.
Let's explore how STEM toys factor in with Autism and take a look at some recommended toys.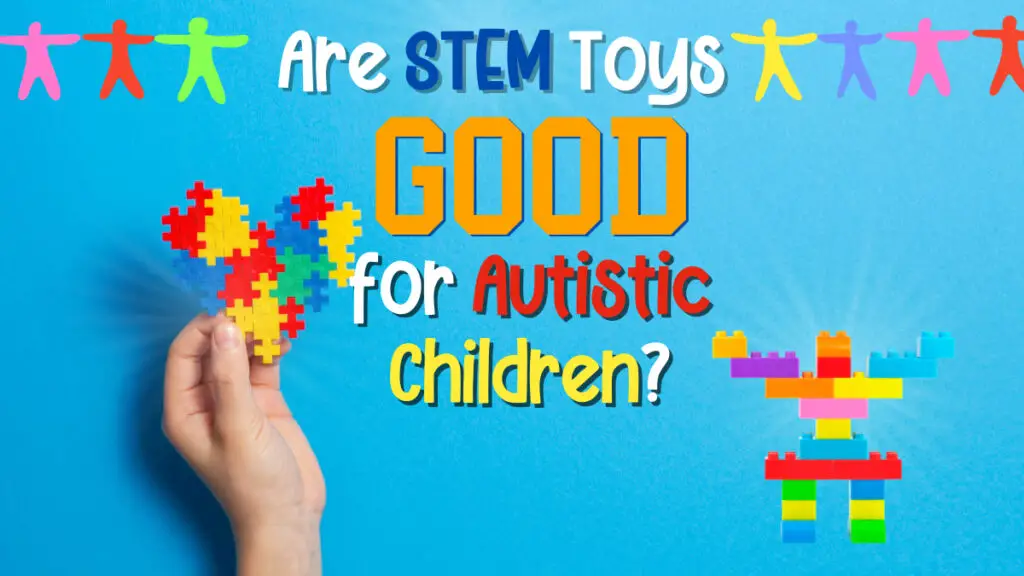 Why are STEM Toys Good for Autistic Children?
STEM toys are often good for Autistic children because they like them. Of course, all children should have access to toys they enjoy. STEM toys are also, generally speaking, good for any child. STEM toys not only stimulate the mind and are interesting, but they also help a child's hand-eye coordination and motor skills, an area where some Autistic children struggle.
Children learn best through play, including Autistic kids. Thus, STEM toys are helping children learn. This is particularly useful if an Autistic child does not do well in a traditional schooling environment. But STEM toys also lend themselves to an Autistic child's strengths, which helps boost their confidence.

STEM toys also help build a bridge between other children, encouraging interaction. Autistic people are not always the most social humans, even as kids. Many Autistic children also don't "get" a lot of games neurotypical children like to play, such as "make-believe." But set out some LEGO during a playdate, and all the children will play with it, providing much-needed interaction.
Will My Autistic Child's Interest Become an Obsession?
Autistic children often go through phases where they are incredibly interested in something, be it space, dinosaurs, or even programming. Some parents worry about this, but they shouldn't. When is the last time you heard of a little girl's parents stressing about their daughter's love of Barbie? Or heard parents complain their kid loves basketball?

"Meet your kids where they are at," is one of the best pieces of parenting advice we were ever given. If your kid loves all things space, then let them enjoy it. But it is up to you, the parent, to make sure there is a range of textures and activities: space puzzles, space art projects, space books, space LEGO kits, space decorated bean bags, space-themed puppets, and so on.

Yes, some children become obsessed with a particular interest, overshadowing all else. However, it might well be the kid's future career. Studies have shown that these special interests are not a negative but a positive. Everyone should be so lucky to have an interest that blossoms into a fulfilling career.

Remember: if your kid does have a particular interest, like in space, don't panic. But maybe buy more than one set of space-themed socks and underpants to avoid tantrums or hygiene issues. Nor does it mean you shouldn't try introducing other things, from dinosaurs to music to sport. Variety is good. But there is a difference between widening a child's world and trying to distract them from their passion.
Tips for Selecting STEM Toys for an Autistic Child
First of all, don't be crushed if the child doesn't like the present. Autistic children know what they want but are not always able to easily communicate their desires. Sometimes it is a misunderstanding. For example, you thought they wanted a Barbie dollhouse because they kept flushing the toy toilet for hours. Instead, they just liked the working part of the house and didn't like Barbie.

It happens. Don't take it personally. Just keep the receipts.
Pick toys that suit the child's interests and personality. Also, think about why a child enjoys or wants a particular toy. For example, is it that they like cars, or is the kid fascinated with the moving parts of the wheel? Understanding the "why" is crucial when selecting toys if the gift has a chance of being used and appreciated. (Back to that Barbie house.)
Age ranges on toys often are irrelevant for Autistic children. Sometimes even products slanted towards adults might be better suited due to the child's focused interest in the subject. The products for their age range might be looked upon as too "low-brow" due to the intensity that the kid has delved into the subject.
That said, some Autistic children's behavior patterns might lead to unique safety concerns when it comes to toys, be it temper tantrums or pica (chewing non-food items). However, we must stress, these are not concerns for all kids with Autism. Like any gift, you buy it for the individual, not a general stereotype.
If the gift will require the parents' or caregivers' time to be used, say a science experiment kit, do check with those people before giving the item. Even from an older child, patience might be severely lacking when excited about an activity of high interest. But again, it depends on the kid.
Also, keep in mind that some STEM toys have a lot of stimulation, both with sound and light. Some stimulation might make a kid happy; others will result in a meltdown or shutdown. Resist well-meaning yet poor advice to force a child to "cope" with a toy's features that make the kid stressed. Toys are supposed to be fun and make a person happy to interact with them, not something to "learn to deal with."

Last, it's not so much about trying to focus on finding "Toys for Autism."  Autistic kids are kids. Autistic toys are called "toys." Many neuro-typical kids enjoy STEM toys, just like there are Autistic kids that adore Barbie. Children learn through play, which sometimes includes STEM toys and sometimes just a pile of rocks or sticks. Then again, you can build some cool stuff with rocks and sticks.
15 STEM Toys for Autistic Children
We consulted some Autistic families as to what toys were a hit with their children. Here is a list of fifteen suggestions that were hits in their households (and some suggestions made us smile, because they're favorites of our kids.)
Building Blocks
Wooden blocks, like this set from Melissa and Doug, were well praised. They are well sanded, high quality, and last. The children were said to play with them for hours as they experimented with different ways to make stacks and build walls to crash their toy cars and trucks into.
Wooden blocks are considered STEM because they help develop spatial reasoning and fine motor skills while teaching basic math concepts such as balance, symmetry, and construction. They are often recommended toys for Autistic children for similar reasons.
However, if you have a child that often throws or whacks others with toys, these thick cardboard building blocks by Melissa and Doug are a great alternative. Growing up, we had both kinds. But my brothers loved the cardboard ones so they could build a wall and bust through it like "Hollywood stuntmen." 
Board Games
Board games help with concentration and provide an easier way for Autistics to interact with others. Board games come with clear rules, which helps an Autistic feel more at ease. These games also provide something to talk about to help foster communication skills, which is useful as small-talk isn't easy for an Autistic.

Some great STEM board games are:
Related Post: Our favorite STEM board games.
Brain Flakes, an interlocking plastic disk set and is a brilliant toy for when traveling. Parents can scoop up a few handfuls and put them in a bag, tossing in a shoelace or two. Lightweight, transportable, and doesn't roll down the plane's aisle or under a car's seat.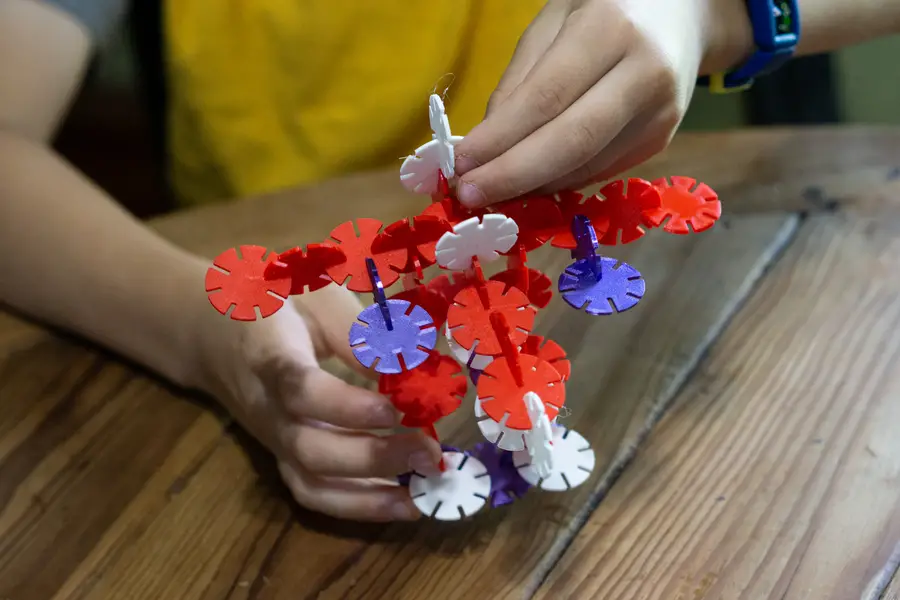 Our kids love building toys, and we 3D printed our own interlocking disk set.  You can read about that and other projects in our post about 3D printing for kids.
These nanorobots move like real insects. There is a large scope of add-ons these days, including a "build your own playground" set that adds a construction element.
Our kids love Hexbugs as well! Their favorite is the Space Cosmic Command set.
LEGO
Yes, LEGO is a STEM toy. Even the basic non-STEM marketed buckets of LEGO is STEM, just like wooden blocks.  Building spatial awareness and motor skills are a benefit to any kid, not just a child with Autism.

Yes, LEGO is a fantastic toy for Autistic children. The LEGO Foundation is also partnering with Play Included to support Autistic kids. What size blocks the child will do best with depends on their age and fine motor skills.
Both regular buckets of LEGO and kits are excellent. The openness of a bucket of Lego bricks room for unstructured exploration and discovery. The kits provide a clear challenge, which motivates and interests many Autistic
Related Post: Legos and STEM
Learning Resources Gears! Gears! Gears!
Learning Resources Gears! Gears! Gears! has been highly recommended. However, we were cautioned that the toy could get a bit noisy when the child has built the ultimate gears construction and is cranking it hard. Most children won't mind; just be aware.

It is listed as a toy for 3+, but many children enjoy this STEM toy into their tweens. The pieces are relatively big, making them pretty easy to use even if your child's fine motor skills are not on the same level as other children in their age group. Most of the sets don't involve pieces that are a choking hazard.
Lincoln Logs
Lincoln Logs are another popular choice. Like any building toy, it teaches the foundations of STEM skills while also helping with a child's development, such as hand-eye coordination and fine motor skills. Many also liked that it was made of wood. In a world of plastic, kids appreciate a range of textures that a toy like Lincoln Logs can provide.
Marble Runs
Marble Genius Marble Run and ThinkFun Gravity Maze Marble Run are fun for kids and adults. Both the STEM and developmental skills are involved with these toys. The marbles can be a choking hazard, however, so make sure your darlings are past that stage.
Also, while we loved both of these sets, marbles are not fun to accidentally step on when a child leaves them out. Nicer than a LEGO brick, however.
Meccano sets, such as this Erector 25-in-1, are an original STEM building toy for slightly older children who can cope with the tiny pieces. If well looked after, the toy has staying power, too. Can you outgrow Meccano?
Programing
There are many coding toys out there, from LEGO, to this Kids First Coding & Robotics kit, to this darling Think and Learn Code-a-pillar. That said, some coding toys out there can be incredibly noisy and flash, so do check on that should your child be sensitive to that type of stimulation.

Also, be aware of the child's particular level in coding. Many coding toys have a recommended age range well below an Autistic child's level if coding is their specific interest. However, not all Autistic children are obsessed with coding. Like anything, it depends on the kid.
Related Post: We did a round up of Coding Toys if you're looking for some more suggestions
Puzzles
A lot of kids, regardless if they are Autistic, enjoy puzzles. ThinkFun's range is routinely recommended.
Rush Hour Traffic Jam and Block by Block were highlighted, and their Solitaire Chess Logic Game looks like a nice alternative to playing online when nobody else nearby is up for a game or social interactions aren't of interest on a particular day.
Science Kits
Science kits are obviously STEM. They are great if your kids go through a phase, be it an obsession with space, dinosaurs, or crystals. Kits vary in topics and age ranges. We had many books and kits, including this crystal one and this chemistry kit. 

We did a round-up of STEM Subscription kits if you want to put this on autopilot and have a new kid delivered to your door every month.
Snap Circuits are cool kits with magnetic pieces that snap together to create various projects. Snap Circuits Snaptricity and many of the newer releases, such as this Light Exploration kit are popular.  Yes, there is some light and noise, but most people we spoke to said it wasn't a problem. Instead, they said their kids found the sets interesting and fun.  
Fat Brain Toys Squigz is another highly recommended building toy. Parents of Autistic kids reported that the "squishy" of the toy could be very soothing for the children, while the push and pull help develop fine motor skills. Also check out the mini Squigz.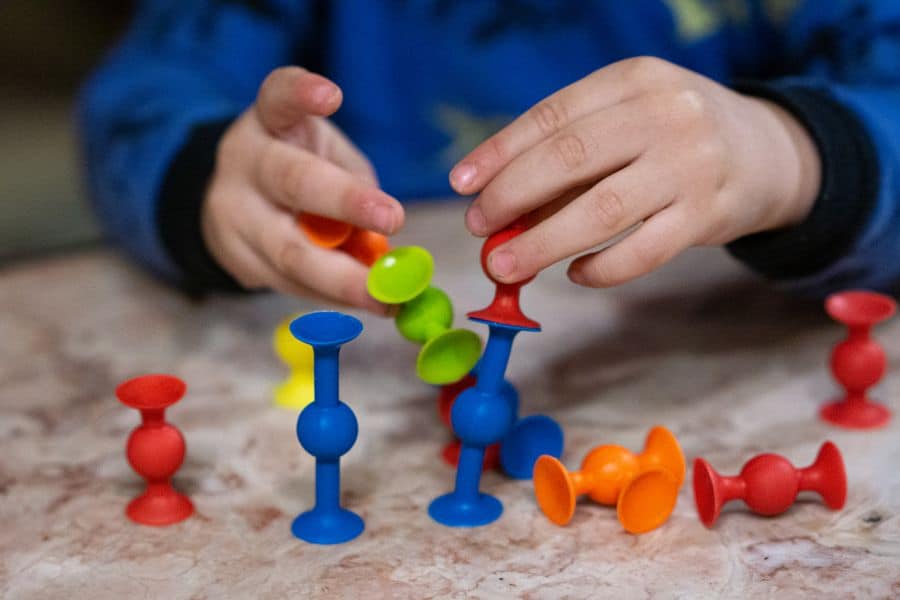 We bought a set of these for our son years ago and he still loves playing with them. I know this because we find these regularly around the house.
Zoob,Builderz and the "STEM Toys Kids Building Kit," are have very similar pieces. These construction kits got rave reviews and everyone we spoke to couldn't recommend them enough. In fact, many parents said they played with them too. They have ball and socket jointed pieces that fir together to build bendable structures, animals, or whatever the imagination conjures up.
Wrap Up – Are STEM Toys Good for Autistic Children?
STEM toys can be excellent for kids with Autism Spectrum Disorders, both for their mental and physical development and social skills. It not about "Autism Toys" specifically, but about finding toys that resonate with the individual child, their interests, and their temperament.
When considering toys for children with autism spectrum, be mindful of toys that are loud and/or flashy. These may be a bit much on sensory input and cause an overload meltdown, or on the flip side they may be a hit and you'll hear it on repeat until the batteries drain. 
Just keep in mind what makes your child happy and interested. Don't feel pressured to give them the "right toys" due to what other children their age and gender are enjoying.  Ultimately, the main point of a toy is for a child to have fun.