Board games are a great way to spend time with family and friends, and a great way to learn through play. There are some educational board games for kids that are designed to teach certain elements, though many board games can be used to teach concepts like math, counting, colors, alphabet, spelling, vocabulary, geography, or strategy. We've rounded up some of our favorite board games for kids to share. Let's explore!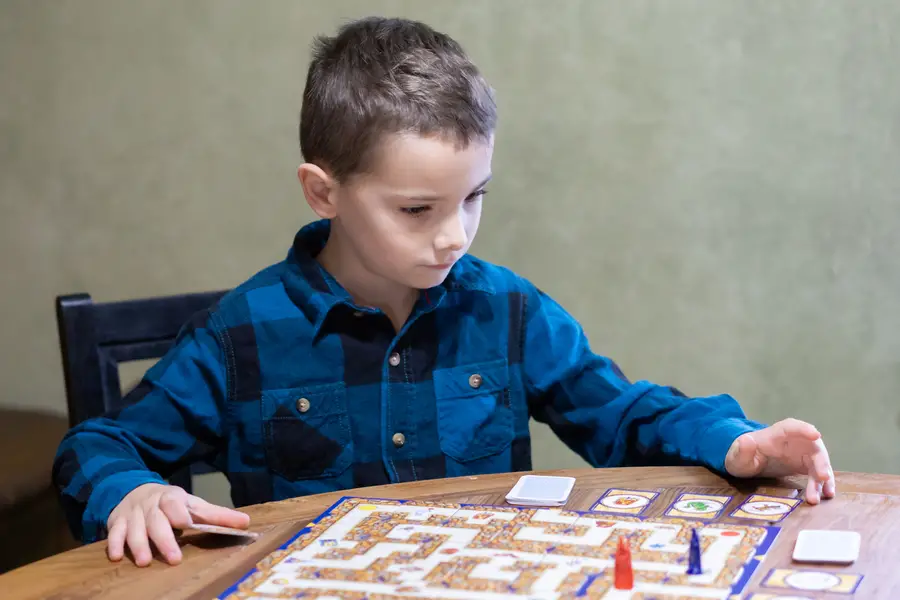 Connect 4 is an excellent game to help your child practice numbers and counting. This game is as addictive as it is competitive and keeps players coming back game after game.

The goal of the game is to manage to stack 4 in a row of your chips either on top of each other, in a diagonal line, or side by side without being blocked by your opponent's chips.

This 2 player game teaches players to use strategy as they quickly learn that just stacking their chips on top of one another won't win them any games. They need to think more tactically, and while playing a simple game, they'll start developing more critical thinking and planning.
If you like your game time supersized, there is a giant version of connect four. Perfect for bringing some board game fun outside.
Candy Land is a great family game, especially if you are playing with little kids. In Candy Land, each player turns over a card in the stack which displays a color. Simply move your playing piece to the next colored square that matches. Kids can start to develop simple color matching and counting skills to move pieces across the board.
There isn't any skill or strategy, which makes this a great starter board game for young kids. Everyone has an equal chance to win, and the rules are simple.

We play as a family with our 3 year old, and he loves calling out the colors and finding the next space on the game board. He also enjoys being included, since it's a game he can understand. It doesn't matter so much who wins, as much as having some family fun together.
Kids are naturally inquisitive. If it seems like your kid asks and endless onslaught of questions, Guess Who? may be a great game to try.
Guess Who is an amazing game to get your kids to practice using conversation, descriptive words, and critical thinking skills to help them succeed. In this game, each player draws a card with a character on it, and each player needs to ask and answer questions about their character to help the other guess who it is.

This game involves asking questions about being male or female, what color hair they have, etc. and can be a great way to get kids practicing social skills, cognitive skills, and using more adjectives as a part of their vocabulary.
When looking for educational board games for kids it's hard to beat Scrabble. One of the best board games ever when it comes to helping your child learn how to spell words they know and learn new words, too.

Scrabble is usually played with 4 people, though can be played with as few as 2. The point of the game is to spell words off of your opponent's words. Each player starts off with 7 letters to use and certain letter combinations are worth more points than others. Whoever has the most points in the end wins! And everybody wins by learning new words and expanding their vocabulary.
I was rather surprised when our 5 year old asked me to teach him chess.  I thought we'd get lost in the complexity of which pieces moved which way and be done before the game began.  To my surprise, he was quite interested and stuck with it. After a few moves, he was already starting to work out where the pieces could go by himself.  We played 3 games in a row during our first session. He'll frequently pull out the chess board and set up the pieces for a game, enticing me to play.

Chess players need to focus not only on the current turn, but think several moves ahead and try to anticipate where your opponent may move. Chess teaches critical thinking and strategy, and winning brings a sense of accomplishment.
Related Post: Chess and STEM
A great way to start chess with kids is No Stress Chess, which focuses on the basic moves rather than overall strategy. On their turn, players choose from the included cards which shows a piece and its movement; it can make for some pretty odd games, but the focus here is to teach the game and (keeping with the "no stress" title), make it easy to play. As you get more advanced, you can draw more cards and strategy starts to creep in. Before you know it, you're playing chess!
You can find chess sets in all kinds of styles and themes, like Star Wars, Marvel Superheroes (the paint and detail on this set looks awesome), Super Mario, Roman Gladiators, and well, you get the idea. We even found a cool magnetic set that hangs like a piece of wall art and is playable.
If you like the DIY route, you can 3D Print your own pieces or chess board. Here are a few links to free 3d STL files for sets like Pokemon and Star Wars on Thingiverse.
Free Printable Chess Set
No chess set? No Problem! Download our free printable chessboard and pieces. Cut out the chess pieces and you're ready to play. Perfect for learning the game, and it doesn't get any easier or more compact for travel than a piece of paper. Sign up for our free library and get access to the chess set and tons of free downloads.
A game that helps introduce different parts of the world to your kids: Explore the World is a great family game or even a fun 1 on 1 game to play.

Fun for both kids and adults alike, this 2-6 player game involves a trip around the world, getting through different parts by asking and answering questions about each area.

There are flag cards for different countries that allow you to move up a space and travel cards which can force you to move forward or backward on the map. Explore the World helps children to learn about the world and practice language and geography skills while having fun.
Probably the most famous board game of all, no board game list would be complete without Monopoly.
Monopoly lets kids get familiar with the concept of currency, and gets them working with larger numbers as they are counting up their fat stacks of play money.

In Monopoly, players roll dice to count the spaces they can move around the board. Players buy and sell property with the goal of bankrupting opponents and being the richest at the end of the game. It's a great game to spend time with friends or family and get an introduction of how business works.

Monopoly is a game that has stood the test of time and is popular with players of all ages. You can even find themed versions of the game!
We're partial to Star Wars and The Mandalorian sets. You can also find Marvel, Game of Thrones, Ghostbusters ,and many more.
For younger kids, you may want to start out with Monopoly Junior (Unicorn Addition.)
Labyrinth is another good strategy game from Ravensburger. Treasure cards are divided among the players, who must find their way through the labyrinth to find their next treasure. At the start of each player's turn, they move one of the maze tiles, which changes the labyrinth and available paths.

With the board changing every move, players need to be adaptable and think on their feet. Not only do you need to clear your own path, but you need to try and block the path of the other players and block their progress.
It's fun, challenging, and never the same game twice.
A beloved game by all and fun for both children and adults alike. Bingo is a simple game to play as it requires no skills or strategy, yet helps children practice their numbers and letters.

Bingo involves 5 by 5 cards with a free space in the center, chips to place on the numbers on your card and a spinning wheel that selects numbers by pure chance. Line up 5 chips in a straight line whether it's vertical, horizontal, or diagonal and proclaim, "BINGO!"
Zingo is a similar game to Bingo but has a slight twist. Instead of numbers, Zingo allows your child to practice using their sight words. This game is especially useful to younger children to help them practice speaking and build up their vocabulary.

The game is simple – you have a card full of sight words and as the sight words are zinged out, you need to find the matches on your card. Whoever fills out their card completely first gets to yell out, "ZINGO!"
Tabletop Gaming
Tabletop Roleplay games can be a fun educational experience. We started with the grandfather of them all, Dungeons and Dragons: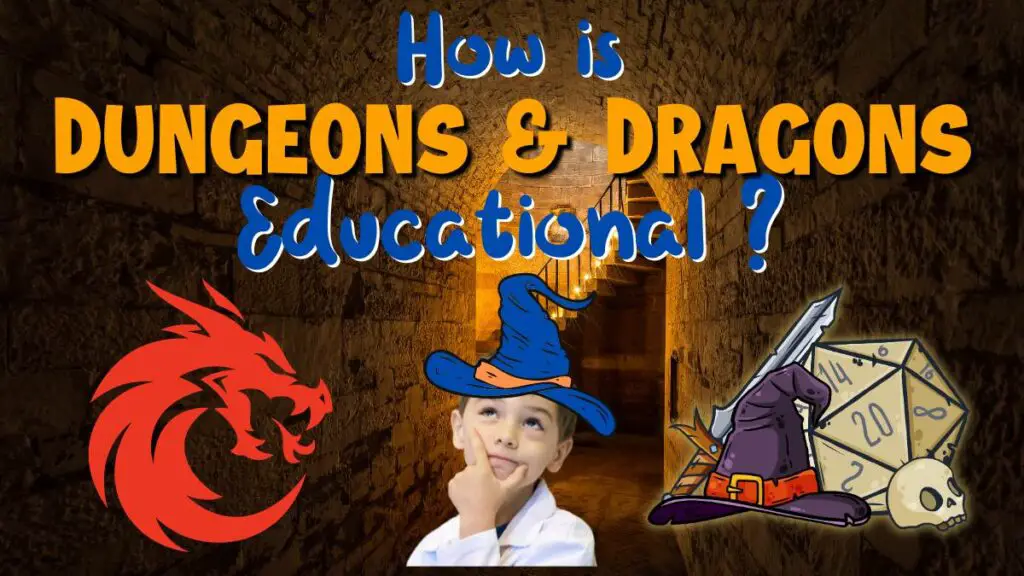 Wrap Up: Educational Board Games for Kids
Educational board games don't have to be boring! There's also a lesson to learn from nearly any game (for kids and adults.) Some games teach basic skills like color and counting. Some are puzzles, or can challenge your vocabulary. Others require strategy and skill to outwit your opponents. All of them will get players thinking.
Beyond skills like math or vocabulary, games teach soft skills like sportsmanship, patience, and promote social engagement. Games are great for getting kids thinking and developing though play.
Board games bring people together for some focused time and attention, and our family has definitely appreciated this lately.

Game on!