Lego Space sets are some of the top-selling kits; and with the attention to detail and fun factor, we can certainly see why. There is a range of Lego space sets that are great for kids as young as five, and a mix of scale models of that are perfect sets for adults or older kids. Many of these sets were developed with input from NASA, with a nod toward equipment developed for future space missions. Let's explore these great sets and share our top picks!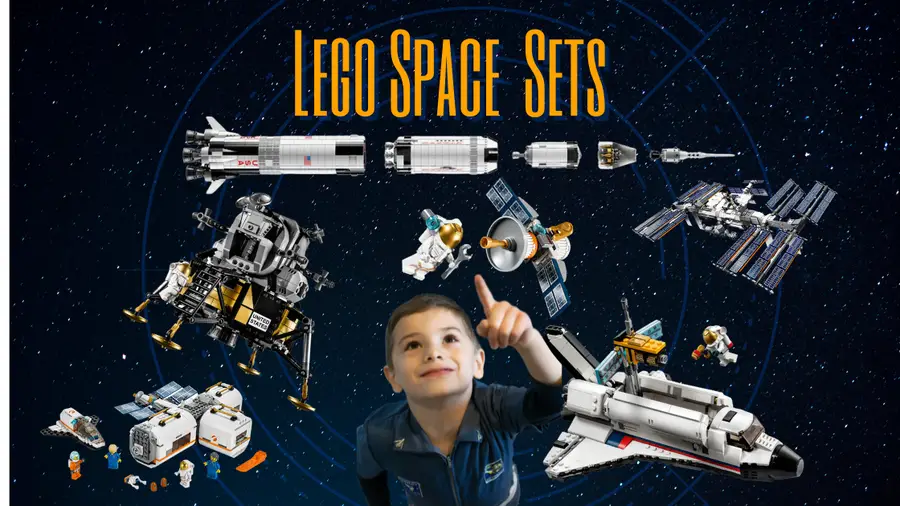 Set Number: 10283
Suggested Ages: 18 years and up 
Pieces: 2354

To commemorate its 40th anniversary of the Discovery shuttle, Lego released this realistic model.  It measures 22 inches long with a wingspan over 13.5 inches.
The shuttle doors open to house the included model of the Hubble Telescope, which the Discovery carried into space during a 1990 mission.
Other features include retractable landing gear, an opening cockpit with seating for 5 crew members, and a mechanical grappling arm.
A set like this deserves to be displayed, and includes multiple display stands for several options.  You can display the space shuttle model and telescope individually or together.
Set Number: 92176
Suggested Ages: 14 years and up 
Pieces: 1969

First, this rocket is huge when fully assembled.  It stands at a full 39 inches tall, though is meant to be displayed horizontally resting on 3 included display stands.
It is packed with authentic details, including a launch escape system, a command and service module, and 3 multi stage rocket segments. The set includes 2 astronaut minifigures, a lunar module, as well as splash down capsule. From launch, landing, and return, this set has it covered.
If you really want to go the extra mile to display this beautiful rocket set, there are several vendors that have offer Launch Tower construction kits intended for the Lego Saturn V rocket.  Check out these rigs –
Set Number: 21321
Suggested Ages: 16 years and up
Pieces: 864

The ISS model includes features of the space station, like its iconic array of 8 adjustable solar panels and mechanical arm.  It makes a great display piece, and would go great in any space collection.
The set includes 2 astronaut minifigs, a space shuttle and 3 mini cargo spacecrafts, as well as a display stand.
There's a light kit available that will make this look even more amazing.  The orange lights make it look like the sun reflecting from the solar panels, and perfectly compliments the blue light from the station.
Set Number: 10266
Suggested Ages: 16 years and up
Pieces: 1087

 The Apollo 11 Lunar Lander was developed with NASA to celebrate the 50th anniversary of the Apollo 11 mission and moon landing.
This model features a replica of Apollo 11's Eagle lunar lander, which sits on a lunar surface base.  Details include a moon crater, astronaut footprints, and a US flag.
The model includes both ascent and descent stages, which are detachable. The ascent stage has a detailed cockpit with room for two astronauts (NASA astronaut minifigs included), while the descent stage has gold colored landing pads and panels.
This Lego set looks great on display, and makes a worth addition to any space collection.  If you really want to make your display shine, light it up with these LED light kits from BrickLED and Lightailing.
Set Number: 31066
Suggested Ages: 7 years and up
Pieces: 285

This set is a 3-in-1 model, where you can build the shuttle, as well as a Moon Station or Space Rover.
The shuttle bay doors open to reveal a satellite, and the included astronaut figure can sit in the cockpit. The moon base has doors and hatches that open so the astronaut can fit inside, as well as a robotic arm. The rover has a drilling arm and solar panels.
Set Number: 60227
Suggested Ages: 6 years and up 
Pieces: 412

Build your own space station with this set.  There are 3 modules (kitchen, lab, and living modules), an airlock, detachable satellite and a shuttle that can dock onto the station.  The pieces can be arranged into a myriad of configurations, so you can build your station how you like and change it up.  
Four mini figures are included; 2 astronauts with space suits, and 2 in uniforms for hanging around inside the space station.
If you really want to make this set shine, check out the LIGHTAILING Light Set made to compliment the space station.  This LED light kit adds another dimension the the original Lego set. 
Set Number: 60225
Suggested Ages: 5 years and up 
Pieces: 202
The rover features a cockpit that opens and an articulated grappling arm to pick up rocks and "geodes" to place in the bed of the rover.  Also included are a solar power generator, chest, space rocks, video camera, remote control, rock drill, and laptop computer.
This set comes with 2 minifigs; an astronaut and a ground technician.
This set works with with Instructions PLUS, a building aid available in the LEGO Life app.  
Set Number: 60226
Suggested Ages: 5 years and up 
Pieces: 273
The main star of the Lego City Mars Research set is the space shuttle. The cockpit and shuttle bay doors open to accommodate both of the included astronaut minifigures.
The set also features a rover and 2 drones inspired by the Curiosity rover.  The rover has an articulated arm designed to collect the included "geodes."
Instructions Plus is available in the LEGO Life app for smartphones and tablets, and will give any LEGO builder an enhanced building experience. The easy-to-use building instructions allow them to zoom, rotate and visualize their creation in the app using the special ghost mode as they go. Instructions PLUS is also a help for younger builders, as it guides them through the constructions steps.
Set Number:60224
Suggested Ages: 5 years and up 
Pieces: 84
This set features a mini shuttle (that reminds me of the module from Farscape) with a cockpit that opens up to seat the included astronaut figure.  The wing flaps can be raised to provide some fun and versatility.
The set also comes with a satellite with movable solar panels and a wrench.
Set Number: 30365
Suggested Ages: 5 years and up 
Pieces: 36
This Lego City set includes an astronaut minifig and a small satellite, and is easily the least expensive of all the space sets.  A great impulse gift or stocking stuffer!
Note that this is a different satellite than the one included in the Service Mission set, so need nee to worry about duplicate pieces.
Set Number: 60230
Suggested Ages: 5 years and up 
Pieces: 209

While many of the Lego space set focus on shuttle, rockets, and rovers, this set is all bout the people.  You'll need crew for all those vehicles and bases, and this set includes 14 assorted space themed minifigs (and a robot.)  As expected, you'll get astronauts.  You'll also find technicians, scientists, reporters/journalists, and ground crew members in the mix to round out play opportunities.
Set Number: 31091
Suggested Ages: 7 years and up 
Pieces: 341

This is a versatile set can be built into 3 different models: Shuttle Transporter, Helicopter Transporter, or a Car with Caravan.
The shuttle transporter includes a flatbed truck ad trailer to carry the space shuttle and satellite.
The helicopter transporter features a different flatbed truck that the copter can land on and lock in for easy transport.
Finally, the car with caravan is an SUV with an airstream style trailer. 
Note you can't build more than one at a time; you need to take apart the pieces and rebuilt it into one of the other models.  After all, that's the beauty of Legos!
Set Number: 31107
Suggested Ages: 8 years and up 
Pieces: 510

This set can be built into a space Rover, a space base, or space flyer (or whatever your imagination comes up with; these are Legos, after all!)
The rover is the coolest of the set.  It's fairly large with robust wheels a and moveable arm. The space flyer is a cool-looking ship that feels like it could be a sleek racer or attack fighter zooming through the galaxy.  The base is set up like a studio apartment complete with radar and satellite dish.
The set includes an astronaut mini – figure and an alien.
Again, with the 3 in 1 sets, you can only build one at a time, which gives the set immediate replay value to build each of the models.
Set Number: 7052
Suggested Ages: 7 years and up 
Pieces: 211
What's a space roundup without some aliens?  Build a classic flying saucer with built in LED light.  
There's an alien figure to pilot the UFO, a farmer in danger of abduction, and an "alien defense force" member to help save the day.
Set Number: 7049
Suggested Ages: 6 years and up 
Pieces: 42
If you want your alien action in a smaller size, check out the alien striker.  It includes the same alien and defense force figures as the UFO set, though the craft included is a bit smaller (and so is the price point!)
Set Number: 7051
Suggested Ages: 7 years and up 
Pieces: 166
Ready for some classic War of the Worlds sci-fi action?  These aliens are bringing it with this tripod invader.  The saucer section can detach and take flight!
The Lego Space alien sets some cool looking alien minifigures, and one is included with this set. You'll also get a human "businessman" figure as well as an alien "clinger" that can stick to a minifigure's head.
Set Number: 10944
Suggested Ages: 2 years and up 
Pieces: 23
We'd though we'd include one set for young kids and preschoolers. Dulpos are like Lego starter sets, and this one is for kids age 2 and up. At only 23 pieces, it's a great way to start getting them to think spatially and develop the coordination to snap the pieces together.
The set includes the space shuttle, launch platform, radar dish and 2 astronauts. The shuttle bay doors open, and an astronaut can fit in the cockpit to blast off for some space adventures.
Lego Space Sets: Wrap Up
Legos alone are fun STEM toys that foster motor skills, critical thinking, and creative play.  Following the instructions during the building process fosters attention to detail and spatial thinking.  Building these space themed sets will also help children understand the some of the science of space travel, with multi stage rockets, fuel tanks, boosters, airlocks and more.  
Our top picks
Space fans have a lot to choose from, and you could spend a small fortune getting them all.  If I were to only pick one set geared more towards adults, I'd pick the Lunar Lander Creator set.  It's challenging enough and makes a great display piece without taking up too much room.  The LED sets really enhance the look.
For the kids sets, I'd go with the Lego City Space Deep Space Rocket and Launch Control.  It has enough variety between the rocket, control tower, and monorail for a lot of creative play.  The smartphone enhancements are a bonus, though the set is just fine as "regular" plastic bricks as well. This set also has an aftermarket light kit available that make it look even cooler.
There's a lot to learn from Legos, but always remember it fun to just play (even when building the epic thousand plus piece sets.)
Related Posts: Check out our posts on ways to get kids interested in space and astronomy and space activities with free printables for more out of this world space fun. Also, find out what to do with your LEGOs after they're built or download our free LEGO Challenge Cards.