The universe is an amazing place to explore. With every advance in technology, we're able to explore further and learn more. We've rounded up some of the most interesting space and astronomy activities for kids to get them started on the road to exploration.
Star Gazing
One of the best ways to spark an interest in space and astronomy is also the simplest, and can be done in 3 simple steps:
Wait until Night time
Go Outside
Look up!
Star gazing has inspired curiosity from the dawn of time, whether you're a dreamer, a citizen scientist, or a pro, this is where it starts.   Simply looking up at the night sky is a marvelous way for people of all ages to enjoy stargazing.  It's simple, it's free, and it's real.  The night sky contains actual stars, planets, constellations, and other celestial objects that make for a beautiful view.  
While stargazing, it helps to be away from light pollution for the best views.  Even with the naked eye. You can pick out individual stars and constellations.
Of course, you can see much more with a telescope. Even an entry level telescope is enough to provide better views of constellations, the moon, and planets.
Star Lights
If it's too cloudy or too cold outside, or you're in a location where the stars aren't visible, you can bring the stars inside.  We have a star light in each of our kid's rooms, and they love them.  You can change the LEDs to an assortment of colors, and they can rotate so the stars move across the ceiling and walls.
The star lights have timers that make them great as night lights, and can turn off after the kids have drifted off to sleep.
Use Glow in the Dark Stars: Turn your ceiling into a star field
if your child loves astronomy and the idea of having his or her own starry night, then you can make it happen with glow in the dark stars.
For a small amount you can turn your entire ceiling into a sky full of stars with some glow in the dark stars and planets.  Stickers or glow in the dark plastic pieces can let you star gaze when the lights go out.  We like to have our kids count the stars to help them drift off to sleep.
In addition to the traditional greenish glow in the dark color, you can find sets in blue or pink as well.
Try some Astronaut Food (Does Space Food Taste Good?)
What do the astronauts eat, and how does it taste?  Our kids were curious, so we decided to find out ourselves.  We got a few samples of "Astronaut Food" to try.  
We weren't quite sure what we were in for.  "The food that NASA's early astronauts had to eat in space is a testament to their fortitude," is the introduction to an article about the history of food for space flight from NASA. That doesn't sound too appetizing.
For early Mercury missions, freeze dried powders and food cubes were on the menu.
Since, space food has evolved quite a bit. As told in I'm Neil Armstrong (a biography book for kids), Armstrong noted his favorite space food was spaghetti with meat sauce. Other astronauts reported shrimp cocktail as a favorite.
How does the food taste on more recent missions?  "The food's great," says astronaut Mike Massimino in an interview with Business Insider "Lasagna and macaroni and cheese were my favorites. It tastes exactly like macaroni and cheese or lasagna. You know, it's food."
What did Massimino have to say about our space ice cream?  "It's terrible. We don't eat that stuff in space. We have much better stuff up there."  Shhh… don't tell the kids.  That'll be our secret.  They loved trying the space ice cream and thought it was fun.  
How did the kids think space ice cream tastes?  Our little guy loved it and wanted more.  Our oldest son wasn't as enamored immediately wanted a drink to wash it down (and gave the the rest of his to his little brother.)
Looking on the packaging, the freeze dried "astronaut" foods are based on the food used in the Mercury missions, and not representative of what astronauts are eating on current missions.  Though these "space foods" are largely a gimmick they are fun for camping trips or doing a bunch of space themed activities!
Here's a fun clip from the NASA Johnson Space Center; they conducted an experiment to have two people eat nothing but astronaut food for a week.  What did they eat, what did the food look like, and how did they do? Check out the video!
Planetariums, Observatories, or Science Centers
Count yourself lucky if you have a local planetarium or science center.  Our kids love our local science center, and especially enjoyed a recent space exhibit.  They got to climb on board a space shuttle, drive in a rover simulation, and try to stick the landing on an interactive space capsule simulation. 
There was also a small exhibit showing pieces of real space suits, and an opportunity to dress up as an astronaut.  
Planetariums can offer views of the stars and planets you're not likely to see elsewhere, and often host events.
You can check out Sky & Telescope  to see if there is one near you, or to find a local astronomy club.
Space Live Feeds
I remember the thrill of watching live space launches on television as a kid.  Space exploration was still fairly new and exiting, and every launch was an event.  After a long absence from the spotlight, space exploration has become more prevalent and with live streams, so easy to see what's happening and check out launches, landings, or events.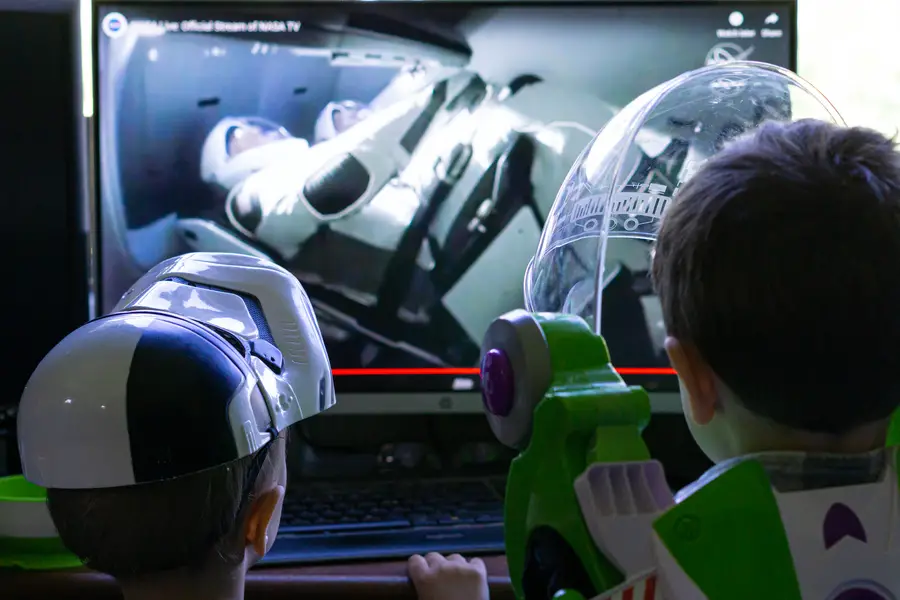 We've watched SpaceX launches with our kids, and the kids enjoy watching an occasional space walk from the live feed of the International Space Station.
Now we can see footage from the perseverance rover on Mars if the kids want to check out what's happening on another planet.   (Okay, they usually get bored after a few minutes of ruddy red dust, but it still blows my mind that we're looking at another world.)
NASA Youtube Channel
You can find many of the live feeds here, as well as a treasure trove of videos.  Binge on launch videos, astronaut bios, space science, history of human spaceflight, and more. 
Just check out this recreation of what the Apollo 13 astronauts saw during their moon mission.  (It's in 4k, so watch it in full screen mode.)  The detail on the lunar surface is amazing, especially when imaging being the the first person to see it up close.
Whether you're looking for content for kids & beginners, amateur astronomers, or something more advanced, it's be easy to lose track of time binging content on the NASA channel. 
The NASA.com website is also worth mention, and is packed of amazing images in high resolution and resources budding space scientists will enjoy.  Also make sure to check out NASA Space Place which is geared specifically for kids.
Books about Space
Books are always a great way to learn and explore.  Whether you're looking for non-fiction facts, biographies of space pioneers and early space missions, space science, or just a great outer space storybook, there are so many fun books to choose from.

We've rounded up some of our favorites in our post about space books for kids.
Space Podcasts for Kids
There seems to be a podcast for nearly everything, including space topics for kids.  Check our REACH and Out of this World for some interesting conversation, interviews, and lessons geared towards kids (and still informative for adults.)
REACH A Space Podcast for Kids (simplecast.com)
 The podcast comes out weekly with new episodes released on Tuesdays. 
Listen On: Out of This World! | Brains On
Brains On is a an award-winning science podcast for kids.  This is a playlist focusing on space with episodes like "The Very Hungry Black Hole" and "Living Large on the International Space Station."  
Space Toys and Gifts for Kids
If you're wondering what to get a kid who wants to be an astronaut or just loves space, we've got you covered.  Check out our full posts on Space Toys and Lego Space sets to find something fun for the space nut on your list (or for yourself!)
Here are a few of our absolute favorites:
This is an awesome set from the Lego Creator series, and is incredibly detailed (and expensive!)


Younger kids may prefer the Lego City Space Shuttle (or other Lego City space sets.) This set has a rover and astronauts in addition to the shuttle.
Related Post: Check out our full post on Lego Space Sets (for kids and adults) to see some of the insanely detailed sets, as well as fun giftable sets for kids.
A space helmet is the best thing to let kids imaging they're blasting off in their own ship or walking among the stars.  This is the one our local science center used during their space exhibit.
Our kids are also big fans of the Buzz Lightyear helmet: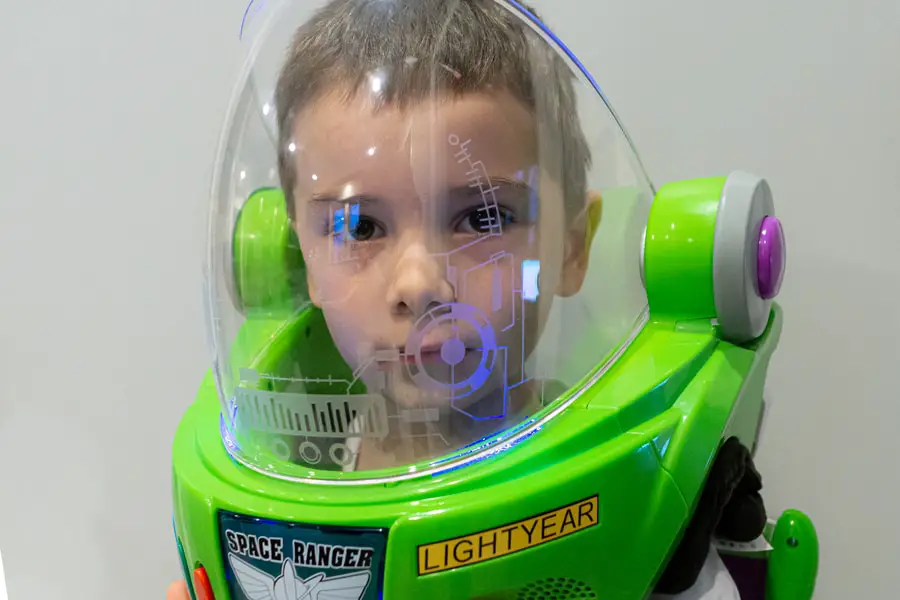 The Best Mobile and Tablet Apps About Space
It seems there are nearly as many stargazing apps as there are stars.  We've tried a bunch of apps, and are happy to share out favorites.  Out of the ones we tried, these are the few we kept installed after using and testing out these apps.
Stellarium
Point your phone at the night sky, and Stellarium will help tell you what you're gazing at and help find and identify stars, planets, and constellations.  You can also track satellites and the International Space Station.
Stellarium has nice overlays with drawings of the constellations, and the stars are nicely highlighted so you can see how those various points of light may be interpreted as a lion (or dragon, bear, warrior, etc.)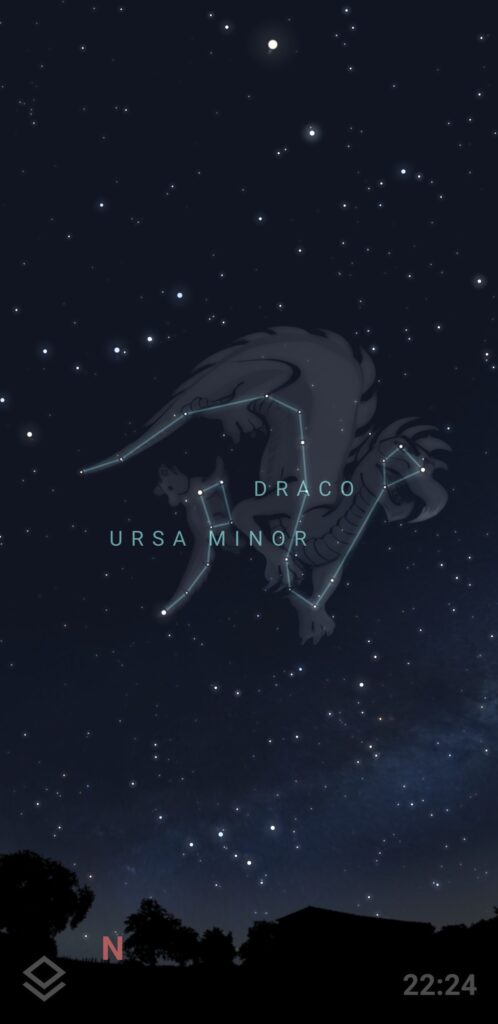 It works indoors, which is nice if you just want to look at the constellations and stars within the app (and not at the stars themselves.)  You can also use the camera for an overlay against the real night sky to help you interpret what stars are in your view (without a telescope.)
Our kids love moving around within the app and zooming in on the images to see the outline of the constellations and the animals and character drawings. For them it's like a cosmic connect the dots.
Stellarium is freemium on Android, or 9.99 on IOS.
Star Walk 2
Star Walk 2 is GPS driven, and tailors the star map to your time and location.  You can simply us the app to see the constellations in a virtual sky, or use augmented reality to see the star chart within your camera view.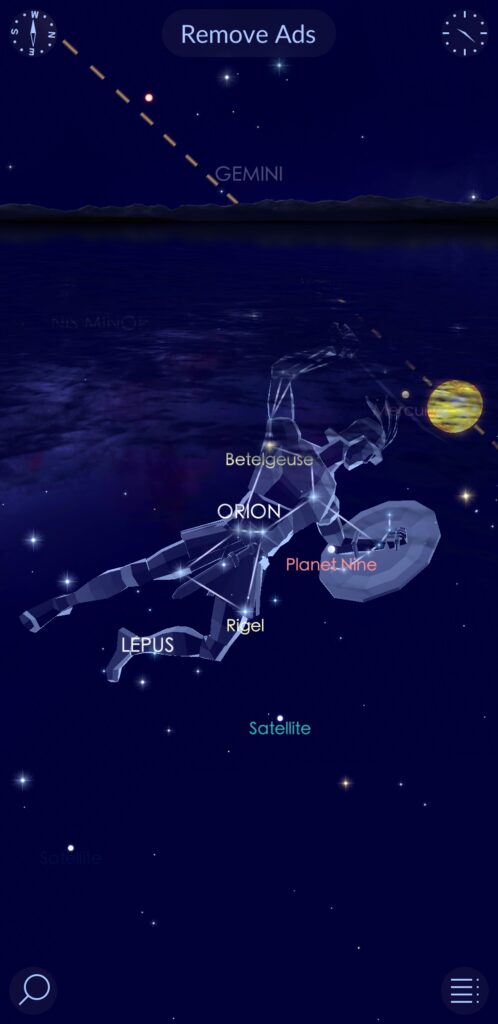 You can find more about the stars, planets, and the constellations. There's also a "time machine" feature that can change the view to what the sky may have looked like it the past (or what it could look like in the future.)
free version on Android, or $2.99 on iOS.
NASA App
Just like the NASA website, the NASA mobile app is jam packed with information on outer space and astronomy.  It serves as a hub for live feeds, podcasts, videos, media, and news on upcoming space missions.
The image collections alone are worth browsing for satellite images of the Earth, space telescope photos, space mission photos, galaxies, nebulas, planets, moons, and more.
Augmented Reality Space
Our kids love the Google AR animals and dinosaurs, so we were curious what space objects we could play with in augmented reality.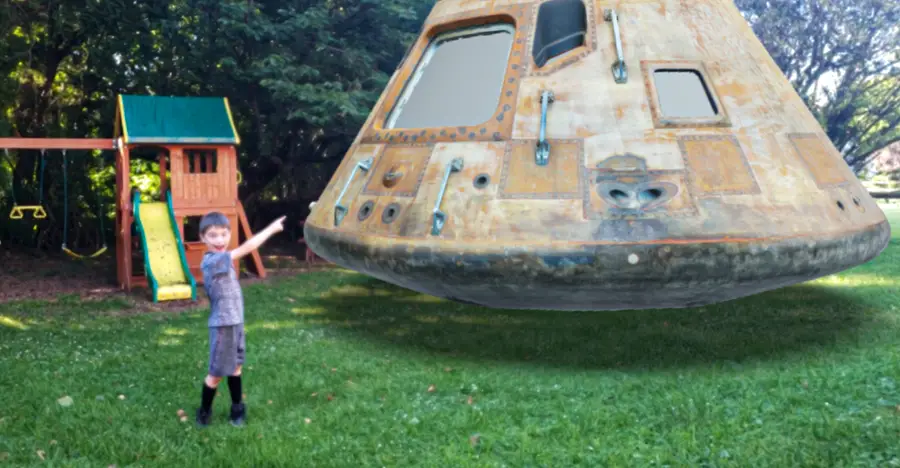 According to Google's Augmented Reality support, you should be able to view the Apollo 11 command module in augmented reality via Google search.  It wasn't coming up for us on several supported devices, though we found it easily in Google's Arts & Culture app. Check out the Apollo 11 module up close, or park a spaceship in your backyard and pretend you're doing your own moon landing or space mission.
Spacecraft AR puts space exploration craft in your environment.  See what the Curiosity Rover looks like in your living room or have the Cassini space probe float through your kitchen.  
Activities about Space (Free Printables)
Hands on is the best way to learn (and have fun.)  We've designed a series of Space Projects for Kids everyone can enjoy.  Learn about moon phases, make a DIY solar system mobile, your own constellations, or design your own planet.  Check it out and pick up your free space printable bundle for some out of this world fun.
Wrap Up:  How to Get Kids Interested in Space and Astronomy
Whether kids are just curious about astronomy or looking for careers in space, you can help spark their interest.
One of the most impactful ways to get kids interested in space is a trip to a planetarium or science center.  Sky & Telescope is a good resource to see what's available in your area.
If online learning is more your thing, there are plenty of live streams, apps, or podcasts to keep kids busy for light years.  NASA Space Place is an awesome site to get started, or you could check out some augmented reality apps.
There are space themed toys, books, and games that can encourage learning, or just spark the imagination.  You can check out some activities about space right here on STEMtropolis.
Sometimes, just a good sci-fi story or TV show can be all it takes to get kids interested in galaxies far, far away.
Related Posts: Learn how to introduce kids to coding or make STEM topics like Math or Science fun!