Yes, you read that right. Video games have become a respectable job option. Major colleges and universities are offering a bachelor's degree in esports, with some schools offering a full master's degree program. If you're looking to play in a league, there are many schools that offer a team along with a degree in esports.

Many of these degrees are part of a business major, often including business-related courses such as advertising, marketing, finance, and management skills. We've compiled a list of major colleges and universities and the esports degrees they have available.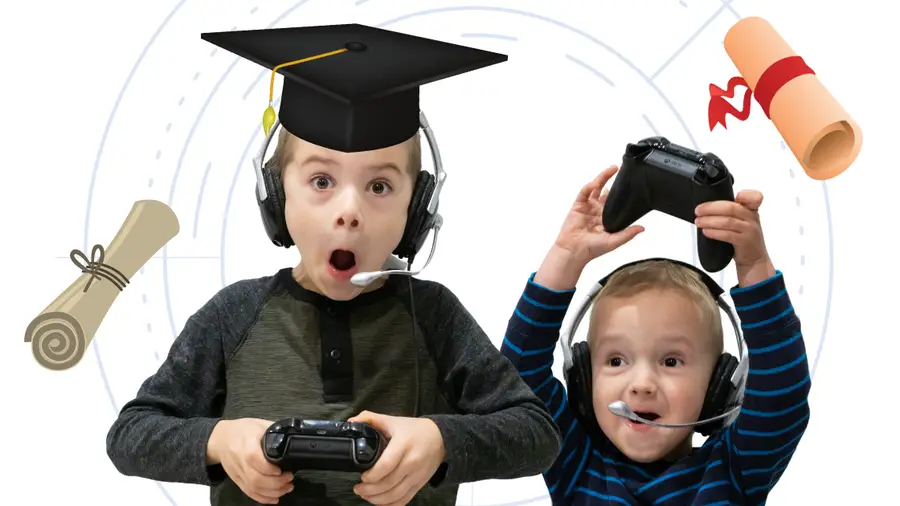 Related Post: Careers in Esports – Discover a variety of careers you can get into with your esports degree.
University of New Haven
The University of New Haven in Connecticut offers a Master of Science in Esports Busines for a total of 33 credits. Staying with the times, this degree is available 100% online.
The University of Newhaven is making some waves with their esports program and has forged an academic partnership with Twitch.
University of Texas – Arlington
The University of Texas – Arlington offers an eSports Management Certificate for $400 per course ($2,000 for the certification). Students enrolled in this certification can do just the 5 courses, or they can stitch it onto a business management degree. 
Caldwell University
Caldwell University in Caldwell, NJ has a Bachelor of Science degree in eSports Management for 120 credits, including an internship.

They also have their own eSports teams for Overwatch, League of Legends, and Rocket League. 
St Peter's University
St Peter's University in Jersey City, NJ offers a Bachelor of Science in eSports Business that can transfer directly into an MSA or MBA through their 5 year accelerated programs. 
University of California – Irvine
University of California – Irvine broke ground in 2016 as the first public university to offer an esports program. UCI is also home to the UCI Esports Arena, with 3,500 sq. ft. space with 80 computer gaming stations. It's the first arena of its kind on a college campus.
UCI offers scholarships to join their competitive teams if you are at least Diamond in League of Legends or GrandMaster in Overwatch (PC). You can also grab yourself a 12-course certificate in eSports Management while you're there for around $2,500. 
Canton State University
Canton State University of New York offers a BS in eSports Management. The esports Management degree is available on-campus or online. It draws from elements of their business programs as well as game design and development.
SUNY Canton also has an eSports team, which competes in its $500,000 professional eSports gaming area. SUNY Canton has one of the largest dedicated gaming arenas in the Northeast United States.
Shenandoah University
Shenandoah University in Virginia easily offers the most variety in eSports courses. They've got 3 certificates, 3 bachelors, 1 masters, and 1 minor.

The eSports Management has 5 paths – two certificates (undergraduate, 15 credits; and graduate, 12 credits); one BS (120 credits including general education courses); one specialized BS focusing on media and communication (120 credits including general education courses); and the masters (36-48 credits). They also have a certificate for coaching, which requires only 9 credits and includes hands-on experience.
Keuka College
Keuka College in Keuka Park, New York offers a bachelor's and a minor in eSports Management, and also has a team you can play on whether or not you're going for the degree.

The bachelor's requires 70 credits, while the minor requires 18. The minor requires only eSports courses, with half of them being taken at Keuka College, while the bachelor's covers everything from eSports Management to College Algebra and Marketing. 
Miami University
Miami University offers only a certificate in both undergraduate and graduate levels for 15 credits each.
Miami University has a varied eSports community, hosting varsity teams for League of Legends, CS:GO, Hearthstone, and Overwatch, along with JV teams for NBA 2k, Fortnite, Rock League, and Super Smash Bros.

They also hold a national title in Overwatch in 2017, and their League of Legends team went to the semifinals the same year. 
George Mason University
The George Mason University offers a variety of degrees for eSports, most of which are tied in with computer game design. The options consist of 4 undergraduate minors, all 18 credits each (Sport and American culture, Sport and conflict resolution, Sport Communication, and Sport analytics); a Sport Management graduate certification for 15 credits; a Sport Management BS for 120 credits; and a Sport and Recreation Studies MS for 33 credits.

George Mason has multiple eSports teams totaling over 300 members, including League of Legends, Rock League, Super Smash Bros, and Overwatch. 
ISDE Law Business School
There's even a law school, ISDE, with a campus in NY that offers a 10 month program called Master esports Business ISDE, covering the usual business courses as well as eSports Law and eSports history.
Becker College
Sadly, Becker College closed completely with its last academic term in 2021. Many of the faculty from Becker transitioned to Lesley University, and Lesley University is also accepting Becker students.
Wrap up: College Degrees in esports
These are exciting times for esports, as the sport and audience grow. With that growth comes the need for qualified people to support new teams, leagues, games, and the entire industry.
Esports is becoming a big business, projected to grow to $1.65 billion by 2021 and continue its upward trend to $1.8 billion in revenue by 2022. Some believe esports will earn a place in the Olympics in 2024.
As you can see here, there are quite a few schools where you can earn a degree in eSports related fields. Considering that in 2019 there were over 130 professional varsity eSports teams (double 2018's count of 73), it's no wonder the demand for management is growing!
Related Post: Read about the benefits of esports in schools
Earning a degree in eSports will likely lead to a secure future for game enthusiasts.