In recent years, careers in Science, Technology, Engineering, and Mathematics, or STEM, have become increasingly necessary for many different fields. In particular, the healthcare industry has needed workers who excel in STEM to keep pace with constant advancements in medicine. Students interested in healthcare careers may want to consider a role that is STEM-based.
The top STEM healthcare careers can be broken into four major categories:
Medical Imaging
Information Technology & Computers
Administrative
Technicians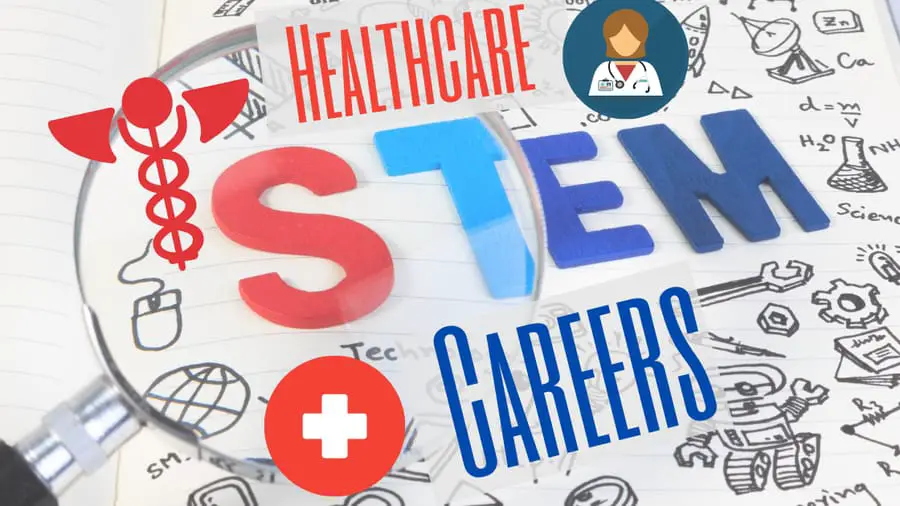 Although it's easiest to separate STEM careers into broader categories, those pursuing an occupation in STEM through the medical or healthcare fields should not feel as though they are limited to just one type of role. Within each of these four areas, there are many different career paths available, depending on what each person is interested in and qualified for. Let's explore!
STEM Healthcare Careers
A career in STEM can be beneficial for many reasons. Most STEM occupations see better salaries, have less competition, and are more satisfactory for the workers overall than many other fields.
When looking at the healthcare sector, there crossover between the medical field and STEM work. At its core, medicine is a science-based practice, requires innovative technology, and continues to grow through the work of engineers and mathematicians.
Medical and healthcare fields are continually shifting, and new problems that need answers are always developing (pandemic, anyone?) STEM workers are the people who can continue driving the healthcare domain forward through their inventive ways of thinking and creative problem-solving skills.
All of these top STEM healthcare jobs may be looking for people with different qualities, expertise, and styles, but they will all serve as a place where STEM workers can shine and help the medical field continue to progress further.
Medical Imaging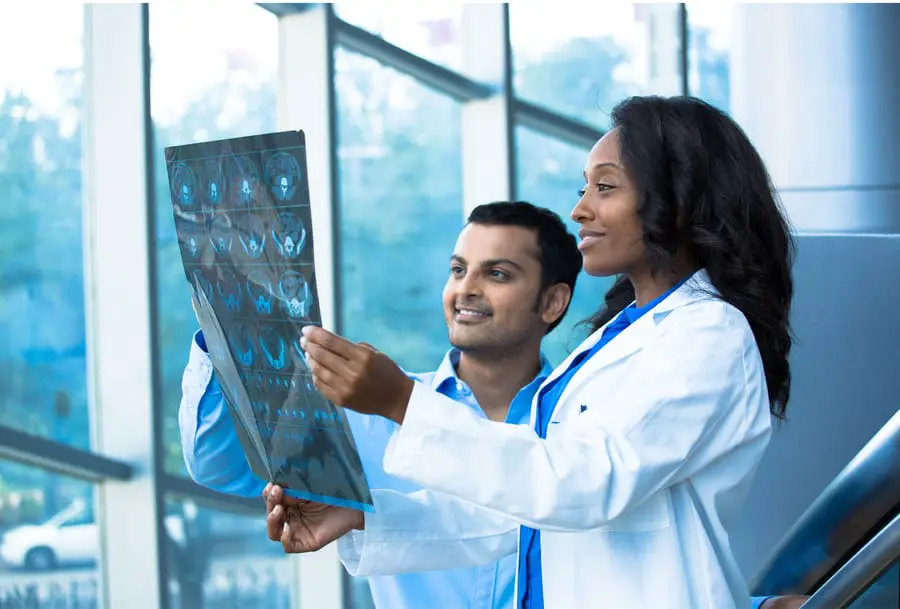 Medical imaging plays a big part in helping doctors treat patients correctly. In order to understand what is going wrong with someone's body, doctors need to be able to see what is going on inside of that body, which is where imaging specialists come into play.
Those who have a career in medical imaging have the potential to work in many different types of locations, depending on what their focus is. These specializations range from the standard tests of ultrasounds and MRI screenings to the more complex, such as nuclear medicine.
Depending on their qualifications and skill level, medical imaging specialists typically receive a salary anywhere between $58,000 to $80,000.
Information Technology and Computers for Healthcare
In addition to all of the advanced technology available for the medical field, hospitals and doctor's offices still need the basics—namely, computers.

Computers are more prevalent across nearly every industry, and healthcare is no exception. Computers aid healthcare professionals in a variety of ways, and hospitals and doctors' offices are increasing dependent upon computers and technology.
Databases are kept with patient diagnoses and histories, which makes it easy for doctors to keep track of each person's ailments. Legacy paper files get digitized, stored on servers and are viewed using computers. Computers also allow doctors to search for information on prescriptions and treatments and provide care via video chat for people who cannot come into an office.
There are a few roles students in STEM can take on in the technology field that focus on working with computers and information technology.
Computer system analysts ensure that the computers in an office are running smoothly and efficiently, and perform any maintenance required in order to keep them functioning correctly. This line of work is continuously growing and needing workers, and the median salary is around $77,500.
Network and computer system administrators help keep information systems open and operating so medical practitioners can easily find what they are looking for. They also work on the customer side of an office's website, keeping patient portals and resources easily accessible. This job typically makes about $72,600 a year.
Skilled computer programmers are a necessity for the medical workforce. They build software programs that are not only user-friendly, but that conform to the healthcare guidelines the government sets. This is an occupation that is on the rise, which means there will be many spots available. The salary for this role is about $81,500.
Healthcare Administrative Work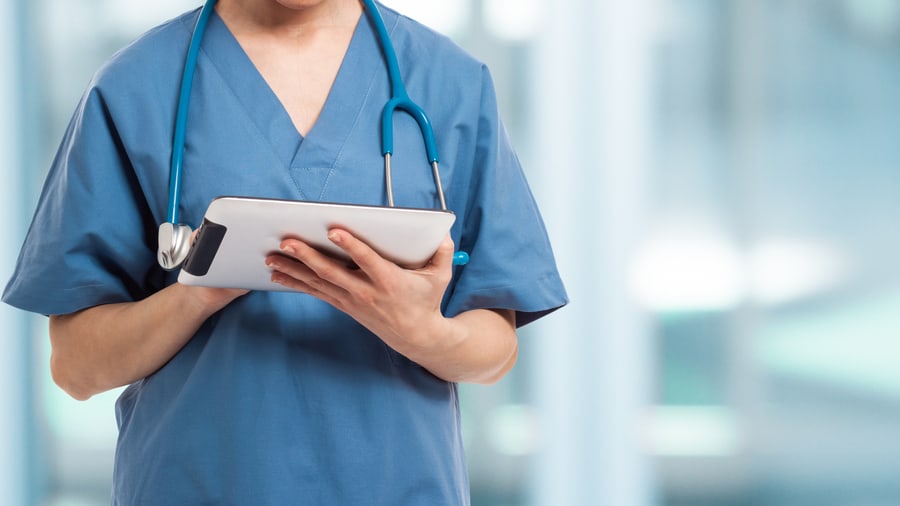 The administrative side of healthcare is crucial to the success of the field. Because surgeons and physicians are on the frontline helping care for patients, it is not easy for them to keep track of all of the paperwork and number crunching. These careers are best for those who want to assist with healthcare but not be physically involved in the treatment process.
Medical assistants are the first faces patients see when entering a doctor's office or hospital. They make sure the doctor has everything needed for quality care and work with patients to schedule their appointments and gather any necessary medical background information. People in this role can make up to $45,000 a year.
A statistician's job is to look for useful data to propel the medical field forward. They keep track of the facts they find and make them available for healthcare professionals. They also work to create policies and practices from the data they collect. Statisticians have the potential to make a median salary of $75,900.
Healthcare research is a great role for those who are interested in the science of medicine but do not want to be directly involved in practicing it. Researchers work to gather and study information that is then used by doctors to build treatment plans and diagnose major diseases. This job will likely bring in around $81,700.
If STEM students have skills in grammar and proofreading, they may want to consider a career as a medical transcriptionist. This role requires extensive knowledge of computers and medical terminology and involves creating typed records out of dictation from doctors. The median salary for a medical transcriptionist is about $36,300.
Hands-On Technical Assistance for Healthcare
The medical field would not survive without the work of technicians. Doctors cannot possibly do every task that needs to be finished to offer complete care for their patients, and that is where technicians come into play. These people are essential to the continued advancement of patient care and assistance.
Technicians can fulfill many different roles in the healthcare field. There are technician jobs that fall into all four areas of STEM, so this area of work may be a good fit for a variety of people.
Medical laboratory technicians are responsible for utilizing lab equipment to run tests of blood, tissue, and urine. Once the tests have been collected, they also ensure the results are returned to the doctor in a timely manner. They often earn around $41,400 annual salary
The duties of a certified surgical technologist are centered around preparing a patient for surgery and helping with the surgical process from start to finish. They make sure all equipment is sterilized and then stay in the operating room to assist the primary surgeon. The salary for this job ranges between $50,000-$70,000.
Pharmacy technicians work on counting and filling medication prescriptions while being supervised by a pharmacist. They may also do administrative work, such as processing payments and inputting customer information. They're most likely to make approximately $32,000 a year.
Healthcare Career Reference Table
| | | |
| --- | --- | --- |
| Career | Education | Salary |
| Medical Imaging | Associate's degree | $58,000-$80,000 |
| Computer System Analysts | Bachelor's degree | $75000 |
| Network or Computer System Administrators | Bachelor's degree | $72,600 |
| Computer Programmers | Bachelor's degree | $81,500 |
| Medical Assistants | Certificate | $45,000 |
| Statistician | Master's degree | $75,900 |
| Healthcare Researcher | PhD | $81,700 |
| Medical Transcriptionist | Certificate | $36,300 |
| Medical Laboratory Technicians | Certificate | $41,400 |
| Surgical Technologist | Associate's degree | $50,000-$70,000 |
| Pharmacy Technicians | High School | $32,000 |
Final Thoughts on STEM Healthcare Careers
When thinking of medical and healthcare careers, doctors, surgeons, or nurses are often the first occupations most people would think of. There are many supporting careers in medical and healthcare fields that have a focus on STEM skills.
Any of these roles within the healthcare sector would be an excellent choice for someone who is interested in pursuing a STEM-focused career. Depending on each student's qualifications and skill level, there is an opportunity to work in a variety of settings and make a comfortable salary. A career that combines STEM and healthcare has the potential to be rewarding.
Related Post: Top STEM jobs to Future Proof you Career