Are you looking for some Halloween-themed fun? Look no further! Check out our free Halloween word puzzles that are perfect for some spooky fun.
Our printable word search puzzles are a great educational activity for classrooms or for fun at home. They help improve spelling and vocabulary skills while also providing hours of entertainment.
You'll have a blast searching for hidden words in the grid of letters and unscrambling Halloween-themed words. It's a great party game or an activity to keep kids entertained during the festive season.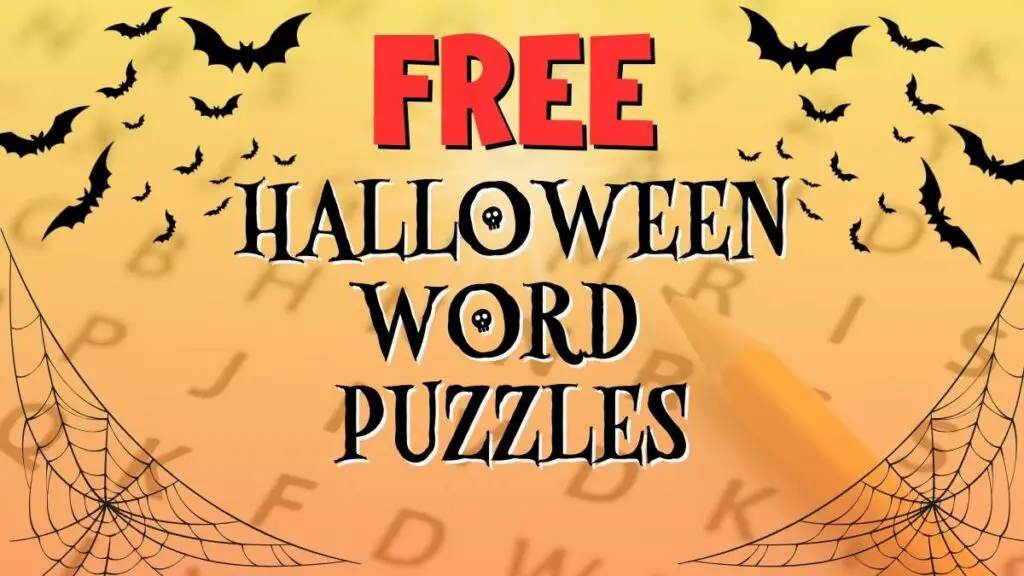 The best part? All of our Halloween word puzzles are completely free! No need to spend any extra cost to enjoy these fun time-fillers. So grab a pencil and a piece of paper and use the sign up form below. Get ready to have a blast with our free Halloween word puzzles. Happy puzzling!
Eazy Halloween Word Search
Looking for an easy and fun Halloween activity for kids? Look no further than our easy Halloween word search printable! This puzzle on an 8×8 grid, so is suitable for early readers. 
Our easy Halloween word search features a grid filled with Halloween-themed words to find. From spooky creatures to festive treats, you'll be on the hunt for all things Halloween!
To solve the puzzle, simply search for the hidden words in the grid. The words can be found vertically, horizontally, or diagonally, and may even be backwards. It's a great way to test your Halloween vocabulary while having a blast.
Halloween Word Scramble
Try our Halloween Word Scramble for a challenging and fun activity to get into the Halloween spirit.
This game involves unscrambling Halloween-themed words to form the correct word. It's a great way to test your brainpower and have a blast at the same time.
To play, simply rearrange the letters of each word to discover the hidden Halloween term. The words can be scrambled in any order, so put your thinking cap on and get ready to unscramble!
Whether you're playing with friends and family or tackling the Halloween Word Scramble solo, get ready to have a spook-tacular time as you unscramble your way to victory. Grab a pencil and get ready to unravel these mysterious Halloween words!
How to Download and Print These Halloween Word Searches
Looking to add some Halloween fun to your activities? Look no further than these exciting Halloween word searches, available as free printables. Follow these simple steps and you'll be on your way to a spook-tacular time!
1. Fill out the Form: To gain access to the Free Printable Library, just fill out the form below. Provide your name and email address and click submit. Don't worry, your information is safe with us!
2. Receive the Email: Shortly after submitting the form, you will receive an email containing a link to the Free Printable Library. Open the email and click on the link to access the library.
3. Choose the Halloween Word Searches: Once you're in the Free Printable Library, browse through the available options and locate the Halloween word puzzles. You can also download any of the other printables on this page.
5. Download and Print: Click on the desired Halloween word search file and it will automatically begin downloading. Once the file is downloaded, locate it on your computer and open it. From there, you can print out as many copies as you like.
And that's it! You are now ready to enjoy these Halloween word puzzles. They are a perfect activity for classrooms, parties, tick or treat gifts, or simply a fun game at home. So, gather your family and friends and have a great time finding and unscrambling spooky words!
If you like the freebies, check out our other printables!  We have a wide variety available for Halloween!
Whether it's a witch word search, ghost word search, or pumpkin word search, our Halloween printable puzzles, coloring pages, math worksheets, activity packs, writing prompts, signs, and alphabet banners provide something for everyone.