There are tons of educational toys. Some have hopped on the bandwagon and are marketed as STEM while others are labelled STEAM. Some toys are fads and some are classics. We'll help you cut through the noise and find the best educational toys for toddlers.
Here are some of our favorite STEM and educational toys for toddlers. Our kids put quite a few toys through the ringer, and these are what they enjoyed the most.

And yes, we enjoy playing with the toys as well! I always love seeing the kids happily engrossed in playing and building. It's priceless to see the smile and look of accomplishment when they are proud of something they've built.
Building Blocks for Toddlers
Our boys love blocks, and we've grown quite the collection in a few short years.   Building blocks come in all sorts of shapes and sizes, though at their core do much the same thing.  They're tactile and hands-on.  They give instant feedback to little hands eager to explore and learn.  They stack,  they topple over.  They offer one of many child's first opportunity to create, and help build a number of skills:
Spatial thinking
Coordination & Dexterity
Patience
Problem Solving
This study on Spatial Thinking and STEM details how playing with building blocks are foundational for such skills.
Most blocks are fairly simple.  They don't blink, beep, play sounds, or flash.  Building blocks are powered by imagination, not batteries.  It gives kids some quite time amidst the cacophony of kids toys (and yes, it's nice for the parents when every toy doesn't create a wall of sound.) 
We've watched our kids get lost just building.  A tiny furrowed brow knit with concentration and slightly protruding tongue lets us know they are in their own little world.   With the typically short attention span of a toddler, seeing them absorbed in an activity shows they are truly absorbed in building and are completely enjoying themselves.
And they are ever so proud of the things they build. 
Alphabet Blocks
Alphabet blocks are often the first blocks a child is exposed to.  Alphabet blocks are bright and colorful, and of course are covered in letters and numbers to get children used to seeing  and recognizing letters.
Alphabet blocks are great for stacking and building.   Of course they are also great for spelling out words (a great way to help a child learn how to spell their own name.)
We wound up with several different sets of alphabet blocks.  First, a large soft rubber set.  These were colorful and perfect for stacking. 
Since toddlers test every new object by sticking it right into their mouths, blocks like these are great for teething and don't pose a choking hazard.  Since they're large and soft, they're not likely to hurt should they be tossed in a toddler tantrum.
Of course we have the classic wooden alphabet blocks too.  These are great for spelling out words, especially a child's name or "mommy" and "daddy."
As much as we love these, one word of caution (from experience.) Make sure to get all the blocks put away at cleanup time.  These little cubes are not pleasant to step on. Many sets come with a bag, and we made a song and game out of cleaning up the blocks. Do the same – your feet will thank you.
If your children enjoy stacking up alphabet blocks, then a set of building blocks is a natural progression.
Wooden Building Blocks
Some things are just classic, and simple wooden building blocks never go out of style.   Being made from wood, the blocks are durable and have some heft to them.  They're sturdy and harder to knock over than lighter materials. 
They're just simple wooden blocks.  Nothing to click or snap together, just set one on to of the other. And another, and another. 
Most sets come in a variety of shapes: a few sizes of rectangles and squares, some triangles, cylinders, and arches.  Long pieces and short pieces offer plenty of options for castles, princess palaces, towers, forts, houses, or whatever kids care to imagine.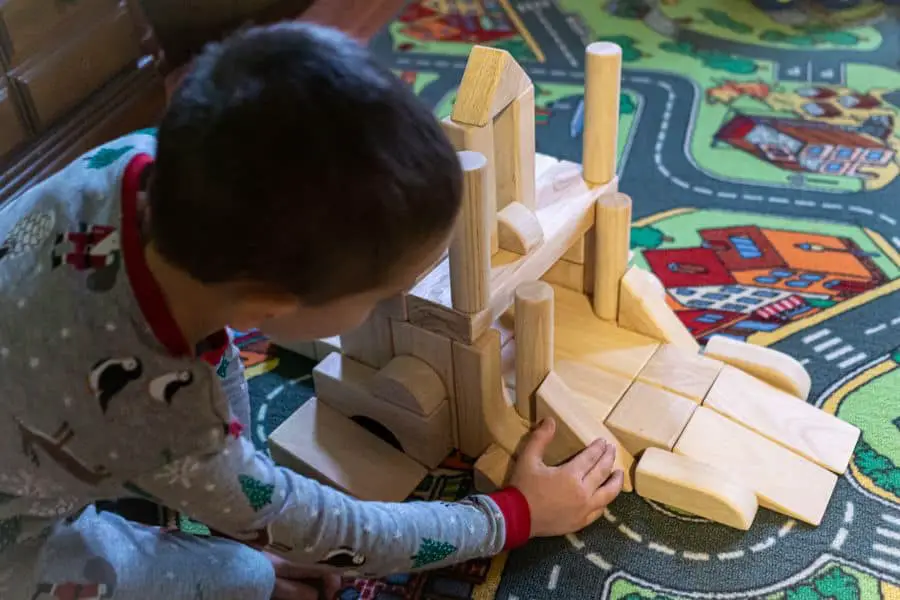 We have this 60 piece set from Melissa & Doug, and it gets a lot of play time.
As much as our guys love their wooden blocks, the only thing that gets more of a workout are the plastic building bricks, like:
Mega Bloks
Mega blocks are the gateway to Legos, and a great toy for toddlers to start adventures in building.  These plastic bricks are big enough to be easily handled by tiny hands, and big enough not to fit into tiny mouths.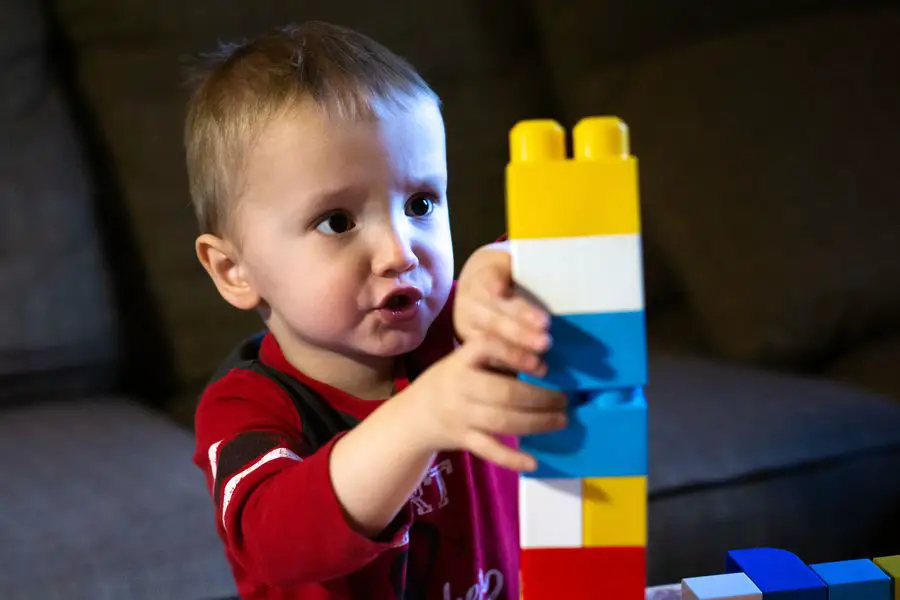 Mega Bloks are bright and colorful, and easy to fit together.   Once interlocked, they stay together, though don't require much strength to pull apart. We used an exercise with our boys just practicing joining two blocks together and pulling them apart over and over to help them build dexterity and motor skills.
We'd recommend getting a starter set of blocks.  You can supplement this with some cool trucks, cars or train sets.
Even though our kids have mostly moved onto other building blocks, they still break out their Mega Bloks.
Duplo
Duplos are the next step in the building blocks progressions for toddlers.  Made by Lego, Duplo blocks were introduced in 1969 and are designed to be twice the size of regular Lego bricks to better fit into small hands.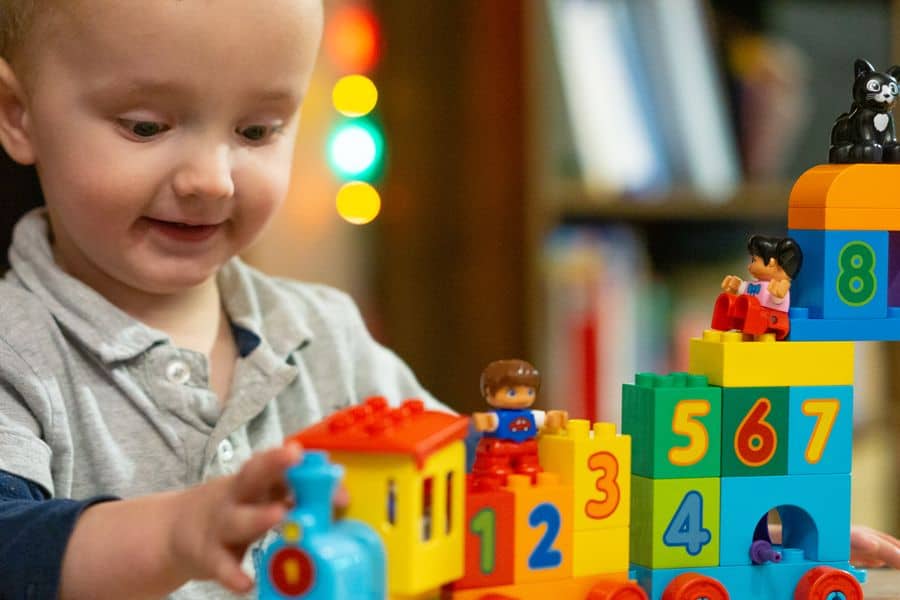 These blocks are rugged, and large enough not to present a choking hazard. You can find Duplos sets in a variety of poplar characters like Frozen, Super Heroes, (our boys love the Batman sets), Mickey Mouse and more.
There are sets with vehicles, construction sets, houses, and so on, so it's easy to find Duplos to suit the interests of little girls and boys alike.
Of course you can just get a starter set like this one that has 80 pieces to get your little one building.
Wooden Train Tracks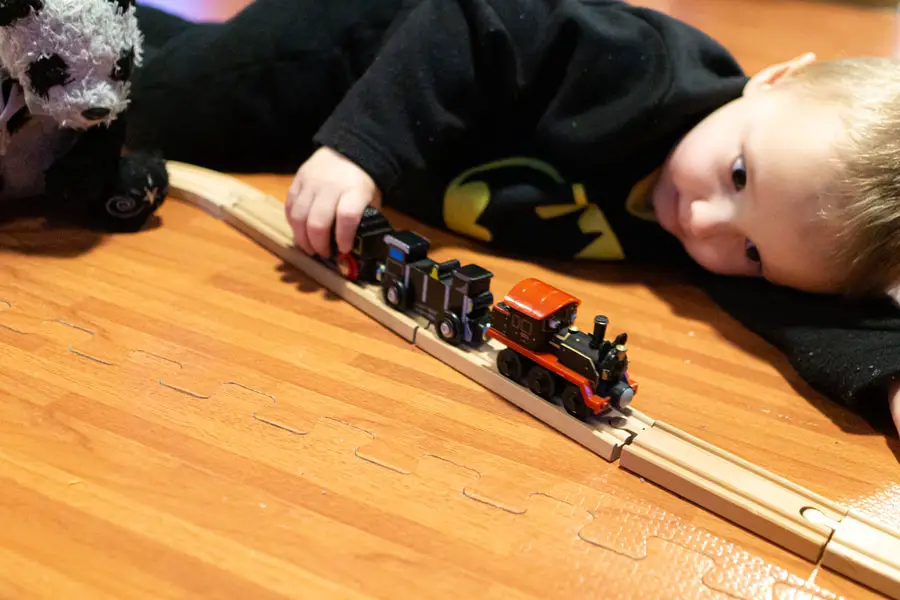 We've gotten a lot of mileage out of wooden train tracks.  It's a toy that they always come back to.  Just when I think we should clear them out to make room for some other stuff, I walk into the living room to see a huge track sprawling across our living room. 
When both of our sons were little, it was a challenge just to fit the train tracks together.  The train tracks helped them build coordination and fine motor skills.  As they grew a bit, they had specific ideas of where the tracks should go or worked towards a specific layout.  Now they had to figure out how to make the track loop around to go under the bridge.   It was wonderful to see their imaginations in action. 
Then they started making some discoveries;  Hey – all the cars fall off the track when they hit the turn coming down from the bridge; maybe a strait piece would work better.  Now they're problem solving.  They're making designs, testing them, observing the results, and making changes based on what they've learned.  Sounds like some serious STEM learning, even though they thought they were just playing with trains.
Thomas, Brio, Melissa and Doug, all make tracks that are compatible with each other. You can get a set of just track pieces to get started, or supplement tracks you already have.
There are a variety of other track designs.  Pick one and stick with it to build upon for other sets.  It's a pain to have a bunch of tracks that don't fit together, and kids can sometimes get frustrated that all their toys don't magically fit together.  For little kids, it's sometimes hard enough just to fit the pieces together, let alone trying to put together two incompatible pieces.  We've found the "Brio" style tracks to be the most universal.
Pro tip:  If you have access to a 3D printer, there are free "converter" pieces (like this one) you can print that will allow different sets to bridge together.  Very cools stuff! There are also plenty of free models of regular track pieces (like this set on Thingiverse) if you want to print your own or just supplement your set.
Train tracks aren't much fun without the trains, and there are plenty to choose from.  You can find your kid's favorite characters from popular shows like Thomas and Chuggington.  These individual trains are great, though they can get pricey fast. 

We've found it best to get a few of their favorite engines, and find some sets with regular train cars to round out their collection.  We have a set similar to this one to supplement some of their favorite characters. It comes with 12 cars for the price of about two of the Thomas trains!
It's also cool to get at least one motorized engine to watch chug around the track they created and pull along other cars.
Shape Sorter
Shape sorters help kids identify shapes and colors.  As they fit the shapes into the correct holes, they're developing fine motor skills.  It seems a simple task to drop a triangle into the triangle shaped hole, though doing so for a toddler is where problem solving skills start.  These kinds of toys are great for developing hand eye coordination and dexterity.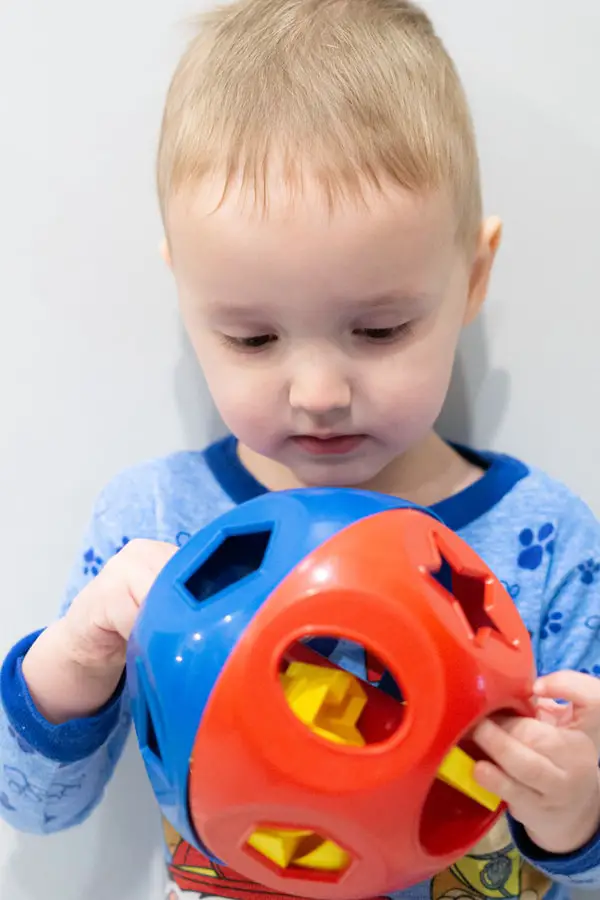 Shape sorters also help with spatial thinking, which as you can see from the image below is a simple but important life skill.
Most shape sorters have blocks that are chunky enough to fit into little hands.  We were fortunate enough to have several different sorters, and the shapes could fit in multiple sorters. 
I remember sitting on the floor of my grandparent's house and playing with this shape sorter ball as a kid.   Our boys love it as well.  I couldn't believe they still make one similar. 
This one from Fisher Price seems to be the current standard, and got quite a lot of use in our house as well. 
If you're looking for a shape sorter on the go or a budget option, this butterfly shaped one fits the bill. We carried one of these in the diaper bag for both of our boys.
Stacking Toys
As kids develop the ability to move about in their environment, they also become curious about what they can do with the objects in their reach.  As they start grabbing and grasping, stacking is a natural behavior.   They're learning things like coordination , size, sequencing, and balance.
Our littlest one loved stacking cups.  It was the first thing he would grab when we dropped him off  at daycare, and often his go to toy at home.  What's more fun than stacking them up?  Knocking them down!
You can' talk about stacking toys without mentioning this classic ring stacker.  Thick colorful doughnut shaped  rings are easy to fit over the post.  Kids learn about size and sequence, since the rings fit in a certain order according to size. The bottom of the base is curved and encourages kids to push it and watch it wobble back and forth.  It also presents a n element of challenge as they are stacking, since nudging the peg will rock the base and force them to compensate to stack the rings.  Great design.
Sine stacking toys were so popular in our house, we went for more of a stacking toy playset, the Stack and Slide Mountain.  Our little guy loved this one, and kept dropping things down the volcano just to hear the sounds.
This bundle is a no brainer, with a classic stacking toy and shape sorter in one package.
Teddy Bear (and other stuffed toys)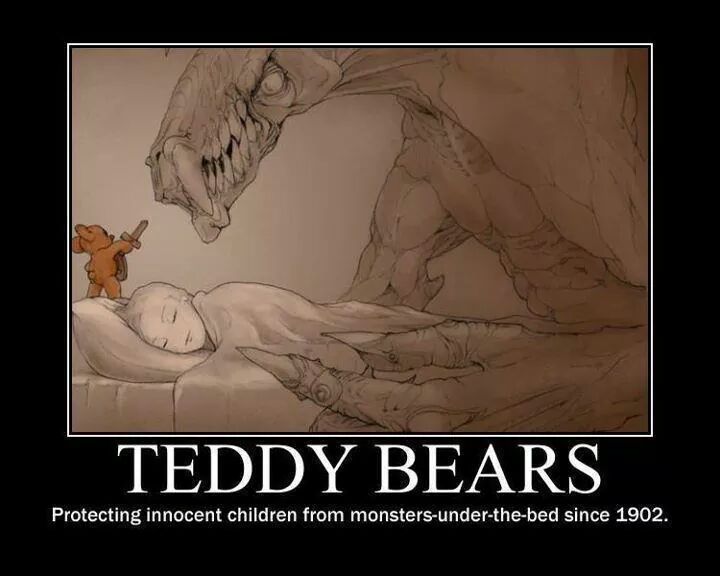 No list of toddler toys would be complete without the  humble teddy bear (and we'll extend that to a broader "stuffed animal " category.) Teddy Bears and stuffed animals can be best described as "transitional objects," and are often a big part in early child development.
Teddy Bears and stuffed animals come in all shapes and sizes.  Some talk, sing songs, and are designed to entertain and teach.   Some could be considered STEM  toys or teaching tools.  Our boys have a few like this and enjoy them quite a bit.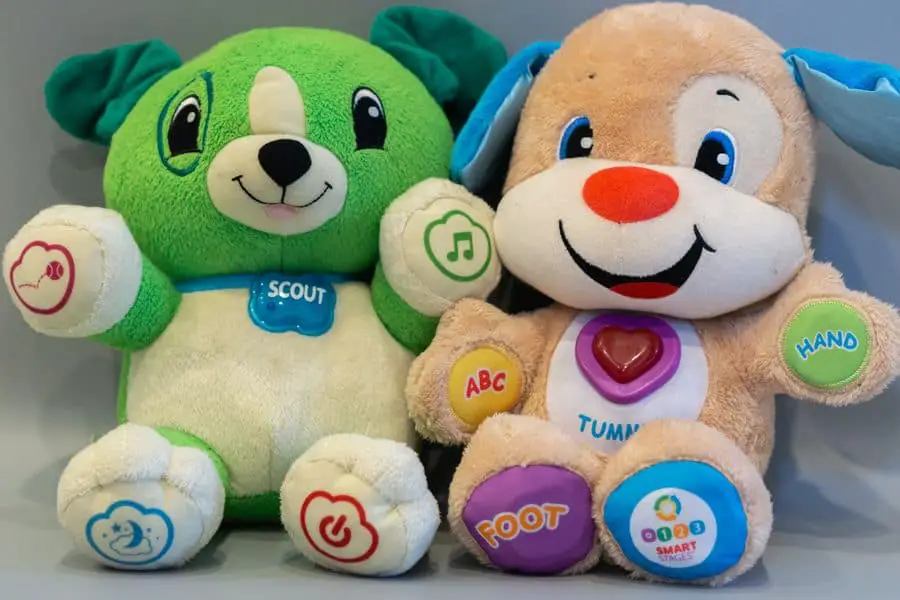 Both of these toys feature buttons on the hands and feet that play interactive songs, learning games, and lessons. The green dog (LeapFrog My Pal Scout) has a lullaby mode, and I'm surprised the button on the dog's foot still works after being pressed so much. Scout is customizable and can learn your child's name, favorite food, and color which will all be featured in songs and games.

The brown dog (Laugh & Learn Smart Stages Puppy) has over 50 songs and games to introduce body parts, colors, letters, and counting. Smart Stages introduces 3 levels of play, which become more challenging and grows with the child. These are great for interactive play, though our boys gravitated to something much more simple.
Meet Bear Bear and George.  They've been with our boys pretty much since birth.  Through well wishers and shower gifts, each of our boys had a choice from wide selection of  stuffed companion options (including the two electronic toys above.)  For reasons known only to themselves, they selected these: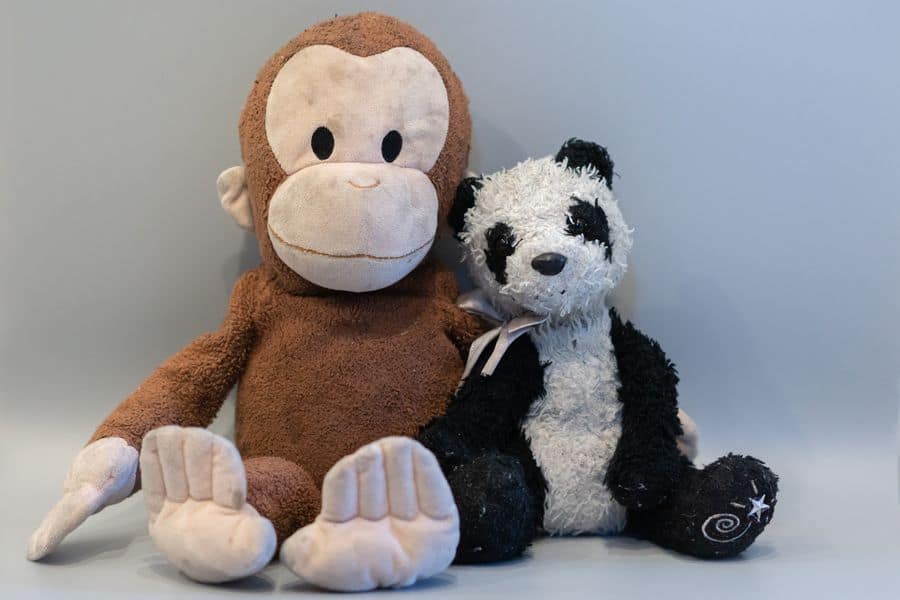 Sure, they'll play with and take other stuffed animals to bed with them, but the others seem supplemental.  Bear Bear and George are ever present, and more than just toys.  Just look at the wear and tear on them.  That's love. 
Teddy Bears provide a sense of security, an audience, and companionship, as described by Psychology Today.  Kids often imagine their special companions having an essence that makes them unique and irreplaceable.

For the longest time, I've had to create a daily scene with George so my son could find him first thing upon arriving home from daycare. It's kind of like elf on the shelf, but all year. He'd be disappointed to just find George where he had left him that morning. George was often found reading a book, playing ukulele, taking a nap, or coloring.  Each day we'd come in the door, and my son would ask, "What was George doing today, Daddy?"
We often see George and Bear Bear building blocks with our boys, or peaking out from a pillow fort.  If they're not actively in the scene, they're usually placed just off to the side or seated in a nearby chair to watch.  You may occasionally find them popping up in photos throughout STEMtropolis. 
Of all the toys kids play with, Teddy Bears and stuffed animals often hold a special, almost sacred, space. So much so, that they're more than just toys.  More than half of American adults still have their childhood teddy bears. Yeah, still got mine.
Best Educational Toys for Toddlers Wrap Up
Our go to educational toddler toys aren't new STEM gadgets or fads. For the most part, our favorites don't blink or beep and don't need batteries. Sure, we love gadgets and electronics too, though with everything we've tried, our kids kept coming back to these.

Building blocks and stacking toys, Duplos, wooden train tracks; these toys have been chosen by generations for good reason. They're simple in design, but complex in the open ended building challenges they offer.
Along for the ride are kids' favorite stuffed animals; security, companions, and partners in crime, sharing the challenges and joy through it all.