Electronic toys are all the rage now but if you want educational electronic toys for your preschooler, you must do some research to find what's best. The choices are endless as high-tech toys saturate the market.
For the best educational electronic toy for preschoolers, you need one that will stand up to rough play and will be fun enough that your child will not get bored right away. Some of the top brands include:
LeapFrog
VTech
Fisher Price
We did some research for you and found some of the top educational electronic toys for preschoolers. With price points and age ranges, our list gives you what you need to make the best-informed decision.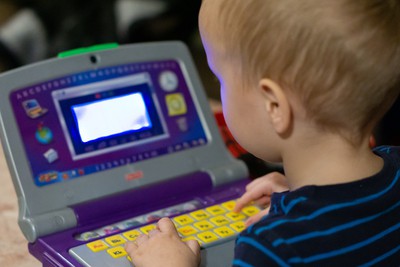 The Best Tablets for Preschoolers
A discussion about educational electronic toys for preschoolers wouldn't be complete without some computers designed for kids. Some are more toy laptops, while some are full fledged tablet computers.

Kids love to emulate and imitate. Our boys both loved to "work" on their toy laptops along side of me on my laptop. Sometimes they just liked to open and close the lid repeatedly because they like the startup and shutdown noises. These toys helped them learn their letters and numbers and piqued their interest in technology at an early age.

We've moved past the toy stage, and have tablets that we can change the ebooks and apps as they grow out of (or bored of) various apps. Let's explore some of the laptop and tablet options for kids.
For ages two to four, LeapFrog My Own Leaptop is a favorite with both kids and their parents. Made to resemble a real laptop, kids two years old and up can use the large buttons to display animals to learn new words. With interactive animations and games, your child can sing along with their Leaptop to learn:
How to spell their name
New vocabulary words
Names of animals
Receive and send emails
Plays 16 songs
For just over $20, you can get this fun toy in either pink or blue and it even has a convenient carrying handle. The award-winning learning toy has 26 critter animations and a large screen to enjoy. You can even personalize it so your child can learn how to spell their own name. 
The LeapFrog My Own Leaptop is also available in green.
At just $15, the VTech Apps Tablet has 12 learning activities for your preschooler. It progresses with your child as they learn so they do not get bored after a few days. Intended for children two to five years old, this cool kids' tablet has a built-in piano keyboard and teaches:
Letters
Words
Math
Creativity
Language
Music
Concentration
Memory
The backlit screen is great for kids to play anywhere and Cody the Smart Cub will take your child on learning adventures to keep them entertained for hours. It even comes in two different colors, pink and black.
With the Best Learning Inno Pad, you get a lot for under $30. The quality STEM toy teaches the basics as well as problem solving and feelings. There are 16 interactive lessons for kids two to five years old with changeable cards including:
Alphabet
Numbers
Time
Colors
Shapes
Weather
Animals
Vehicles
The four modes increase in difficulty from basic to advanced as your child learns. The durable plastic cards are strong enough to stand up to even the roughest play, so you do not have to worry about the pages getting torn.
For parents who are sick of having to send back broken tablets, try the new Fire 7 Kids Edition, which is almost unbreakable. For kids three years and up, it has a 24-month warranty, so you can relax even if your child breaks it within a few days. It has more than 20,000 apps including books and videos by major names like:
Disney
Nickelodeon
PBS Kids
National Geographic
Cartoon Network
Although it costs more than the others at just under $100, it can do a lot more and is far more than a toy. It has the same feature set you'd expect from the regular Kindle Fire, and comes with a protective case with a built-in stand made for little hands. In addition to all of this, the Fire has parental controls so you can set curfews and screen time limits.
Our little guy was gifted a Kindle Fire table before he could walk (thanks Pop-Pop), so we've been changing out the apps and games as he advances. For the longevity and versatility, you can get years of value for the price.
The Fire Kid's Edition is also available in Pink and Purple.
Another great tablet for preschoolers, this Pritom 7-inch Kids Quad Core Android 10 Tablet has some excellent features to help your kids learn. Some of these features include:
16GB ROM
WiFi
Bluetooth
Dual camera
Games
Parental controls
Kids Software installed
Headphone jack
USB and micro SD card slots
For kids from two to 12, this tablet is made to last for years and grow with your child. For less than $60, the Pritom is an excellent deal with a free silicone case for protection. 
If you're a big fan of apple products, you may just want to get an iPad for your kid. It's a much pricier option than the other products on the list, though if you've got a bunch of other Apple products already this may be the way to go.

If you're buying the latest greatest device for yourself, why not set up the old one with books and apps for your kid?
Top Electronic Educational Toys for Preschoolers (non-tablet)
The Just Smarty Electronic Interactive Alphabet Wall Chart is an electronic poster that teaches preschool skills like memory and concentration for kids 18 months and older. Help them learn the alphabet and numbers while singing along to nine popular songs including:
Wheels on the Bus
Twinkle-Twinkle Little Star
Three Little Kittens
If You're Happy and You Know It
Head and Shoulders Knees and Toes
Five Little Monkeys
The Finger Family
Bingo
ABCs Song
No need to make room in the toybox since it hangs on the wall. There is nothing to clean up and your child can play with it anytime they want. It is a great learning toy for less than $35.
LeapFrog Learning Friends 100 Words Book will keep your preschooler busy for hours. They will be learning over 100 different words in both English and Spanish with different categories such as:
Outside
Opposites
Activities
Colors
Mealtime
Food
Animals
Pets
The book has different modes and 12 learning categories. The word mode teaches your preschooler 100+ words with sound effects and cool facts. Recommended for kids 18 months to seven years old, this fantastic learning toy is less than $20
VTech Go! Go! Smart Wheels sets are fun track building playsets with vehicles, buildings, ramps, gates, and more.
Sets feature various SmartPoint locations interact with SmartPoint vehicles to trigger fun phrases, music and sound effects. As the cars and trucks move through various parts of the playset, they trigger a response helping kids learn cause and effect.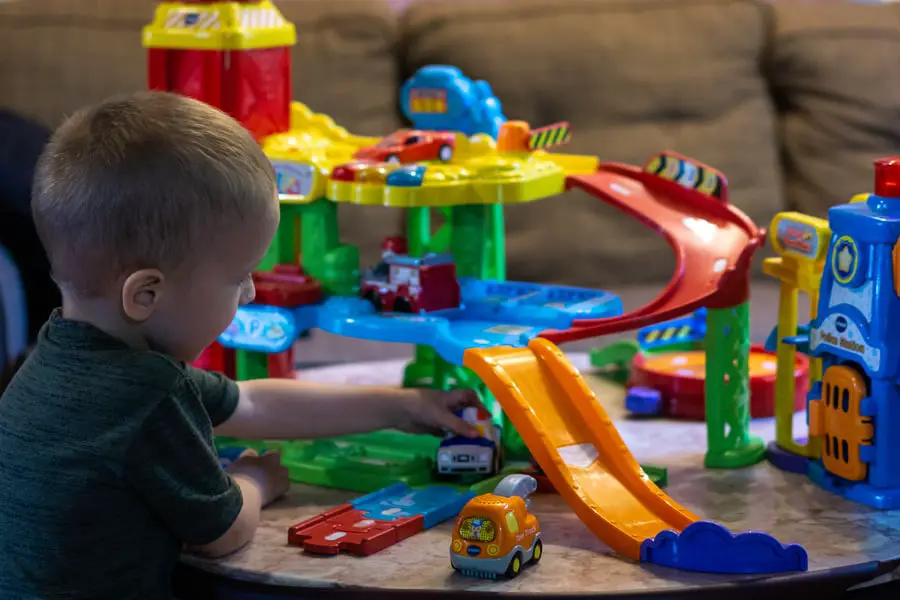 The sets are compatible with each other. Kids can join the tracks, or get creative and just mix and match pieces to build giant tracks. Seriously, we have several of these sets and when all together can span across a good section of floorspace to keep your kids occupied and engaged. Watching our 3 year old intensely building I wonder if he has a future career as and engineer, architect, or city planner. Our 5 year old likes to build ramps and race the cars.
There's a 3 Tier Parking Garage, Police Station, Train Station, Mickey Mouse set, and more.
There's at least one vehicle in every set, and you can add more vehicles separately as well, like this starter set:
Coding may seem like it is way out of your preschoolers realm, but with this Fisher Price Think & Learn Code-a-Pillar Toy, learning codes is easy. For kids age three to six years old, this cool electronic bug has a motorized head with eight segments to change its path in hundreds of different ways. Your child can choose whether the code-a-pillar goes left or right as it comes to life with:
Blinking eyes
Lights
Music
Character sounds
By changing the color segments, your child will learn how to make the code-a-pillar reach its target through practice and fun. For less than $85, this interactive learning toy will keep your child entertained for years.
For more toys that help teach coding, check out our post Coding Toys for Kids.
Robots are always fun and with the Fisher-Price Think & Learn Teach 'n Tag Movi, your child will learn as they play. Preschoolers ages three to six can learn critical thinking skills as well as how to follow directions. There are three ways to play, including:
Alpha Fun Actions
Think and Move Shapes
Learn and Play Games
Movi even rolls along to play tag with your child with 360 degrees of mobility. He has more than 60 facial expressions and getting a robot who teaches as well as entertains for less than $50 is a big win!
The Fisher-Price Dance & Groove Rockit is a cut robot toys for kids ages 6-36 months.
Rocit can help kids learn about shapes, colorsm letters and numbers at an early age, and is designed to be hands on and interactive. If you give him a high-five on the microphone hand, the Rockit repeat what it hear in some silly voices!
Fisher-Price Dance & Groove Rockit will help kids learn:
Cause and effect
Counting & Numbers
Shapes
Colors
Alphabet
Sensory play – textures, sounds, colored lights
Rockit's face lights up in different colors and the hair and feet are all different textures for little kids to touch and explore. It plays music and rocks back and forth to encourage your child to groove along with it. There are 3 different levels so Rockit can grow with your child and keep them engaged and learning through play.
Check out the CifToys Musical Walking and Dancing Duck Toy for those 18 months and up. A bright yellow and orange toy that plays nursery rhymes while he dances. All for under $20! Just press the button on top of his head and he will scoot around the floor and bump into things. The kids will love watching the cute little duck as he:
Dances
Sings
Flaps his wings
Lights up
Plays music
Makes other sound effects
It is made of ABS safety tested plastic, so it won't hurt anything when your child chews on a wing or two. This dancing duck will delight your little one while they learn colors and shapes. And he is little enough for a small child to hold at about seven inches tall.
Electronic Learning Stuffed Animals
For a more cuddly experience, there are a number of stuffed animals that are designed with learning in mind. These are great for interactive play, with various buttons on their paws, ears, or belly to play different songs or games.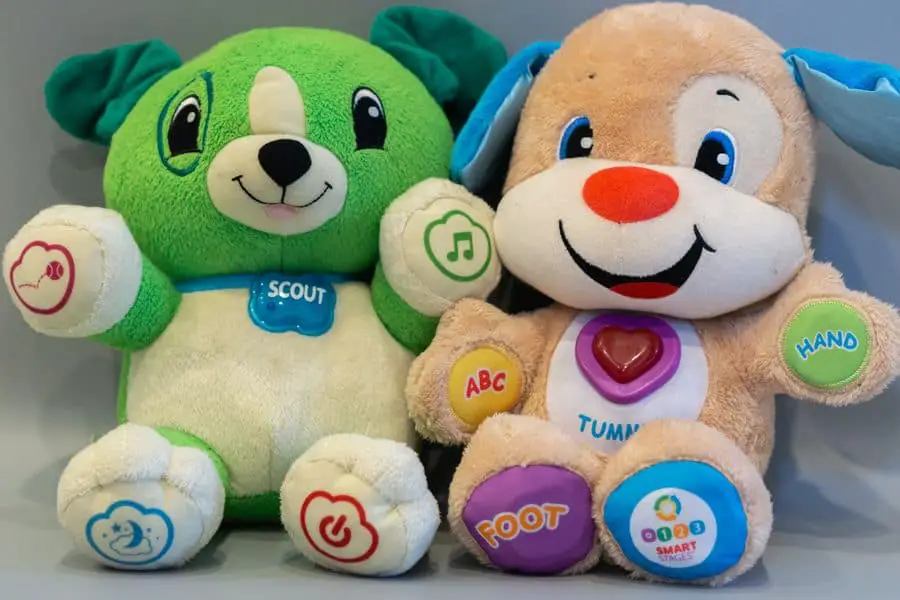 Leapfrog's My Pal Scout is a little green dog that can help teach first words, feelings and emotions, counting, and colors.
Scout has a lullaby mode, and I'm surprised the button on the dog's foot still works after being pressed so much. Scout is customizable and can learn your child's name, favorite food, and color which will all be featured in songs and games.
He's customizable via a smartphone while he's still in the box, making him easily giftable. Smart move, Leapfrog.
Scout has a purple friend named Violet, that is geared more towards little girls.
The Smart Stages Puppy (the cute brown dog in the photo above) has over 50 songs and games to introduce body parts, colors, letters, and counting. Smart Stages introduces 3 levels of play, which become more challenging and grows with the child.
Wrap Up – Best Educational Electronic Toys for Preschoolers
Electronic educational toys are popular and plentiful. From electronic stuffed animals, toy laptops, play sets, or full fledged tablet computers, there are many options to consider. With so many educational toys on the market, it can be difficult to figure out which are the best for your child.
Consider build quality. Especially with electronics, you want something that can survive rough play or being dropped.
Consider something with longevity, that your child can make use of for years. The VTech Go! Go! Smart Wheels are great for this, as are the My Pal Scout, Violet, and Smart Stages Puppy all have multiple learning levels that can become more advanced to get through at least a few years of use. With the tablets, you can swap out apps, games, and books as your child's level, aptitude, and interests change.

Electronic toys are great because they light up and make noise, keeping your preschooler entertained. With a little investigation, you can find the perfect toy to keep your little one busy while learning new skills. (It's okay if you play along too. We won't judge.)