Accounting is a specific subject usually taught in business degrees, while STEM teaches science, technology, engineering, and mathematics. A STEM student can become an accountant if they are prepared to study accountancy in a CPA preparation program, and pass the CPA exam.
Though heavily rooted in mathematics, Accounting is not usually recognized as part of a STEM degree because it is traditionally a business degree major.  However, STEM is becoming broader in scope, and a STEM degree can be helpful to someone wanting to pursue a career as an accountant or in the financial services arena generally.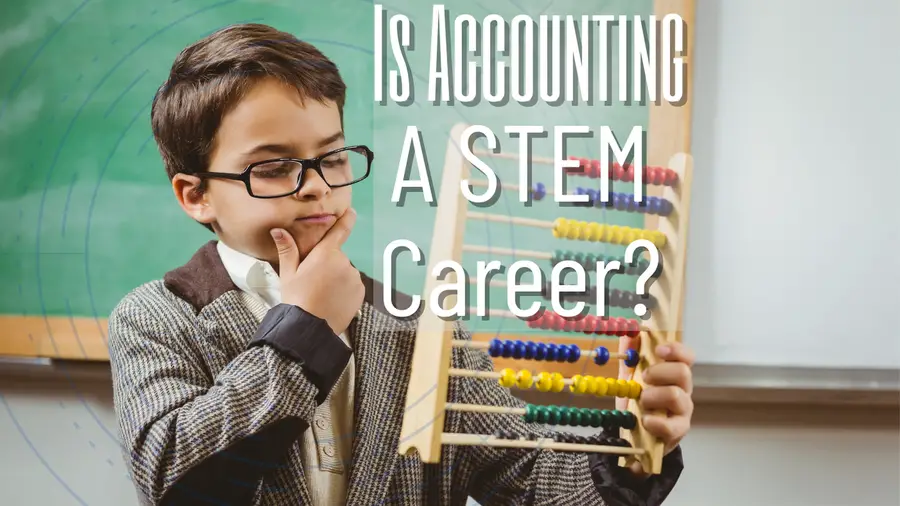 Moving ahead, there may be a greater crossover between accounting programs and STEM programs.  In June 2021, Congress introduced bipartisan legislation to recognize accounting as part of schools' STEM programs. It is called the Accounting STEM Pursuit Act and will amend the student support and academic enrichment grant program to promote career awareness in accounting. It helps to establish the accounting profession as a STEM career path.
The American Institute of Certified Public Accountants (AICPA) supports the proposed legislation that would categorize accounting as a STEM career, saying that Certified Public Accountants (CPAs) have always embraced technology and adopted it early.
Subjects Studied in STEM Degrees
Science subjects in STEM degrees typically include biology, physics, chemistry, and astronomy, while the technology side of STEM has topics like database administration, software development, and data management. The engineering part of STEM includes systems engineering, civil engineering, electrical engineering, industrial engineering, chemical engineering, and naval engineering.
Mathematics in STEM degrees usually includes pure and applied mathematics and statistics.  However, universities are continually adding more major subjects to the list. One can now study Management Science, Computer Science, Computer Engineering, and Information Technology as majors in a STEM degree.
If the proposed new law is passed, there will undoubtedly be accounting majors in STEM degrees. When planning to use a STEM degree to pursue an accounting career, subjects such as management science, statistics, computer science, artificial intelligence, and information technology will be more beneficial than physics and chemistry.
The lines between business and finance on the one hand and STEM subjects on the other are becoming increasingly blurred thanks to technological innovation. To become a certified public accountant (CPA), one must have a high level of technical competence, good communication skills, and the ability to work with people. This may not suit all STEM students.
Accounting Requirements
Students do not necessarily have to have a master's degree to become a CPA, but they have to have one hundred and fifty semester hours of education. Combining an undergraduate degree majoring in subjects other than accounting with a master's degree in accounting or an MBA specializing in accounting is possible.
CPA licensure does not require a major in accounting, but it is recommended that students wishing to become accountants major in accounting for their undergraduate degree.  Other major subjects for an undergraduate degree can include those in finance and business fields. CPA licensure is not necessary to practice as an accountant, but it enhances one's career options, especially if the undergraduate degree does not have an accounting major.  Accounting firms and employers want to see credentials that demonstrate a solid foundation.
STEM students could pursue a CPA preparation program or a master's degree in accounting to become an accountant. That said, you don't need an accounting degree to be an accounting professional.  The AICPA only requires a bachelor's degree generally, and not specifically a degree or major in the field of accounting.  
The Role of Accountants In Technology
CPAs are regarded as technology leaders by AICPA because they manage and analyze big data, ensure data security and work alongside information technology professionals in many instances. The accounting profession is always looking for new and innovative ways to further its skills, and technology now overlaps strongly with accountancy.
Rapidly advancing technologies now cater to businesses involving digital assets, blockchain, cryptocurrencies, and artificial intelligence, and accountants need to be on top of them. AICPA says the proposed new legislation will accept that accounting careers expose people to cutting-edge technologies and give them the ability to pursue skills that are in demand in the accounting field.
Accountants need to be familiar with cybersecurity concepts and systems, information technology, data analytics, and emerging technologies. Therefore, taking certain STEM subjects as part of their undergraduate business degree is a good idea if possible. The fields of financial services and business administration blend well with STEM subjects when considering the skill set needed in the accounting profession.
STEM Students Can Do Very Well In Financial Services Careers
The traditional path to a finance career has been a business degree. However, some experts are now saying that it is better to get a degree in a STEM-designated program to stay competitive in the financial services environment. For instance, the financial services industry is increasingly turning to STEM professionals to take the guesswork out of the stock market and develop algorithms that maximize investment returns for the client.
Where a finance degree is still good for operations roles, even a finance master's degree may not be enough to help people move into mid or front-office positions in the financial sector.
For those who already have a finance degree, completing a master's in a STEM field may be a beneficial move. STEM professionals looking for a lucrative career change may find a happy home in financial services; not necessarily as accountants, but as highly valued professionals nonetheless. Wall Street is increasingly employing STEM graduates as the world of finance becomes ever more technology and data driven.
If accounting becomes recognized as part of the STEM field, this could mean that business degrees may incorporate more STEM subjects into their curricula. Increased hybridization between STEM subjects and accountancy may occur as traditional silos break down. Business and finance are rapidly becoming scientific fields in their own right as they are increasingly driven by technology.
Even today, there are recognized STEM degrees that bridge the gap by combining accounting and STEM subjects such as Master of Science degrees in Accounting Data and Analytics. In 2020, the Wall Street Journal reported that business schools are rushing to add concentrations in STEM subjects to their MBA programs. Many high-tech firms prefer STEM-based MBAs over any other.
Related Post:  Are STEM Students Smarter? Find out why companies prefer students with a STEM education.
Berkeley Haas has a STEM designation for all three of its MBA programs and has changed the name of its MBA degree program to Management Science. The Wharton School offers eighteen MBA majors. Those available to STEM students range from Actuarial Science to Business Analytics, Business Economics and Public Policy, Operations Information and Decisions, and Business Energy Environment and Sustainability. Cornell also offers an MBA intended to prepare students for a career in the digital economy.
We live in a digital economy where STEM graduates fit in very well into many areas of business and commerce. Even if a STEM degree is not currently best suited to a career in accounting specifically, there are many positions in financial services where a STEM major can be beneficial. If accounting becomes recognized as part of STEM studies, it will be relatively simple for a STEM student to become an accountant.
Wrap up – Can A STEM Student Be An Accountant – Is Accounting a STEM Career?
A STEM student can become an accountant, but if they have not studied accountancy as part of their undergraduate or postgraduate degree, it may be difficult to obtain recognition as such.  Becoming a CPA without an accounting degree can be challenging and can require additional work and effort to work to pass the CPA exams most employers would require for an accounting position.
There is new legislation in the works that could make accounting recognized as part of STEM education. 
Related Post: For more on STEM jobs, check out our post on the top STEM jobs to future proof your career.