Most kids go through a dinosaur phase in their preschool and kindergarten years. The idea of giant creatures roaming the Earth long ago is irresistible to young imaginations, and dinos for kids can be found in TV, movies, and toys. Dinosaurs are featured heavily in kids' books and stories.
In this post, we're sharing our favorite dinosaur books for preschool and kindergarten age children. Our kids love these books, and we hope you will too. Let's explore!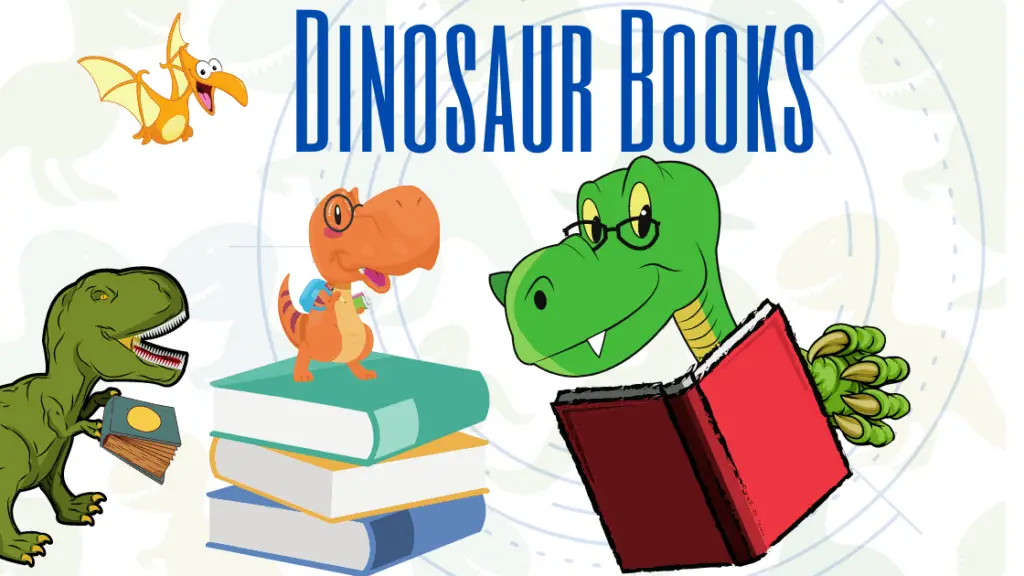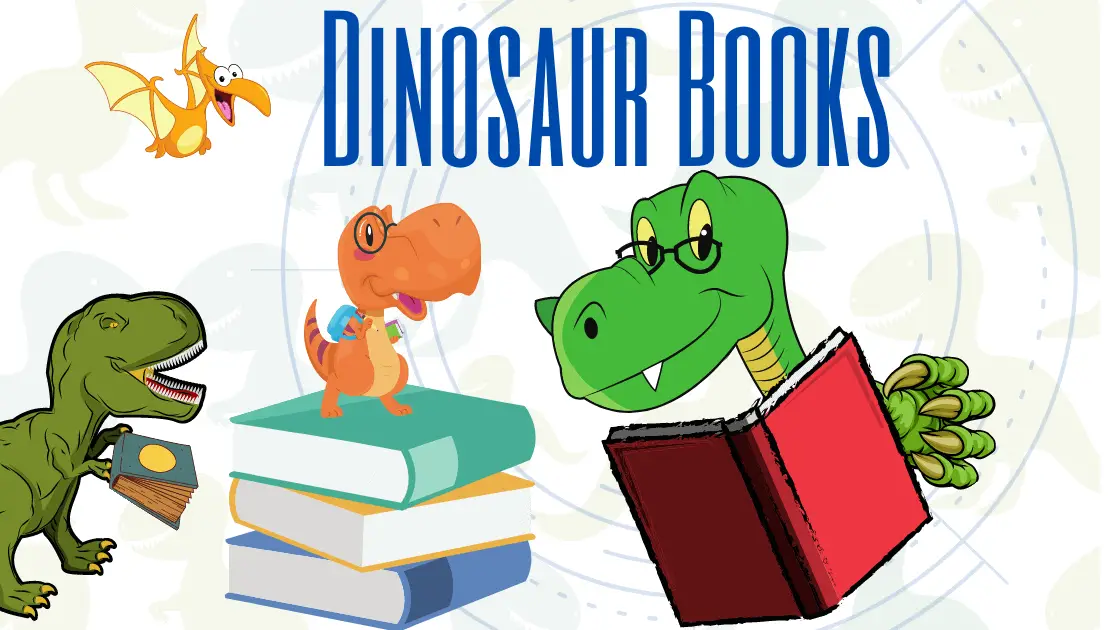 By Jane Yolen and Mark Teague
The How Do Dinosaurs? Series are a great way to teach manners and lessons, all while having fun with dinosaurs.  The insert contains artwork of each dinosaur with their scientific names.  We spend as much time on this, naming the dinosaurs or doing quizzes, "which one is the Allosaurus?" as we do reading the actual book.  The name of each dinosaur is also cleverly hidden within the illustration on each page. 
The story is in an easy to read rhyming pattern, and illustrates difficulties children may have getting ready for bed.  Then it demonstrates that the dinosaurs don't do any of these things, and sets a positive example for an easy transition into bed. 
How Do Dinosaurs Say Goodnight?  makes a great bedtime story, as we can set the dinosaurs as a role model – Did the dinosaurs stomp and throw their teddy bear?  No, they settled right into bed and tucked in."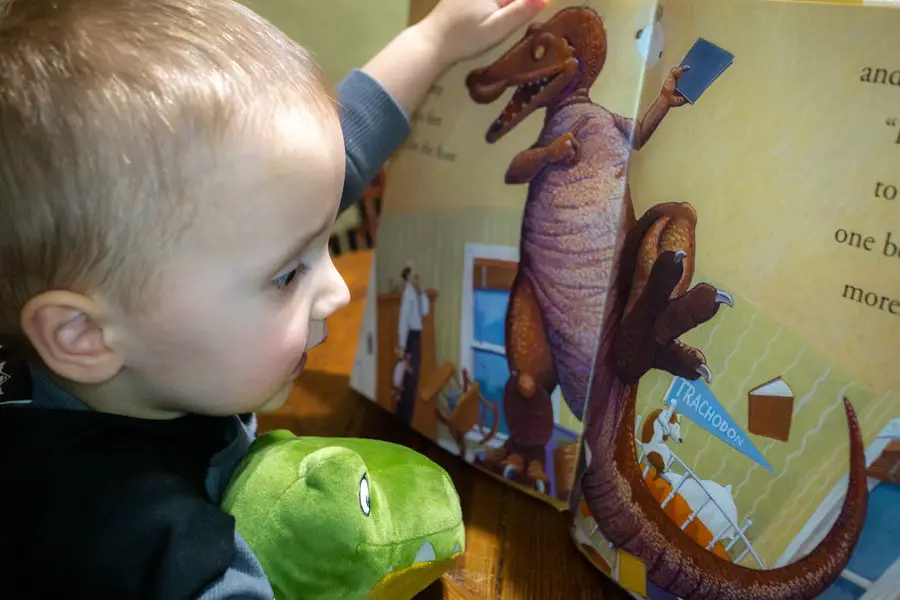 The artwork is well done, realistically representing the dinosaurs while giving them emotions and expressions.  It's a good mix of anthropomorphic design and realism (for as much as we know how 'real' dinosaurs looked.)
Check out other "How Do Dinosaurs" books!
by Jill Esbaum
Illustrated by Mike Boldt
Our story opens on a dinosaur family with a new egg, dino-kid beaming with anticipation waiting for his sibling to hatch.   It's a cute take on the "here comes the new baby" story with dinosaurs.  
Step 1 Wait
Step 2 Meet the baby
Step 3 Get a feel for each other
Step4 Make a buddy for life
This would be a great book to read for any family with a child preparing the way for a new baby while setting the stage for a soon to be sibling. Through cute illustrations and some silly humor, we see an older brother welcoming his sibling to the world. 
Related Activity – Grow your own dinosaur! is part of our post on Fun Dinosaur Activities.
By Sandra Boynton
Oh My Oh My Oh Dinosaurs is an opposites book featuring favorite dinosaurs in Boynton's famous style.   Boynton board books are great for preschoolers (and, okay I'll admit it, I still enjoy reading them to the kids.) 

The characters are silly and the artwork perfect for grabbing the attention and imaginations of young readers.  The easy reading rhyme scheme makes it memorable for kids, and encourages them to "read" along once they've heard the story a few times. 
By Penny Dale
A book about dinosaurs and construction vehicles? Our preschooler was in heaven. Dinosaurs driving construction vehicles? He was over the moon!

By the title, you'd expect this would be a sort of paleontology or dig site kind of book. One look at the cover and you can tell you're in for a completely different kind of expedition. And the dinosaurs are calling the shots!
Dinosaur dig is a counting book that hits all the marks. Starting with one T-Rex in an excavator digging a hole, each page adds another dinosaur driving a construction vehicle. Each page adds a new action, complete with sound effects (Crash! Klunk, Crunch, Scrape, Sploosh!)
What could they be building? Let's say that all that counting and digging was for some mighty big fun!
Dinosaur Dig is available as a board book that's great for preschoolers, and a paperback version for kindergartners.
Author Penny Dale has a series of similar dinosaur books like Dinosaur Rocket! Dinosaur Pirates! Dinosaur Rescue and more!
by Will Lach
Illustrated by Jonny Lambert
When walking through museums or seeing photos of fossils or skeletons, it's easy to immediately think "dinosaur!"  Not all fossils are dinosaurs, and that's the focus of I Am Not a Dinosaur.  From wooly mammoths to saber tooth tigers, it's easy to see how 'prehistoric' creatures get lumped in with dinosaurs. 
A few on the list surprised me.  I'd always thought of dimetrodon as a dinosaur (as did every dinosaur playset I had as a kid.)  Technically it's not a reptile. Though the pterosaur may be a flying reptile, it's not classified as a dinosaur.  Neither is the plesiosaur, which I had always thought of as the great dinosaur of the sea.  Reading this book dispelled some myths I had carried since childhood. 
So, what is a dinosaur? 
"Dinosaurs are just one type of prehistoric creature, classified by certain physical characteristics: a hole in their hip socket, a three-toed foot, and an S-shaped neck."
We're also treated to a few pages of some of our favorite dinosaurs (that actually are dinosaurs) and some photos of fossils and skeletons courtesy of the American Museum of Natural History.
What happened to the dinosaurs?  While most of the creatures we're introduced to in the book have died out ages ago, dinosaurs, by definition, have not.  Common birds, like the parakeet, meet the definition of physical characteristics of dinosaurs!

By Laurie Berkner
Illustrated by Ben Clanton
We are the Dinosaurs is a fun romp from children's author and musician Laurie Berkner. The book includes whimsical illustrations of dinosaur characters, and is a quick read. There's some repetition, which makes it easier for young readers to follow along.

To get the most out of the book, pair it with the song that goes with it. Check out the official video:
by Syd Hoff
In this classic from Syd Hoff, a museum dinosaur comes to life for a fun filled romp around town with his new friend, Danny. With a Dinosaur as a playmate, activities like hide and seek, attending a ballgame, and enjoying some ice cream take fun to a new (bigger) level.
Originally published in 1958, this book has been delighting kids for decades.
This book always reminded me a bit of Clifford (the big red dog), but with a dinosaur instead.
Danny and the Dinosaur is great for beginning readers, with familiar words and short, simple sentences.
If you enjoy the original, check out other Danny and the Dinosaur books.
by Jan and Mike Berenstain
Like many young children, learning about the existence of giant creatures that roamed the Earth is a fascinating concept.  As the Bear children discover dinosaurs in the library and develop an interest, their parents encourage their curiosity with a trip to the museum.  Conveniently, the museum has an archeological dig site out back, where the Berenstains are treated to a tour of fossils
Soon, dinosaurs are everywhere. Their house if so filled with dinosaur toys, that there's hardly a place to sit.  Kind of reminds me of home.
by Ryan T. Higgins
Penelope Rex was nervous before the first day of school. Her first lesson? Classmates are delicious! She has to learn how to act in a classroom setting, and how to treat her peers. Will she be able to triumph over her predatory nature and hungry stomach?

Our son's principal read this book on the eve of the first day of kindergarten. It was a great way to diffuse first day jitters. At least no one was eaten (at least as far as I know.)
If you want more Penelope the T-Rex, she'd in a band! Check out We Will Rock Our Classmates
by Linda Bailey & Colin Jack
What would you do if you just happened to have a dinosaur hanging around the house? If that sounds like you, or if you're curious about what you could do with a dinosaur, you need this book.
They may make a great burglar alarm. Maybe a triceratops horn would make a great can opener. A team of herbivores may make a great landscaping crew, no need for a ladder, they'll just eat the tops of the trees.
Would a pterosaur make a good kite? (Hey, wait a minute: didn't we just learn a few books ago that a pterosaur isn't a dinosaur?)

Just treat your dinosaur well and don't let it near your food. What could possibly go wrong?
If you did happen to have a dinosaur, what would you do?
Follow up: Pick some different dinos and brainstorm what they could help with. How would a Brachiosaurus come in handy with its long neck? What could an Ankylosaurus do with its tail or a T-Rex with its teeth?
By Sally Lucas
Dancing Dinos Go to School is a Level 1 "Step into reading" book, so it's a great read along choice for early readers.
This is a fun book about dinosaurs that leap off the page and dance through the school engaging in fun activities along the way.  The book reads in a sing song rhyme, and is great to have your child follow along with the words.
by Mike Lowery
This is quickly becoming one of my favorite dinosaur books.  It has a fun style and approach and is a comprehensive look at prehistoric creatures. 
Did you know many of the creatures that immediately come to mind aren't actually dinosaurs?  The book addresses this right of by defining what a dinosaur is (and isn't.)  Once we're clued into prehistoric animals, we're given "a brief history of Earth" to set the stage for early signs of life on Earth.
Much of the book focuses on dinosaurs (and other prehistoric creatures) and includes facts presented in a fun and engaging way.  The book lives up to its title and is filled with enough knowledge nuggets and factoids to keep your dinosaur lover happy.
The end sections of the book are filled with fun activities like how to draw dinosaurs and dino jokes.
The cartoony style makes this a great bridge from picture books while introducing a bit more complex content. It's easy to pick up and read a few pages and come back for more later.
(If you like this style and still want more -check out Mike Lowery's other "Everything Awesome" books about sharks and space.)
by Emiliano Migliardo
Our kids love "Where's Waldo" type of seek and find books, and this book fits right in. The book features 11 silly scenes jam packed with items to find, which will keep kids busy and entertained for quite some time.

With cavemen stone age vehicles, it's far from historical or scientific accuracy, but our kids had some laughs on every page and wanted to keep looking for all of the things (including the dino poo!) If your kids (or you) like seek and find kind of books, give this one a try.
by MK Reed & Joe Flood
Though he can't read all the words, our 5 year old loves this book.  He'll pick up the book again and again just looking at the illustrations and picking out his favorite dinosaurs.
Part adventure story, part history lesson, science lesson, and all comic book, Science Comics Dinosaurs has a bit of something for everyone. 
We learn how fossils are made and see how early dinosaur discoveries may have fueled myths like the Cyclops, Chimera, and dragons.
We'll visit with early paleontology pioneers like William Buckland, Marry Anning (we saw her story in our post about amazing female scientists), and Gideon Marshall.
We'll check in on some sown and dirty drama and rivalries in the Bone Wars.
We'll learn how some theories and hypotheses accepted as fact in their time proved completely wrong as new discoveries are found. We often think of dinosaurs as just giant reptiles that roamed the earth, though the velociraptor has more in common with a crane than it does a crocodile.
The story is engaging and informative, though the artwork really shines through. Some of the dinosaur illustrations have cool cross-section cutaways, so kids can start making the connection between the dinosaurs they're familiar with and the fossils and bones they may see in books or museums (or virtual museum tours.)
There are some great illustrations that show family trees and place the dinosaurs into the period in which they lived to better visualize what dinosaurs coexisted at the same time.
It's a great read along, though may be much for one sitting, especially for younger kids. We took it in several chunks, though our little dinosaur enthusiasts liked to page through and look at the artwork as much as they enjoyed the story. 
by Wallace Edwards
What if dinosaurs aren't really extinct, but still among us hiding in plain site? That's the premise of The Extinct Files. The book is presented as a science experiment, stating the objective and hypothesis, and moving through observations about dinosaurs' habitat, diet, and activities.
Where would dinosaurs be hiding and what would they be doing in our modern world? How have they evolved and adapted? That's where the fun begins. The book is full of paintings of realistic looking dinosaurs engaging in silly activities. The artwork is excellent, and sure to be a hit with dinosaur loving kids.
This book may be difficult to find in print, though is well worth checking out at your local library.
Wrap Up: Dinos for Kids – Dinosaur books for preschool or kindergarten
We hope you enjoyed our round up of dinosaur books. Our preschool and kindergarten aged kids loved these, and we loved reading the books aloud to them. Dinos remain every popular, and nearly any books featuring dinosaurs are a sure hit in our house.
Want to grab some of these books? Check out your local library, and don't miss our post on why every kids needs a library card.